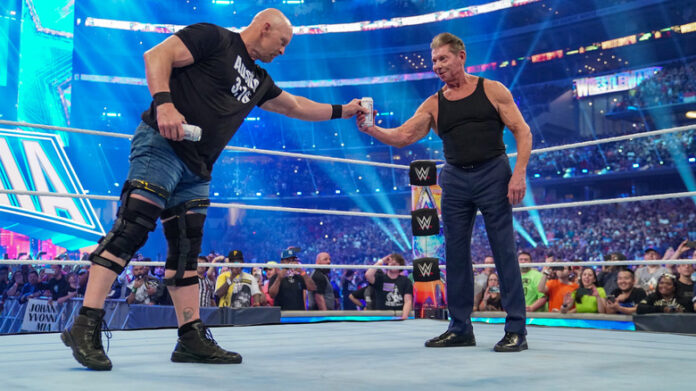 Last year at WrestleMania 38, Steve Austin came out of retirement to face Kevin Owens on the Grandest Stage of Them All. Austin picked up a big win over KO in the main event of night 1, and he also confronted his old rival Vince McMahon during night 2.
Steve Austin made the fans happy when he hit Vince McMahon with the Stone Cold Stunner, but the move was botched on Vince's end. The Texas Rattlesnake recently opened up about his reaction to the botched Stunner on an UpUpDownDown live stream and he admitted that he just started laughing because he knew it wasn't good.
"I love the reaction that The Rock would do. Razor took a good one, but it was all like an individual thing. Vince, I mean, he wasn't even in the top 100. That last one at 38, when we botched that one, I just got up and started laughing because when you blow something that bad, everybody knows what's up, so you might as well let them all in right off the get go."
It's been rumored for months now that WWE has been hoping to book Steve Austin for WrestleMania 39 next month. The former WWE Champion recently commented on his status for WrestleMania and you can get more on that here.
H/T SEScoops.com