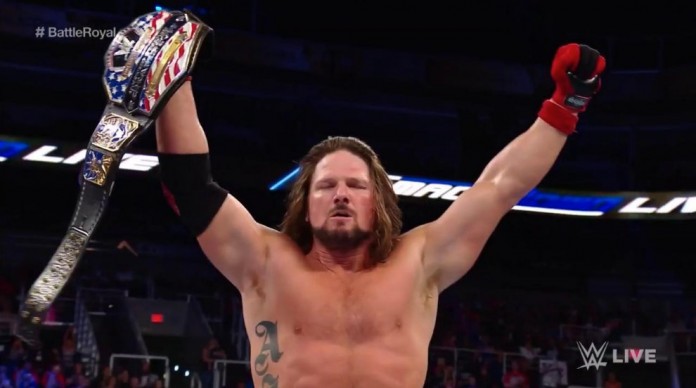 The WWE Universe had an exciting night of SmackDown Live in store for them. They had been promoting the return of John Cena for a while now at it was finally time to see what kind of program Big Match John was coming back for.
There was also a rap battle planned between New Day and The Usos and that sounds fun, right?
Carmella is still Mis Money In The Bank and Baron Corbin still held the men's MITB briefcase. So you can never tell what would happen there. Even though it's not likely WWE would book a Punjabi Prison match for Battleground and then have Jinder Mahal drop the title before then.
It was the Fourth of July and the WWE fans packed the arena to see what would happen because you never know what can happen in WWE.
Opening Segment
John Cena's music hit after being introduced and it was good to see him back. Let's hope WWE's ratings think it's good to have Cena back as well.
After a bit of posing and bouncing off the ropes, Cena was ready to address the packed crowd of excited fans. John was dressed in ring attire and looked ready to go, but nobody quite knew what was on his mind.
He said he was fired up and got the crowd cheering as loud as they could. "Let's go Cena/Cena sucks" chants started to break out and John looked like he enjoyed every moment of that.
Cena asked the crowd if we missed him and there was a pretty good response. He said the USA is a beautiful country build on one idea what anyone can come to this land and with hard work achieve greatness. Cena said they are there to celebrate the American Dream and that's why he loves this country. He kept hyping how superstars from all walks of life get to come out each and every week and compete to be the best. He says everytime he steps in the ring that's all he wants to do especially as of late.
Cena said a lot of superstars have been spreading rumors about his future. He's Hollywood, lost his edge, and nothing more than a part-timing mascot. He said he's not a part-timer, he's an all-timer. So what means Raw and SmackDown. He said the reason he's a free agent is that if his time in WWE is limited then he's going down in a blaze of glory.
He started naming a lot of people we would like to see him face including Nakamura, Styles, Rollins, Mahal, Orton, and Roman Reigns. Cena said to line them up and he'd take them all down. He said the franchise is back and the champ is here and he couldn't think of a better time because today was their independence day.
Then Rusev came out clutching a flag that wasn't a USA crowd. Rusev said he worked so hard and as hard as Cena. So hard he got hurt. Then Cena went to do some movies and came back while Rusev was at home rehabbing his shoulder.
Rusev sat at home asking himself where his return commercials on television were because Cena sure got them. Rusev said John's not taking any opportunities from him and his American Dream is a lie just like how America is a joke.
John Cena asked Rusev if he was lost and said they're not in Ru-Ru's home country of "Bulge-Area" and he offered to punch Rusev in the mouth.
Rusev said on Bulgaria's independence day they march and show their strengths but Americans sit at home and stuff their faces with cheeseburgers and hot dogs. Cena said he forgot about the fireworks "we blow stuff up too!" There were some "USA" chants from the crowd in between their bites of cheeseburger and gulps of beer.
John Cena said America means they fought for freedom to have a voice. Then he said in the great spirit of America's birthday they have an old-school flag match.
Rusev said, "yes, yes but not today." He said he's not going to boss him around, he's going to fight on his terms then he waved his huge Bulgarian flag around. John Cena got the crowd into another USA chant and he wished America happy birthday.
So that was that if you're just tuning in to see John Cena that might have been it.
Backstage Segment
Daniel Bryan was on the phone as General Managers tend to do. Chad Gable walked up and asked if D-By wanted to talk to him. Then AJ Styles popped in. Daniel said KO has been calling him all day all week complaining that Gable and Styles shouldn't be in the United States Championship #1 Contender Battle Royal match tonight.
Daniel Bryan proposed a "win and you're in" match between Chad Gable and AJ Styles. They both said they were ready for the fight.
This is so exciting. I'm not sure if it will amount to anything but at least they're trying to do something with American Alpha. These guys are amazing in the ring and apart from winning the SmackDown Tag Team Championships and losing them right before Mania 33, they have pretty much floundered.
Chad Gable and Jason Jordan certainly deserve better. It's puzzling that they're putting Chad Gable in singles matches like this. But it really doesn't matter because at least they're getting exposure and it looks like WWE might be trying something different.
AJ Styles vs Chad Gable
The name plate said "with Jason Jordan" under Chad Gable's name when he came out but his American Alpha tag team partner was nowhere in sight.
Gable tried to shoot on AJ early on and take Styles down to the man using his pure wrestling ability. "AJ Styles is going to school right now," JBL said as Gable rolled AJ Styles all around the ring.
Styles counted a suplex and soon hit a drop kick to Gable's legs to take him out. Gable backed AJ into the corner and tried to jump over him for a victory roll but AJ kicked out. AJ tried to suplex Gable but he kept blocking and the two had an exchange coming out of that blocked move attempt.
Overall they meshed each other well and this match really showed off Chad Gable's skill. He seemed to be running alongside AJ Styles without any trouble. This might be a point in his career when SmackDown Live's writing team could be paying close attention to this match.
AJ reversed out of a submission hold from Gable and returned with a stiff chop. Gable shot off the ropes but returned for a spinning backbreaker from Styles.
Styles eventually climbed the turnbuckle and Gable climbed up to meet him. Gable looked like he was trying for a German suplex from the top but Styles slipped under him like he always does. AJ posted himself on the apron and went for a Phenomenal Forearm but Chad blocked it.
Chad tried to hit a top rope move, but AJ moved so Gable landed on his feet. AJ returned with a snap suplex into the turnbuckle and that looked like it hurt.
Styles set up for the Styles Clash, but Gable spun out of it into an ankle lock. It was an awesome reversal. AJ tried to get free but Gable kept it locked in. AJ finally revsered out of the ankle lock into a Calf Crusher and that was even better.
Both of these men were hurt and selling their injuries. Gable hit Styles with a sick suplex and AJ landed flat on his face. "This is awesome" chants rang out as Gable kicked out of a roll up.
AJ hit a Pele Kick on Gable and Chad was rocked. AJ got hoisted onto the apron and hit a Phenomenal Forearm for the win. That was a great match and make Chad Gable look like he was no joke for sure.
"What an incredible future Chad Gable has" JBL said as AJ pulled him to his feet. Chad and AJ looked at each other in the eyes for a moment and Styles just left. They didn't shake hands, but AJ gave him a great look of respect.
Backstage Segment
The Hype Bros were backstage and didn't look too hyped. Mojo seemed bummed and Zack Ryder said they need get past last week when they lost the #1 contender shot they rightfully already won. Zack Ryder said he entered himself and Mojo in the battle royal for the US Title #1 contenders and Mojo said he made a mistake because he just won the Andre The Giant Memorial Battle Royal.
Carmellabration Time
Carmella came to the ring happy as a clam in her Daisey Dukes and pretty while Money In The Bank briefcase. James Ellsworth was with her and had to speak first. He said he's canceling Independence Day and announcing a Carmella and then introduced Carmella.
Mella was laughing because there are people who thought someone else was going to win the contract. He had James hold her briefcase so she could point at the crowd while she talked on.
She was fire as she told the crowd they don't always get what they want because she has all the power with the briefcase. She decides when and where she'll face Naomi and then The Glow came out to interrupt her.
Naomi's SmackDown Women's Title is even glowing now with little LED lights embedded all over it and it looked pretty nice. Naomi warned Carmella and called James "Ellsworthless" — HA!
Naomi said someone else has words for him and then she pointed at the entrance and started laughing as Daniel Bryan came "yessing" down the entrance ramp.
Daniel said James' name a bunch of times and had to stop because the crowd was killing hte "Daniel Bryan" chants. James started to talk and Daniel told him to shut him up. Then Daniel Bryan barred him from the arena.
"Oh no, how ever will I get back in?" James Ellsworth said.
"And I'm fining you $10,000" Daniel Bryan said. He also said not to expect any paychecks for thirty days because he's suspsended. Daniel Bryan said if James Ellsworth goes against this suspension in any way then Daniel will strip Carmella of the MITB briefcase.
Carmella and James Ellsworth hit the bricks quickly after that. A thirty day suspension is rather odd especially if they make it so explicit he's not allowed to return. Something about this smells like a wellness policy violation to me. But then again it's probably just a story so Carmella can keep that briefcase around a little longer before cashing it in.
Lana vs Naomi (SmackDown Women's Championship Match)
Yup, Lana gets another title shot because for some reason she proved she had a shoulder up last week. Thank you social media.
Naomi had her arms crossed and didn't seem to be very happy about having to face Lana for the third time in a row. Maybe third time's the charm for Lana or we could possibly just be seeing some other kind of story unfold.
Naomi immediately tried to hit a sunset flip pin and Lana kicked out. Naomi suddenly locked Lana in a submission hold and Lana had no choice but to tap out.
Tamina appeared in the ring and just stood there. She told Lana to get up and Lana looked scared. The Ravishing Russian stood there for a moment before finally following Tamina up the ramp. That was strange and reminiscent of something out of Orange Is The New Black the way Tamina ordered Lana to follow her.
Backstage Segment
Shinsuke Nakamura was interviewed on if Baron Corbin was afraid of him. Suddenly Baron Corbin jumped him with the briefcase. Nakamura fought back and they had to do a pull apart backstage.
Rap Battle
It's time for a rap battle because that's what we wanted out of a New Day and Usos feud, right?
Wale hosted the thing and kicked it off. He's the perfect choice for this because he's a huge pro wrestling fan and also a great rapper. But the segment already had something to save all over it.
Usos came out with some mean looking guys in their entourage and The New Day came out with their own version of the Exotic Express following them. They didn't have a guy in a bunny suit, but they had a guy dressed as a sailor and a unicorn.
Wale said to keep the rapping clean because they're still PG. Big E did a rap about how Usos were only in dark matches and kickoff show matches before New Day came around and they're bums. "And speaking of butts, say hi to your pops because even Rikishi knows New Day rocks!"
The Usos had a chance and traded lines and came up with some fire of their own. You can tell they've had way more practice rapping together. Wale seemed to enjoy the Usos.
Usos said their dad's booty made millions and asked Big E what his has ever gotten him. Everything rhymed and capped it off by saying to "keep it PG just don't make it all Rated-R like your boy Xavier Woods." WOW! A PAIGE SEX TAPE REFERENCE! Very nice! Then they did it again. Wale said he's sweating, he didn't know why but he was sweating.
It was Kofi's turn next where he said Jimmy never worked out at a gym. He said when they have abs they can wear crop tops and ripped on them for being college dropouts. Kofi kept dogging on Usos for being out of shape and said their guts hand out more than their weiners do.
Wale wished everyone a Happy 4th as Usos got another shot to rip on New Day. They verbally kicked Kofi around asking him if he used to be Jamaican and said he was just Ja-fake-ican. Usos brought some more fire to the mic and said the only way they're gonna beat them in the rap battle is if they get a fourth New Day member as they pointed at Wale.
During this segment, the crowd not only stayed in it but Usos really won them over. Xavier Woods finally wrapped it up. Woods said to dress for the job you want not the job you have. That's why New Day looks like a million bucks and Usos look like some divorced dads.
Xavier Woods told Jimmy Uso he was nothing until his wife put him on Total Divas and the place popped big time for that one. Woods said Usos used to wear face paint like showmen and then they saw New Day and they stepped up their game. Then Woods said Usos should get back to doing what they do best and that's carrying bags for Roman Reigns.
That Roman Reigns crack was enough to set the Usos off and they jumped New Day. Wale lost his shoe in the scuffle and DQed Usos. He declared New Day the winners of the rap battle and told Usos to get out of his ring. The crowd didn't seem to want to give the win to the New Day though because Usos honestly brought the most fire.
The Usos left as New Day posed in the ring and Wale tried to put his shoe back on.
Randy Orton vs Aiden English
English was in the ring by himself and the spotlight was on him. He sang acapella about how he's the Shakespear of song and the Mozart of Melody and suddenly Randy Orton's music hit and The Viper came out to shut him up.
In the middle of Randy Orton posing in the ring, Aiden asked him if he was finished because he wasn't done. Then English jumped Randy using the mic as a weapon. He tossed Randy outside and over the ring steps. Randy held his arm in pain as Aiden English said, "where was I?"
He kept singing as Randy got to his feet on the outside. Randy rolled back in the ring as English looked over to see the Viper and looked upset to be interrupted again. Charles Robinson checked on Randy Orton and rang the bell for the match to begin.
English jumped Randy early on and then tossed him outside. He smashed Orton's head off the announce table and then made him eat the ring steps again.
Randy still had his zip-up hoodie on as English tossed him against the barricade and then back into the ring. English locked in a rear chinlock on Randy Orton and held him steady as Randy fought to break free of the hold.
Orton pushed English off of him and hit a powerslam to slow Aiden down. English rolled out of the ring and Randy finally looked like he woke up. Orton took off his hoodie and looked at English on the outside of the ring.
Orton walked out of the ring and clotheslined English to the floor. Then he launched Aiden English over the announce table and hammered some punches into his head. Orton sent English into the barricade and into the steel ring post. He suplexed Aiden English off the announce table and then stalked him even further. Orton latched on his DDT and hit it on the thin mat surrounding the ring.
Orton walked over to the ring steps and picked his favorite one. Randy ran the ring steps over to English and smashed them into Aiden English's face. The ref called for the bell and it looked like Aiden English scored a DQ win over Randy Orton, so that's something.
But it wasn't all good news for Aiden English as Randy tossed English back in the ring and hit an RKO outta nowhere. If I were in India with Punjabi commentary that last match would make Randy look like a huge heel.
Jinder Mahal's music hit and The Modern Day Maharaja came out to hold his title up high. He stood there with the Singh Brothers on either side of him. "USA" chants broke out in the crowd and Jinder worked a promo about how USA is the home of prejudice and the land of ignorance. Americans disrespect Jinder because of the way he talks and the color of his skin.
Jinder said despite that he's still the WWE Champion and if he could he would put everyone in the arena in a Punjabi Prison. That got a lot of heat. Jinder said he's the only true superstar in WWE. He started to talk in Punjabi and Randy told him to shut the hell up.
Orton said Jinder doesn't have an advantage in the Punjabi Prison match, in fact, nobody does.  He said nobody likes him but it wasn't because of who he is or where he's from, but it's because he's a jackass.
Backstage Segment
Mike and Maria Kanellis were interviewed and spoke about the Power Of Love. Maria said love is ageless, undeniable, and timeless. Everybody wants it but not everybody gets it. Mike said Maria was perfect and was about to kiss Maria when Sami Zayn accidentally knocked something over while stretching right off screen.
Sami walked over and apologized to them. He said he's a fan of their message. "The Power Of Love" makes one man weak, makes another man sing… you know who said that? Huey Lewis… then in the middle of hyping how The News never get their just desserts Sami's music hit and he had to run. Mike tried to kiss Maria again but she said: "no, not right now."
It looks like Sami Zayn will be Mike Kanellis' first opponent off the bat and this feud of love and awkwardness is certainly entertaining so far.
Independence Day Battle Royal (Winner Is #1 Contender For US Championship)
The ring was filling up as Dolph Ziggler made his way to the ring. There were plenty of SmackDown Superstars in the ring and AJ Styles came to join them as Kevin Owens got settled on commentary.
The bell rand and the fur started to fly. Battle Royals are chaos so it's impossible to get every spot. Luke Harper was in there and he's looking slimmer and even more fit. It better be only a matter of time before he gets a push. He deserves it. On the other side of the ring, his former Wyatt Family brethren Erick Rowan fought away as well.
Luke tossed Dolph Ziggler over the top rope and took him out of the match in a surprising early elimination. Fandango was eliminated by Erick Rowan in quick fashion as well. Then Rowan tossed Tyler Breeze out of the ring and Dango caught him like a baby. He placed Breeze back in the ring but Rowan just threw him out again.
Rowan tossed Kalisto out too, but then Mojo jumped him and brought the Hype to Erick. Konnor was taken out by Luke Harper and Mojo clotheslines Harper over the ropes. Then Mojo turned around and met Zack Ryder.
Erick Rowan broke up the Hype Bros and tossed them both over the rope but they both landed on the apron. Then they ganged up on Erick Rowan and eliminated him. Mojo immediately tossed his partner Zack Ryder over the rope and Mojo gave him an "I'm sorry bro" kind of gesture as Zack Ryder sat on the outside of the ring looking like he couldn't believe what just happened.
Kevin Owens called Mojo disgusting for stabbing his partner in the back and said he should be ashamed of himself. Tye Dillinger was almost eliminated but Sami Zayn eliminated Mojo with a Helluva Kick.
It was finally down to AJ Styles, Sami Zayn, and Tye Dillinger. Kevin Owens brought up the fact that two of those guys are Canadian.
Tye stomped Sami and AJ down in the corner as the crowd chanted "10." He hit them both with Tye Breakers and waited for them to get up. Tye tried to flip AJ and Sami over the top rope, but they both held on.
Tye fought them both on the apron and Sami Zayn eliminated Dillinger with a back body drop.
Sami and AJ traded shots as KO accidentally called his match a "rumble." Sami knocked AJ down and primed himself for a Helluva Kick. AJ moved out of the way and Sami's momentum almost sent him to the outside. The two fought from the apron and each tried to suplex the other.
Finally, AJ Styles hit a knee to Sami's face and Zayn was sent to the floor after a Pele Kick.
Kevin Owens congratulated AJ Styles by beating him down in the ring like a true heel. It looks like this program is going the way most would have suspected with AJ Styles challenging Kevin Owens for the United States Championship.
AJ got some retaliation on KO and tried to set up a Styles Clash but Owens scurried out of the ring.
SmackDown Live ended with AJ Styles' music playing as The Phenomenal One held Kevin Owens' US Title in the ring and looked at it closely.