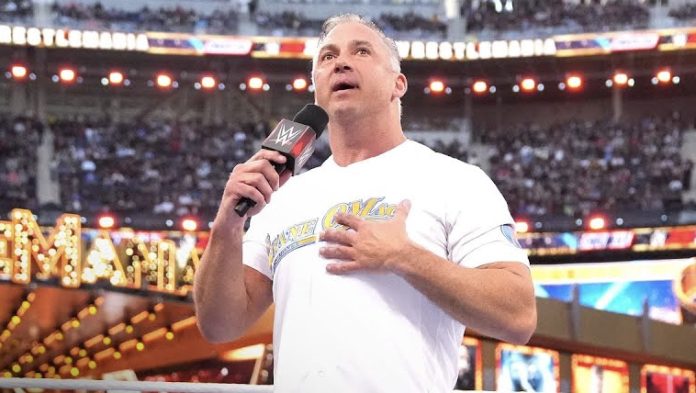 They say that anything can happen in the WWE and you never know who might make a surprise appearance at WrestleMania. This year Shane McMahon shocked the world when he returned on the Grandest Stage of Them All, and he faced off against The Miz in an impromptu match that was unfortunately changed to Miz vs. Snoop Dogg after Shane got injured.
Shane's big WrestleMania return obviously didn't go as planned, but it sounds like he had another big name in mind for a potential opponent while he was getting ready for his return.
Hulk Hogan recently spoke to Ariel Helwani on the MMA Hour, and he claimed that Shane McMahon called him ahead of WrestleMania to see if he could return to the ring for one more match.
"Shane McMahon called me. He goes, 'You got one more in you, old man?' I said, 'Take it easy with the old man stuff, brother.' I said, 'What do you want to do?' He goes, 'All you got to do is stand in the middle of the ring and I'll come to you.' I said, 'Well, right now my back needs a little more work but that's something we can talk about next year.'
I've always wanted to have a retirement match but right now, I'm not moving around the way I should be so I'm going to keep working, keep training and keeping doing rehab and see where I'm at about six months from now. All I've found out in the wrestling business, brother, is that you never say never."
One way or another it looks like Hulk Hogan hasn't completely closed the door on a potential return to the ring. As for Shane McMahon there's no word on when he could return to WWE as he suffered a torn quad during his surprise match at WrestleMania and is currently recovering.
H/T F4Wonline.com