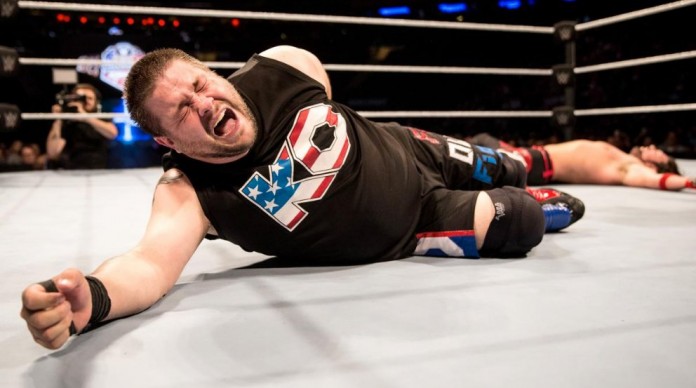 Friday night Kevin Owens defended his WWE United States Championship during the live event at Madison Square Garden, but unfortunately for Owens, he didn't walk out with the belt. AJ Styles challenged Owens for the championship, and after he put Owens down for the three count, Styles won the belt for the very first time in his career.
Related: Dixie Carter Congratulates AJ Styles, WWE Rejects Boston Venues For WrestleMania And SummerSlam
It's true what they say, anything can happen in the WWE, but with that being said, title changes don't happen at live events all that often. Due to the fact that Kevin Owens dropped the United States Championship to AJ Styles in a non televised match, there was some speculation that Owens may be injured.
The rumors about Kevin Owens possibly being injured are not true, as the former WWE United States Champion was in action at the live event in Corpus Christi, TX on Saturday night, and he has not been pulled from any upcoming events.
Even though Kevin Owens isn't injured, he's clearly not happy about losing the belt, and he's gone dark on Twitter by deleting his profile picture and his cover photo. It should be interesting to see what the former champion has to say about his big loss Tuesday night on SmackDown Live.
On this week's episode of Still Real Radio we're running down our predictions for the Great Balls of Fire pay-per-view and more. We're also talking about the return of John Cena, his flag match with Rusev, and whether or not Bray Wyatt's run on Raw is losing steam. You can subscribe to Still Real Radio on iTunes, and you can also check out the latest episode below.