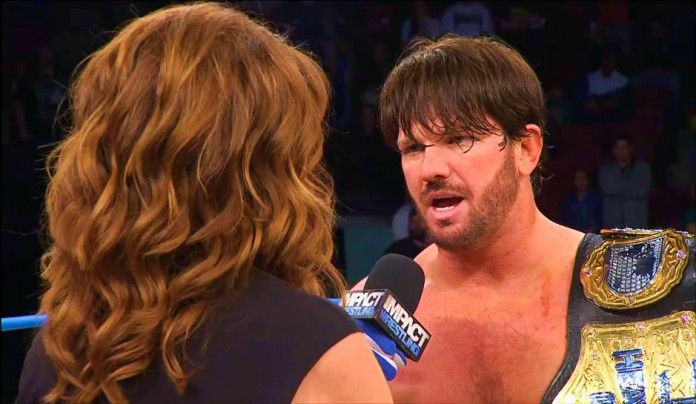 Friday night AJ Styles shocked the fans in attendance at Madison Square Garden when he defeated Kevin Owens to win the WWE United States Championship for the first time in his career. After AJ Styles won the US Title, WWE Raw superstar Matt Hardy took to Twitter to say that the title change is best for business.
What a DELIGHTFUL Title change at @TheGarden. Definitely #BestForBusiness. https://t.co/Wbk6ikQws5

— REBORN by FATE (@MATTHARDYBRAND) July 8, 2017
Former TNA President Dixie Carter is someone who knows AJ Styles very well, and she decided to add to the conversation by saying that she agrees with Matt Hardy.
I agree @MATTHARDYBRAND. Congrats @AJStylesOrg https://t.co/NL5trHfMiZ

— Dixie Carter (@TNADixie) July 8, 2017
As noted, WWE recently announced that Dixie Carter will be appearing on the WWE Network for the first time Monday night after Raw as part of the "WWE 24 – Kurt Angle: Homecoming" special.
WrestleMania 34 is set to take place from New Orleans, LA, next year, and cities across the country are placing their bids in hopes that they can secure WrestleMania in the future.
Danny Picard noted on Twitter that Justin Burasso of Sports Illustrated was recently a guest on his podcast, and Burasso claimed that the New England Patriots tried to get WrestleMania for Gillette Stadium, in Foxborough, MA, but the bid was apparently turned down by WWE.
Also, according to @JustinBarrasso on my podcast, the #Patriots tried to get WrestleMania at Gillette Stadium, but were turned down by WWE. https://t.co/wWiySyyPiG

— Danny Picard (@DannyPicard) July 7, 2017
Burasso also reported that the Boston Red Sox placed a big to hold SummerSlam at Fenway Park, but that bid was also rejected by WWE. However, it seems that the company is open to possibly holding a NXT event at Fenway Park in the future.
And JB also said on my podcast that the WWE rejected a #RedSox bid for Summerslam at Fenway, but an NXT event at Fenway is a possibility. https://t.co/Z0eAdVNG2n

— Danny Picard (@DannyPicard) July 7, 2017