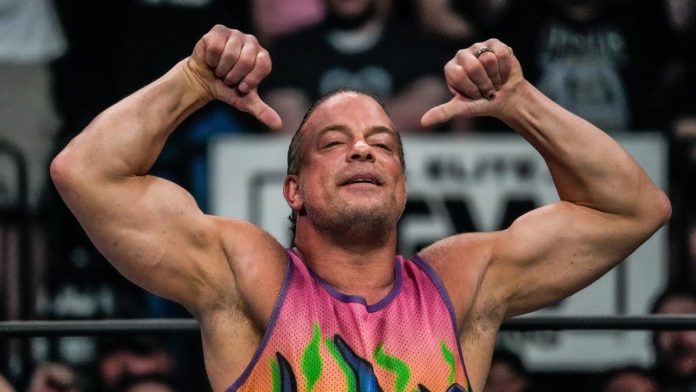 Anything can happen in the world of professional wrestling and last week Rob Van Dam made his AEW debut when he confronted Jack Perry on Dynamite. RVD challenged Jack Perry to a match for the FTW Championship, and the match is currently set to take place on this week's episode of Dynamite.
While talking about his AEW debut on the 1 Of A Kind podcast Rob Van Dam revealed that he was put in a wheelchair and hidden underneath a curtain after he arrived at the arena.
"It was a pretty good reaction from the crowd. I was concerned that the surprise would be blown because it usually is, and it didn't get too far out. Even a lot of the boys were surprised, and they went through so much trouble to hide me. Even after we pulled into the garage, they put me in a wheelchair and put a black curtain over the top of me and pushed me all the way back to this room and I just had my own room, so I was like, 'I'm not gonna f**k it up after they went through all that trouble' and so I just stayed into my room until after my appearance.
I was still seeing guys at the end of the night, Jeff Hardy and Matt and Brian Cage and they were still surprised. Everyone kept the lid on it pretty good."
Rob Van Dam teased last week that he could retire the FTW Championship if he defeats Jack Perry to win the belt, so we'll have to wait and see who walks out with the gold on Wednesday night.