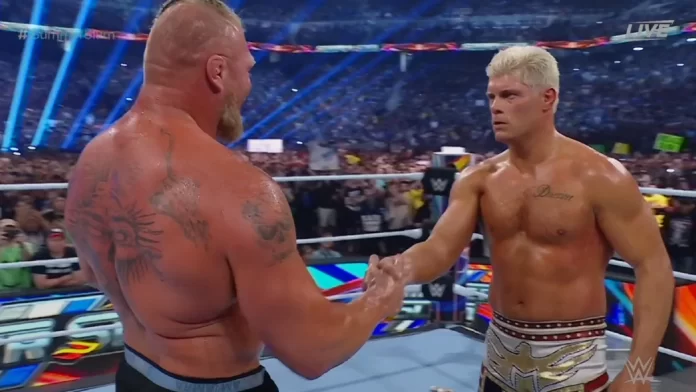 The night after WrestleMania 39, Cody Rhodes kicked off a feud with Brock Lesnar and their rivalry has been heating up for months now. Rhodes and Lesnar faced off for a third time at SummerSlam over the weekend with The American Nightmare being the one who picked up the big victory.
After the match Brock Lesnar confronted Cody Rhodes, and he showed respect to his opponent by shaking his hand then holding it up in celebration. While speaking to Sports Illustrated, Cody admitted that he wasn't sure what was going to happen after the match, but he was grateful for the show of respect.
"As I saw him taking his gloves off, I sincerely thought he was going to start swinging. Then we went head-to-head, and it felt like we were a millisecond away from starting up again. So I didn't anticipate that handshake coming. When I saw his hand, I was grateful. That's not something he does. Again, this run has consistently surprised me. The torch isn't passed. You have to take it."
According to Cody Rhodes he received a nice ovation when he returned to the backstage area. However, he did not speak to Brock Lesnar after the match was over.
"I came to the back, there was a nice ovation in the Gorilla Position, but Brock was nowhere to be found. I didn't see him the rest of the night. The way I see it, we didn't need to speak. Brock left it all in the ring."
Now that Cody's feud with Brock is officially over it will be interesting to see where The American Nightmare goes from here. Stay tuned for updates.