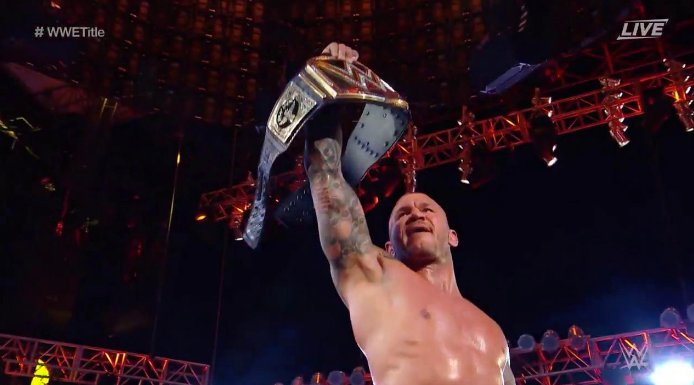 Bray Wyatt came out in what has the be his most epic entrance ever. Camping World Stadium was full of his fireflies and Wyatt had the whole world in his hands along with the WWE World Championship. The only thing Wyatt didn't have was any family members as he walked the 80-yard stretch to the ring all by himself.
The ramp had a giant Viper on it and it looked like Randy Orton rode on it's back like a venom-filled magic carpet during his walk to the ring. That was sweet.
Randy hit a Thesz Press right off the bat and delivered several punches. The action moved to the outside after Wyatt powdered out, but Bray took control when he went back in first to gain the high ground. The ring became a bunch of maggots as Randy laid on his back, yeah that's right. Maggots.
Randy Orton left the ring and we don't blame him. That was freaking awesome. Bray tried for a Sister Abigail but Orton got out of it. Bray hit him with a shoulder tackle instead but that visual of a ring full of giant maggots will still haunt us forever. Yes another WrestleMania surprise.
Bray hit randy once more and the ring turned into a bunch of giant earthworms this time. "I am a God" Bray Wyatt yelled and he must be because nobody has been able to transform a ring into maggots or worms before. That's a neat trick.
Bray hit Randy again and Orton left the ring to gather himself. Wyatt got on the apron and measured his target. He hit Orton with a dropkick and the ref started counting to 10. They got back in the ring, but Orton rolled back out. Wyatt ran around the ring and went for a clothesline, Orton ducked and hit an RKO outta nowhere on the outside.
They moved to the inside now and Orton measured Wyatt, went running for the head punt that took out Huskey Harris but Bray Wyatt moved out of the way. Randy hit his signature DDT through the ropes but before he could do anything else, Bray hit a Sister Abigail and got a two count.
Bray looked like he had been through Hell at that point. He dropped to his back and did that creepy spider walk as the ring transformed into cockroaches. This trick with the ring is really great. But Randy Orton sprung up and caught an RKO for the win.
Randy Orton is the WWE Champion for the thirteenth time. He now has one less major title than Triple H, so there's a statistic for you.