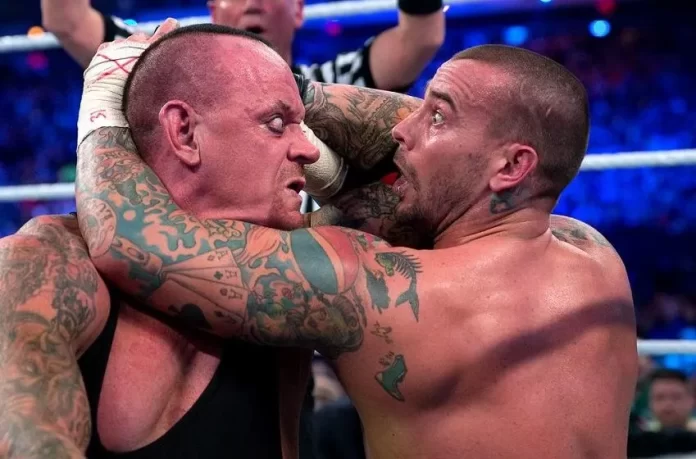 For years The Undertaker's streak was one of the highlights of WrestleMania and the longer it went on the more fans wondered if it could be broken someday. There are few challengers who posed a legitimate threat to The Undertaker on the Grandest Stage of Them All, but on the road to WrestleMania 29 CM Punk did everything he could to get in Taker's head.
CM Punk's match with The Undertaker received a lot of praise even though Punk didn't end up ending the streak. Paul Heyman recently stated on Tetragrammaton with Rick Rubin that he thinks Punk was ready to end the streak, but indicated that other people in power didn't think Punk was the right person to end it.
"I thought when we were going with Punk versus Undertaker, and Paul Bearer had just passed away, and we had done the out of the box and way over the line story on television that we laid out the Undertaker, and then we poured the ashes of Paul Bearer out of the Undertaker's urn onto the Undertaker, which was just the heaviest thing we could think of doing. I was like, 'Okay, if there's a guy that could be anointed as a top tier star, if there's someone that could become equal to Cena at this point in time, the Macho Man to Hogan, The Rock to Steve Austin, a clear 1 and 1A, that if we give Punk this victory, we've established someone for the next 20 years as a star.' I thought the case could be made for that.
CM Punk was ready to beat The Undertaker. In Vince's mind, and a lot of other people's minds, and most likely in Taker's mind, Phil Brooks was not going to get that victory. CM Punk, yes. Phil Brooks, no. That was their decision. That was their judgment. But Brock Lesnar going against the streak. The moment Vince came to us and said, 'Hey, here's what I have in mind for Mania. When he said Brock versus Undertaker, first thing in my mind was, 'Oh, my God, we're getting the streak.' I didn't see it any other way. I couldn't fathom it any other way."
Ultimately Brock Lesnar ended up ending the streak at WrestleMania 30 and the decision to have The Beast end the streak is still quite controversial among fans today.
H/T Fightful