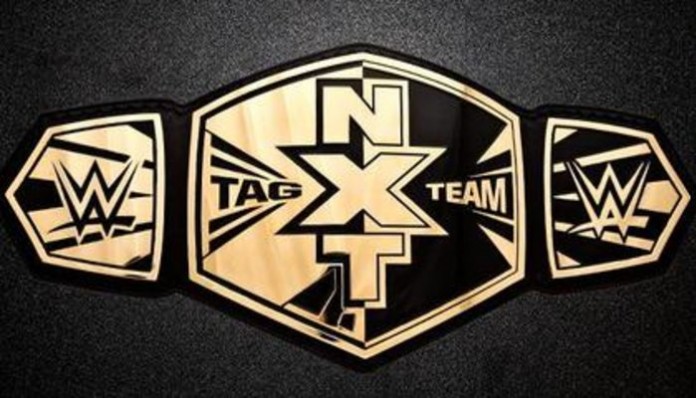 Ciampa and Gargano are so over and the Authors of Pain came out to little reaction (although they were wearing weird masks complete with black mesh veils on skull masks that made them look like something from a My Chemical Romance music video).
Ellering had to hold his tag team back from jumping DIY before the bell rang as the crowd chanted loudly for DIY. Rezar went after both members of DIY to begin the match but started to focus on Ciampa. Tommaso attempted to ground him with an armlock, but Rezar stopped his attempt.
Gargano got the tag and the match eventually found all four competitors in the ring. DIY took AOP out of the ring, and Gargano executed two sequential suicide dives on the Authors of Pain.
Gargano was hoisted up and drove into the barricade and Akam picked Johnny Wrestling up on his shoulder as he carried him back up the steps and threw him into the ring. Gargano took more punishment in the corner while the crowd broke out in a chant for him. Rezar got the tag and continued to punish Gargano who remained in the corner.
Rezar got Johnny up in a standing backbreaker and applied pressure as Gargano sold it. The move looked painful as the crowd started to chant, "Johnny Wrestling." Gargano dodged a splash in the corner and went for a tag, he was stopped and ultimately took a sick looking double-team stomping move from the Authors of Pain.
Johnny took Akam out and Ciampa got the hot tag. Tommaso ran in and started to hack away at the monstrous Rezar. He took over both members of AOP at the same time and executed a german suplex on Akam while Ellering yelled at them from ringside. Ciampa got a running knee off and pulled a close two-count.
Akam started to hulk up a little bit and no-sold some punishment from Ciampa. Tommaso kept trying to chop Akam down until Ciampa was turned inside out by a stiff clothesline. Both members of DIY pulled a double spear and got a two-count.
Akam mounted a defense and took both members of DIY out. He tagged Rezar in and they executed a devastating sit down neckbreaker double-team move getting a close two-count.
This crowd was hot. Tommaso pulled off a superkick and got a close two-count via a roll-up. Tommaso locked in an armbar on Akam when Rezar ran in to help. Gargano leaped in and locked a similar armbar on Rezar. Rezar picked Gargano up and used his body as a weapon against Champa, thus breaking up the submission hold.
The crowd broke out into "this is awesome chants" as both teams laid on the mat. DIY started to pummel AOP with stiff shots until they were both taken down with kicks. They went for simultaneous kicks on AOP but they were countered and picked both members of DIY up and executed their Super Collider finishing move.
Three count, and we have new NXT tag team champions.