If you're a professional wrestling fan, then you're probably tired of defending yourself when you tell non-wrestling fans that you watch professional wrestling fan. If you're a non-wrestling fan, then you're probably baffled as to why anyone would spend their time watching people simulate a fight in a ring that's often referred to as the squared circle.
Related: 8 Best Matches For Wrestling Fans To Recommend To People Who Just Don't Get It
If you don't get wrestling, it's all good. Professional wrestling certainly isn't for everyone. But if you watch it with an open mind you might be surprised at how much fun it can be. It's tough for professional wrestling fans to explain what it is about wrestling that they enjoy, but these are a few things wrestling fans want non-wrestling fans to know.
#5 – Yes, It's Predetermined
Nowadays it seems that only people who don't watch wrestling want to make a big deal about the fact that it's predetermined. Whenever a wrestling fan brings up the fact that they like wrestling, there's always someone there to remind them that it's "fake" as if this is some big revelation that they weren't aware of.
Wrestling is a scripted form of entertainment. Just like every TV show you watch, every movie you watch and every video game you play. Wrestling is like a superhero show, an action movie and a rock concert all rolled into one. But instead of being filmed ahead of time over the course of several takes like movies are, wrestling is usually live meaning the performers only get one chance to get it right.
Once you stop thinking of wrestling as a form of entertainment that's trying to convince you it's real, and start thinking of it as something akin to a clash between fictional characters like Batman and The Joker, it's a lot easier to accept, and enjoy.
#4 – Yes, The Moves Hurt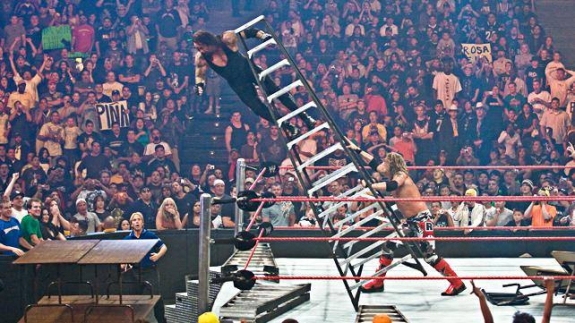 As you just saw above, yes, professional wrestling is predetermined, but there's a pretty big difference between something being predetermined and fake. The goal of a professional wrestler is to put on an action packed show that allows the audience to suspend disbelief, without purposely hurting their opponent, but injuries do happen.
Unlike MMA fighters, professional wrestlers work up to 300 days a year, sometimes more. So when they get in the ring they're not trying to kill each other, because they have to drive to the next town and do it all over again. But just because they're not trying to kill each other definitely doesn't mean it's painless.
Have you ever stood straight up then fallen on your back repeatedly for several minutes? Have you ever fallen off a 20 foot ladder, only to come crashing down through a stack of tables? Have you ever landed on a pile of thumbtacks? Have you ever torn your quad and tried to shrug it off like it's no big deal?
You probably answered no to all those questions, and if you didn't, then you'll know that those experiences are painful.
#3 – It's Not Raunchy Anymore
Thanks to the wild and over the top antics of The Attitude Era back in the 1990s, wrestling doesn't have the best reputation. During the 90s nothing was off limits. WWE was as violent and bloody as ever, the language was raunchy, and women were consistently treated as sex objects. It was a reflection of the times, and WWE's edgy content drew in millions and millions of viewers, but times have changed.
Nowadays in an era where the world has become driven by PC culture, you won't find anything controversial on WWE programming. WWE programming is now TV-PG, and the company has made a strong commitment to staying family friendly.
Gone are the days of bra and pantie matches, steel chair shots to the head, vulgar language and blood.
Now WWE presents a more family friendly show that can be viewed by kids and adults alike. Old school fans of The Attitude Era may not be all that thrilled with how WWE presents their product nowadays, but WWE is more concerned with cleaning up their image, and the company has come a long way since the 90s.
#2 – WWE Isn't The Only Company Out There
WWE is synonymous with professional wrestling, and although the company is the undisputed king in the industry, they're not the only wrestling promotion out there. Nowadays fans have plenty of options when it comes to professional wrestling.
If you're a non-wrestling fan, and WWE isn't your thing, you can check out TNA, Ring of Honor, Lucha Underground, New Japan Pro Wrestling, or other independent companies such as PWG, CHIKARA and EVOLVE. Or if you want a little something different under the WWE umbrella, you can check out NXT, which is a more straight forward wrestling show compared to Raw and SmackDown.
When people think of wrestling they immediately think of WWE, but there are a lot of promotions out there that are just trying to put on a good show and entertain people. There are probably even a few in your local area that could use your support. Wrestling is a diverse form of entertainment, and there's no limit to the format in which it can be presented.
#1 – If You Give It A Chance, You Might Actually Enjoy It
Yes, on the surface, to non-wrestling fans, professional wrestling is just two sweaty dudes and/or women running around a ring in tights, pretending to fight each other. But if you give it a chance you'll find that professional wrestling matches have the ability to tell great stories the same way fictional TV shows, and blockbuster movies do.
Wrestling is all about the characters, and it's a form of entertainment that has a little something for everybody. Professional wrestling is full of action, drama, comedy, and inspirational moments.
Once you drop the preconceptions, some of you non-wrestling fans out there might actually be surprised at how easy it is to get sucked into the stories. Well, the good ones anyway.
Wrestling fans, what do you think non-wrestling fans need to know about professional wrestling? Sound off in the comments below.