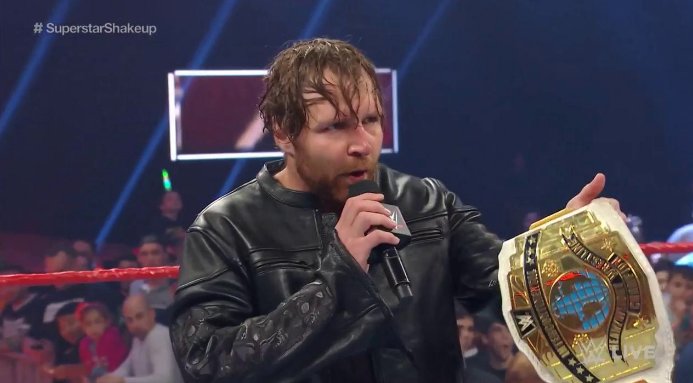 The Miz and Maryse kicked off Monday Night Raw this week, only they didn't look like themselves. Instead of coming out dressed in their usual attire, they entered the arena dressed as John Cena and Nikki Bella.
Related: John Cena And Nikki Bella React To The "Lost" Episodes Of Total Bellas
Miz told the crowd that John Cena's house rules state no one can chant "CENA SUCKS" so of course the crowd chanted "CENA SUCKS." The fake Cena told the crowd that they tried to make the jump to Hollywood, but Hollywood didn't want them because they're bad actors. He then announced that the best way to move their careers ahead is to make the jump to Monday Night Raw. Dean Ambrose then interrupted.
The commentators then announced that Dean Ambrose is part of the Raw roster now, and Dean Ambrose told the fake John Cena and Nikki Bella that it's nice to see some familiar faces. He congratulated them on their engagement and hugged them.
Ambrose continued to act like Mike Mizanin was really John Cena despite the fact that Miz tried to explain he was only playing a role. Dean congratulated them on beating The Miz and Maryse at WrestleMania, "because those two are the worst."
The former SmackDown star explained that he's actually The Miz and not John Cena, then Dean Ambrose hit him with Dirty Deeds to end the segment.
Miz, Maryse and Dean Ambrose are now part of Raw.
#ICChampion @TheDeanAmbrose is thrilled to see some "familiar" faces amidst the #SuperstarShakeup on #RAW! @mikethemiz @MaryseMizanin pic.twitter.com/WmG1MHvVcC

— WWE (@WWE) April 11, 2017