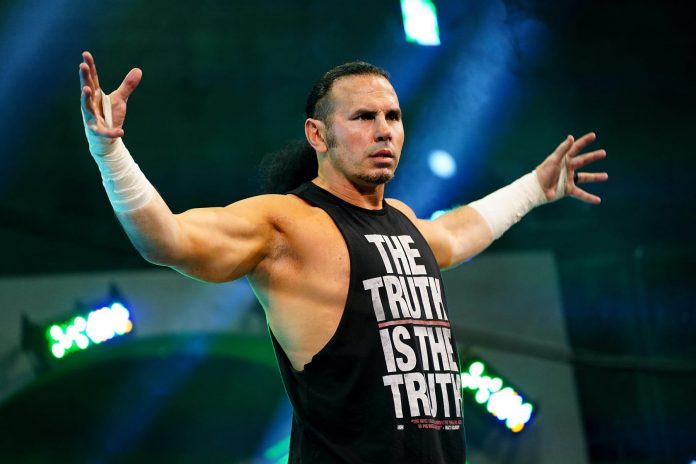 The Hardys were originally set to challenge for the AEW World Tag Team Titles recently, but they were pulled from the match after Jeff Hardy was suspended following his DUI arrest.
Matt Hardy recently spoke out about his history with his brother on Being The Elite, and he pointed out that Jeff broke his leg after they won the TNA Tag Team Titles, then he did the same thing when they won the SmackDown Tag Team Titles.
"In 2015, my brother and I won the TNA World tag team titles. About a week later, he broke his leg riding his motorbike. A couple years down the road, we won the WWE tag team titles and because of the exact same injury that happened when he broke his leg, we had to relinquish the titles once again. Ever since I've come to AEW, I've went on and on about cementing the legacy of The Hardys. Maybe I've an obsession with it. And then, we came together finally. We earned a shot at the tag team titles. Hell, it was even our speciality match, a ladder match. If we would've went into that match, we would've become the AEW World Tag Team Champions. But as you all know, it didn't happen."
Matt Hardy went on to say that not winning the AEW World Tag Team Titles has left him broken, but not in a fun way as he expressed frustration with his current situation.
"I don't blame Jeff. I look into the mirror and go 'I'm the one who keeps bringing him back'. I'm the one who's obsessed with this legacy of proving ourselves as the greatest tag team ever. Maybe it's on me. One thing I can say with clarity is that not winning the AEW tag titles has left me broken. But not in a fun fantastical way. It's left me broken in reality. So why do I give a s**t about anything anymore?"
One way or another it will be interesting to see where Matt Hardy goes from here. Stay tuned for more updates as they become available.