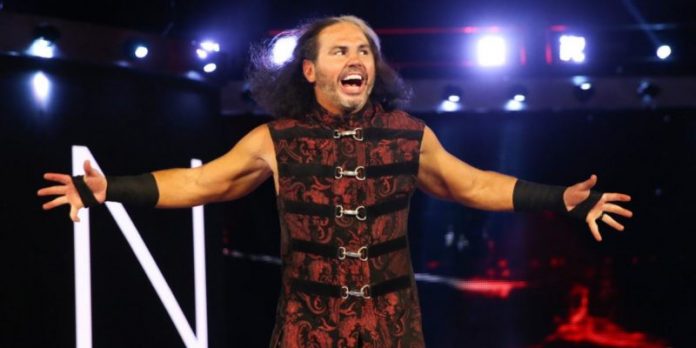 A few months ago, Matt Hardy told the fans that Woken Matt Hardy had most likely wrestled his last match, but of course Matt will never say never when it comes to a possible in-ring return.
Hardy recently spoke to CulturaColectiva.com about the upcoming live event in Mexico City, and he teased a possible Hardy Boyz reunion.
"It's going to be earth-shattering! It's the only live event we're doing all year and all the top stars of both brands will be there: Roman Reigns, Seth Rollins, Ronda Rousey, AJ Styles, me, my brother—everybody! I'm in fact gonna petition to have a Hardy Boys tag-team match even though we're on different brands. I'm excited for this, man."
Matt also confirmed that Woken/Broken Matt Hardy is getting his own series on the WWE Network, and he also talked a little bit about what fans can expect when he returns to WWE TV.
"Yes, on the WWE Network there's gonna be a regular series featuring Woken/Broken Matt Hardy and my family, which will be entitled House Hardy—the first episode is going to air right around Halloween. It's going to be incredibly entertaining! I'm looking forward to that. On the other hand, when I come back to WWE TV, my role is going to be altered a little bit (it won't be 100% Broken/Woken Hardy.) So, I get to have the best of both worlds."
"It's not 100% decided what I'll end up doing once I return to WWE TV, that hasn't been finalized yet. But I'm pretty sure we'll take a tangent from the Woken/Broken Matt Hardy persona. That persona will definitely live on at the Network, and it might come back out on TV. I feel like when I return to WWE TV it's gonna be—have you ever seen The Incredible Hulk when Bruce Banner got angry and turned into this green monster?—well, I feel you're gonna have Matt Hardy and then there'll be something that causes Matt Hardy to transform into Woken or Broken Matt Hardy."
Are you looking forward to Matt Hardy's return? Sound off in the comments below.