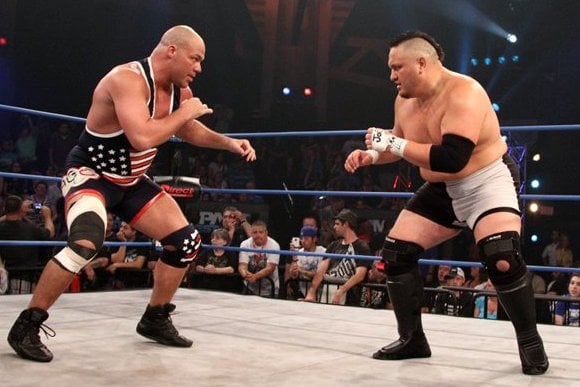 Kurt Angle was lucky enough to have a long career inside the squared circle, and although he had many classic matches in WWE he also added to his legacy with a lengthy TNA run. The Hall of Famer has been part of some memorable feuds over the years, and his feud with Samoa Joe is something that fans have not forgotten about.
However, Kurt Angle wasn't keen on the idea of feuding with Samoa Joe as soon as he joined TNA, and during a recent episode of the Kurt Angle Show he explained why.
"I don't know. I did not like that because Samoa Joe was undefeated. I felt like if I came into the company and started out with someone else, Joe and I could work up to each other in six months to a year. Really build our program, but they wanted to slingshot this thing and do it really quickly.
Unfortunately, I ended Joe's undefeated streak the first pay per view I wrestled. It made no sense at all. I just felt like we could've built this up, done a lot more pay per view buys if we built it the correct way instead of slingshotting it. That's what the company wanted, so that's what I did."
H/T Wrestling Inc.