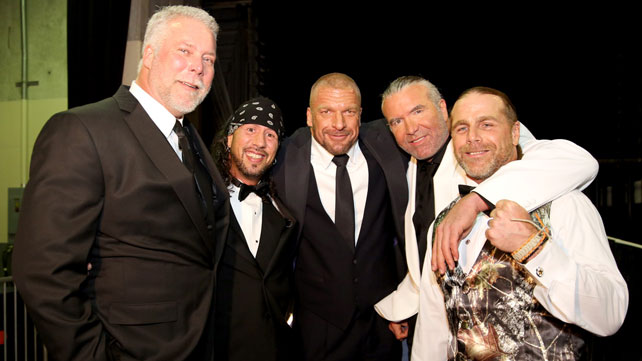 If you're still deciding whether or not you should stop by WresleCon as a part of your WrestleMania weekend, the annual event has given you a big reason to go this year.
WrestleCon has added a Kliq reunion featuring Shawn Michaels, Kevin Nash, Scott Hall and Sean Waltman for Saturday April 1st.
The reunion is part of a special ticketed event titled "One Night with the Kliq" which includes a professional photo-op with the four WWE veterans followed by a 90-minute question and answer session at 5 PM.
Tickets for the event range from $59-$999 depending on how close you want to get to the action.
There is still no word on whether or not Triple H will drop by, but odds are that he'll be quite busy with NXT because Takeover is scheduled for later that night.
There hopefully won't be any April Fool's shenanigans taking place, but when you're talking about the Kliq, nothing is off the table.
WrestleMania week is set to be a busy week for wrestling fans, and there are plenty of events to attend should fans want to partake. In addition to NXT Takeover, the WWE Hall of Fame, WrestleMania, Raw and SmackDown, Wrestle Pro, Rev Pro, EVOLVE, Progress, Beyond Wrestling and several other promotions will also be holding events in the Orlando area.
If you would like to buy tickets for WrestleCon you can do so by clicking here.