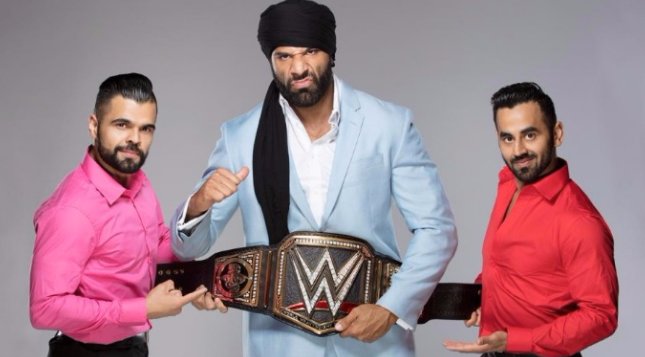 Jinder Mahal is the current WWE Champion, and he's currently living the good life as the top heel on SmackDown Live. Mahal has made a name for himself in the world of professional wrestling, and Saturday night Jinder Mahal was set to attend UFC 215 to support Arjan Bhullar, but he was not able to attend.
Related: Drew McIntyre On What He Said To Jinder Mahal After He Won The NXT Title
After Bhullar won his fight at UFC 215, he told MMA Fighting that Jinder decided to bunker down in Tampa, Florida, and ride out Hurricane Irma. Arjan Bhullar said that he did receive a call from Jinder, and the current WWE Champion told him that he has four properties in Tampa, and a dog that he needed to take care of, so he decided it was best to stay in Florida rather than leave his dog and properties behind.
It seems that love is in the air in the world of professional wrestling, because 205 Live star Jack Gallagher recently got married, and now a GFW star is engaged.
SquaredCircleSirens.com reports that Rockstar Spud recently got engaged to WWE Mae Young Classic star Renee Michelle.
Renee Michelle was featured in the first round of the tournament where she lost a match to Candice LeRae