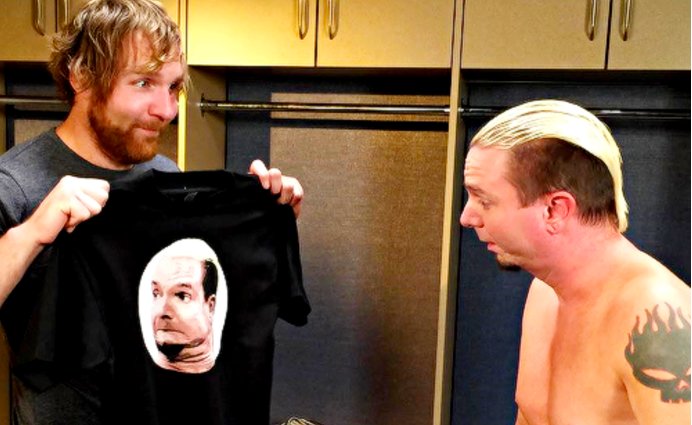 It is perhaps the biggest storyline on SmackDown live at the moment, if not the entire WWE, if you forget Brock Lesnar facing Goldberg for a second, but it seems that Dean Ambrose and James Ellsworth could be set to collide after the latter cost Ambrose a chance to regain his WWE Championship.
James Ellsworth hit AJ Styles with No-Chin Music whilst he was at ringside for AJ's match with Dean Ambrose in the main event of SmackDown this past week, but he hit it in front of the official, who then called for the disqualification and awarded the win to AJ. This meant that Dean Ambrose technically lost the match and wasn't able to claim that he was the Number One Contender anymore.
It has become common knowledge that Randy Orton could be set to step up and fight AJ for the WWE Championship heading into TLC at the end of the year, but that leaves Dean Ambrose without a feud for the last few months of 2016.
James Ellsworth costing Ambrose the match could well be the perfect opportunity for WWE to turn him into a heel superstar, something that Ambrose hasn't been since his early days with The Shield in 2013.
WWE has been looking for a face superstar that is big enough for WWE to turn Dean Ambrose heel on for a long time and it seems that James Ellsworth has landed in WWE at the perfect time. The popularity of the 'chinless' superstar has reached its peak over the past few weeks with his new exclusive WWE shirt becoming the highest selling product on WWE's online shop.
This is no accident, it seems that the WWE Universe have really taken to James Ellsworth since he made his SmackDown debut a few weeks ago and WWE could now turn this into something much more positive for the rest of the brand.
Dean Ambrose has also been rumored to be the superstar who will lead Team SmackDown into Survivor Series next month, but he could easily do this as a heel superstar. Fans have been calling for a character change from the Lunatic Fringe for the past few months, but as of yet, WWE hasn't made any changes to one of the biggest faces on the SmackDown roster.
It was thought that Ambrose was forced to drop the WWE Championship to AJ Styles at Backlash a few months ago because he wasn't as great as the main SmackDown Champion as WWE thought he would be, the ratings became a problem and essentially cost Ambrose his WWE Championship reign.
Since then it seems Dean has taken a backseat to proceedings on SmackDown and instead become a glorified cheerleader for Ellsworth in his quest against Styles over the past few weeks and even helped Ellsworth to gain back to back wins over the WWE Champion.
It would make sense for Ambrose to use this as motivation to turn against the former jobber because of how well he has been received by the WWE Universe. If Ambrose decided to hit Dirty Deeds on Ellsworth next week as a way to pay him back for costing him a chance to fight for the WWE Championship once again, then this would easily turn Ambrose into the bad guy that SmackDown currently needs.
There is the question of whether or not Dean is set to take the hiatus from WWE that was rumored last month as well. It was said that Ambrose would leave WWE for up to three months because he was set to star in another WWE Studios film after No Mercy. This has failed to happen, so it is currently unknown as to whether or not the former WWE Champion will be taking time away from WWE TV in the near future.
The rumor mill has been churning out a lot of speculation over the past few weeks and it seems that it really could be an exciting time for SmackDown live in the coming weeks, but will that be with Dean Ambrose as a heel? Or will it be with James Ellsworth and Ambrose teaming together? It has been made obvious that Ambrose will no longer be going after the WWE Championship, but whatever path the former Shield member decides to take, it will definitely be an interesting one.