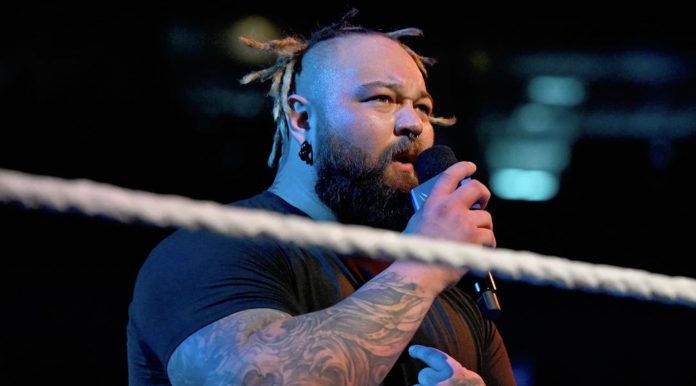 Following the Elimination Chamber premium live event last month WWE started to build up a Bray Wyatt vs. Bobby Lashley match for WrestleMania, but the match appears to be in jeopardy now that Bray Wyatt has been sidelined due to a physical issue. WWE has not been promoting the match in recent weeks which has led to a lot of questions regarding Bobby Lashley's status for WrestleMania.
Former WWE star Chris Masters has said in the past that he wants to put the Master Lock up against Lashley's Hurt Lock, and he made it clear during an interview with Chris Van Vliet that he's ready to step up at WrestleMania if the opportunity presents itself.
"Yes, he did [react to the last interview]. And I just noticed today that Wyatt is out for WrestleMania. So Bobby, he is looking for an opponent and I told Bobby under his Instagram posts that I left that date open for him. So maybe one day, we will get this Hurt Lock, Master Lock match. Believe me, I'm pushing for it. But um, you know, couple loose ends I got to tie up there."
"I mean, it would be really cool. But it's one of those things where oh my gosh, it's just so, it feels so far fetched that it could actually happen. But like, if it did, I mean, just imagine the surprise… Let's just say he didn't have an opponent, and they didn't know. Although, you know, I have a feeling they could fill that spot. Obviously they have a big talent roster. But you know, it definitely be a very interesting surprise to out of nowhere have a Hurt Lock vs. Master Lock. But it would kind of hurt to not be able to properly build it either if we weren't able to do that, because, you know, the build for that thing would be freaking great. You know, Full Nelson versus Full Nelson. And, you know, I have so many ideas just based on the fact that he is still as big as he is, and I'm much different. So I mean, the matchup would just be completely different."
Do you want to see Chris Masters return to WWE? Sound off in the comments below.
H/T ProWrestling.net