Moose has had enough, and he's giving everyone a piece of his mind. The Impact Wrestling competitor went off on his former friend, Eddie Edwards, in addition to the fans that helped make him the star that he is today.
"The fans can go screw themselves," Moose tells Still Real To Us in a shocking, exclusive interview.
The former NFL athlete is developing a big change in his overall attitude since turning on Edwards on the August 30 episode of Impact. Aligning himself with Killer Cross and the controversial former Impact World Champion, Austin Aries, the stylish Moose has no issues stating his case to anybody that will listen.
"Eddie was one of my best friends. He was one of my brothers. I found out that Eddie was a selfish prick. Anyone who is a selfish prick can't be called a friend. So, I had to end that," Moose says. "After [Thursday,] I don't think I have to be worried about Eddie too much longer."
Showmanship comes very easy for Moose. Transitioning from the St. Louis Rams to the world of professional wrestling, the Impact star states he is very passionate about what he does in the ring.
"The transition has been nothing but a cakewalk," says Moose.
Just don't ask him about where the passion comes from. Ripping into each and every reporter that dares to pick his brain, he finds the question to be annoying; putting it politely. He developed an interest in wresting since he was ten-years-old, watching legends like "Nature Boy" Ric Flair strut their stuff.
"At that point, I wanted to do this as a job, man," Moose tells Still Real To Us. "I'm living great."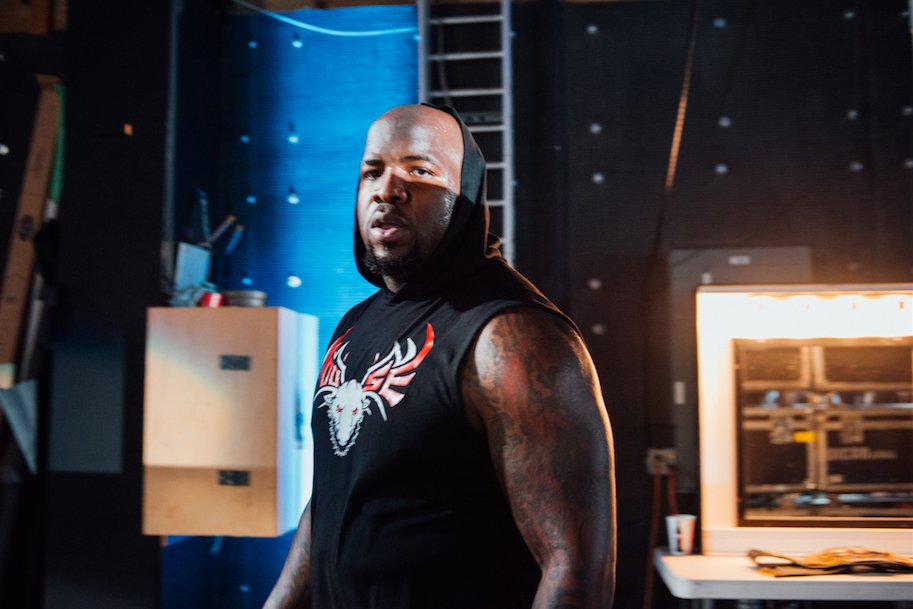 Currently stationed in Las Vegas, the former two-time Impact Grand Champion is truly living the high life. Always giving it 110% every time he steps into the ring, Moose tells the readers of Still Real To Us to expect a wild ride for Impact's television tapings in Sin City.
"Hopefully, my involvement with the shows has nothing to do with Eddie. It's repulsive to just smell his breath," states Moose. "I give it my all, and it will show this weekend. Just don't forget–whatever happens in Vegas, stays in Vegas."
He's not kidding. Known for his devastating Game Breaker, people can't help but take notice of the star's in-ring presence. With Impact returning to its stomping grounds in Nashville on January 6, 2019 for the company's huge Homecoming pay-per-view, the star on the rise has his sights on not only championship gold, but the girls attending the show as well.
"Going back to Nashville will be a great moment for the company. Honestly, for me–personally, I can't wait to go and meet some of my hunnies," smirks Moose. "I'm going to have some fun with them."
Moose doesn't care who management puts in front of him. He tells Impact viewers that he will knock everyone down if they get in his way. Some might call him arrogant. Moose says he is just confident. The wrestler claims he is a spur-of-the-moment kind of guy, who also happens to be spontaneous. He's not just limiting his physical altercations with human beings, either.
"You can put a trashcan in the ring with me, and it will be the best fight in that trashcan's life," he says in all seriousness.
It looks like there are plenty of fights ahead of the best-dressed wrestler in the universe. The wrestler thinks Tommy Dreamer is "the hardcore legend," Kongo Kong "needs to call [his] stylist," and Sami Callihan is his "best friend," because "[Sami] killed Eddie Edwards." Moose also says that if Bill Goldberg was an active competitor, he would like the opportunity to go toe-to-toe with him. Things took a fascinating turn when Still Real To Us inquired about Moose's former partner.
When asked to play word association for Austin Aries, Moose had no comment. Before concluding the interview, Moose tells readers that in order to look their best, they need to follow one, very specific rule.
"Dress like Moose."
You can follow Impact Wrestling on Facebook, Twitter, and Instagram.