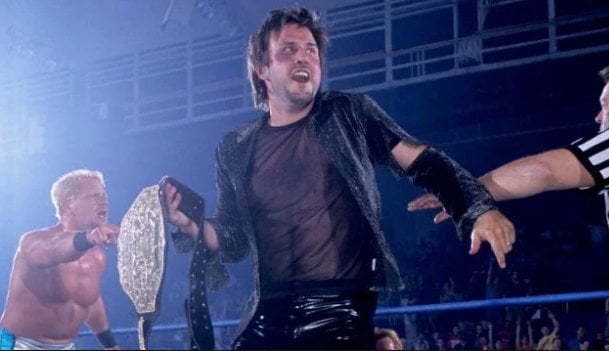 Many fans consider David Arquette's WCW World Championship win to be one of the worst moments in wrestling history, but Arquette is currently on a quest for redemption.
The former World Champion has returned to the world of professional wrestling in an effort to prove himself, but he's also been reflecting on his run with WCW.
Arquette recently spoke to ESPN about the big win, and he noted that when DDP told him he was going to win the belt he thought it was a joke.
"I thought it was a bit of a joke and he was like, 'No, I'm serious,'" Arquette recalled. "I think [my] response was, 'That's a terrible idea. No, we can't do that,' but then they explained the storyline that I wasn't pinning a wrestler, I was pinning Eric Bischoff."
Even though his World Title win was quite controversial, Arquette went on to say that life is about experiences, and the opportunity allowed him to travel with guys like Hulk Hogan and Ric Flair which was a big deal for him.
There were a lot of people who weren't happy about his big win, but David Arquette did receive an endorsement from the one and only Ric Flair.
"Ric Flair at one point put his arms around me and said, 'Hey guys, he's one of us,'" Arquette remembers fondly. "That made me feel really great."
Dec 8th House of Hardcore in PHILLY, PA at @2300Arena
INDIE DARLINGS@RJCity1 & @DavidArquette vs. @PlanetTyrus & @RobbieEImpact!
Plus @EdgeRatedR @bullyray5150 @THETOMMYDREAMER & MORE!
Tickets and infohttps://t.co/bTmn7myKPf#RAW pic.twitter.com/8Hqc2GziOZ

— House of Hardcore (@HouseofHardcore) October 29, 2018