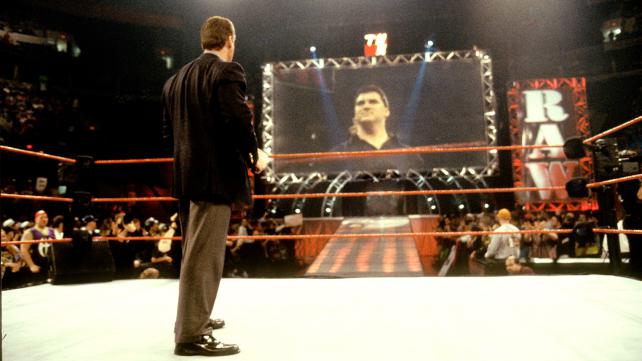 Thank goodness for the WWE Network which let us relive this moment. The Attitude Era was an epic time for wrestling. It was a time when wrestling was far more popular than it is now and it was a time when the WWE (then WWF) actually had competition in the form of WCW. For a few years WCW beat WWF in the ratings but with the right superstars in the right place at the right time the WWF eventually won the war and put WCW out of business.
In real life it was Vince McMahon who purchased his competition WCW but it was a stroke of genius when WWF threw a curveball into the mix in the form of Shane McMahon stealing WCW right from underneath Vince. Vince and Shane were embroiled in a heated rivalry and were scheduled to face each other only days after the purchase was made at WrestleMania X7.
As Vince McMahon was gloating about the fact that he was about to purchase WCW, Shane McMahon appeared on the simulcast and announced that Vince wouldn't be purchasing his rival company because Shane beat him to it. The idea and concept was groundbreaking and wrestling fans foamed at the mouth with the possibility that two McMahons could compete against each other with rival companies. Things of course didn't go all that well for the WWF/WCW invasion storyline but after this promo the excitement behind wrestling reached a fever pitch.
The fact that this happened only days before WrestleMania X7 only increased excitement for the big event as wrestling fans now had to tune in to the see the Vince/Shane rivalry develop. Although the invasion storyline could have been much better, it's hard not to get goosebumps as you watch this epic moment in wrestling history.