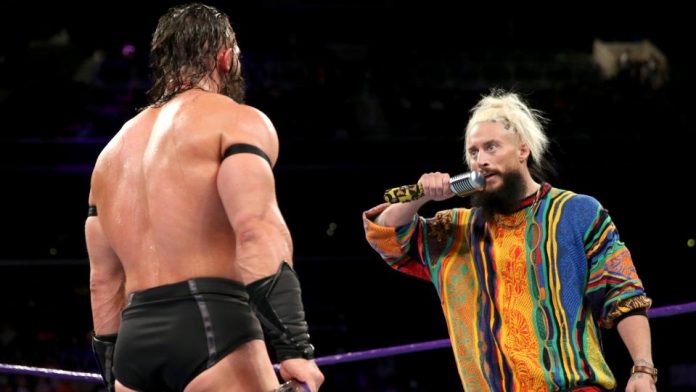 Enzo Amore has been a very hot topic lately, because it's rumored that the Realest Guy in the Room has some major backstage heat in WWE. For months now Enzo has been wrapped up in a feud with his former tag team partner Big Cass, but that feud came to an abrupt end on Monday Night Raw this week when Big Cass was injured during a Brooklyn Street Fight.
Related: Big Cass To Undergo Surgery, Details On How Long He'll Be Out Of Action
It looks like Big Cass is going to be out of action for quite a while, so Enzo is going to need something to do. Now the Realest Guy in the Room has been added to the cruiserweight division, and he made his debut on 205 Live this week on the WWE Network.
Enzo took to Instagram to comment on his 205 Live debut, and he posted the following:
"Went out last night in the city that never sleeps… got myself nice and dehydrated, took a power nap. Woke up at roughly 7:40 pm , stepped on the scale, weighed 206 lbs: … I had a cuppa ☕️…. sat down on the throne, took a …. (.) and… #205live #RAW #DoubleDippaZo"
https://www.instagram.com/p/BYILjxSA_om/?taken-by=real1
Legendary WWE Hall of Famer Bruno Sammartino met up with pop star Bruno Mars this week, and Mars noted on Instagram that he was nicknamed after Bruno Sammartino, and he was honored to meet him.
"I was nicknamed after this professional wrestler Bruno Sammartino. Tonight in Pittsburgh I had the honor of meeting him! #OG #24kmagicworldtour"
https://www.instagram.com/p/BYIEmcoBsKL/?taken-by=brunomars