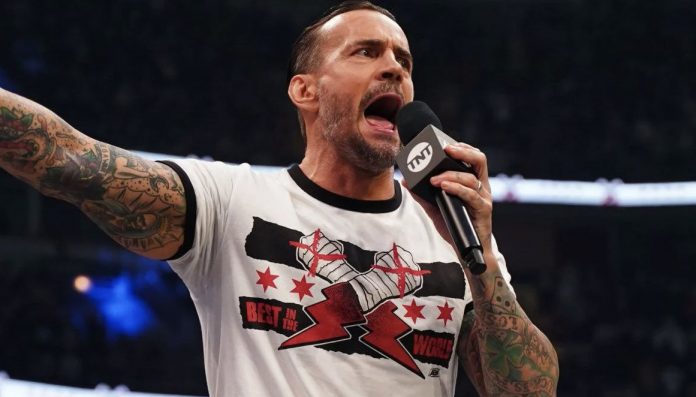 It's been almost a year since CM Punk made his big return to professional wrestling when he debuted with AEW, and he is currently the AEW World Champion.
This week CM Punk kicked off Dynamite and called up Adam Page, then said it was "coward s**t" when Page didn't show up. It's been reported that the Adam Page call out was not planned and AEW officials didn't know it was going to happen.
There appear to be issues between Punk and Page as Fightful Select reports that they didn't see eye to eye on some of the promo material that was used on Dynamite leading up to their match at Double or Nothing. It's being said that it was to the point where CM Punk met with AEW higher ups about the context of Page's promo. Voices of Wrestling also noted that they heard Punk told others back in May that he wouldn't lose to Adam Page.
Several people within AEW felt that the situation that unfolded this week on Dynamite was unfair to Adam Page because he wasn't aware of it. One even questioned what he could have done if he was aware of it as he would have had to walk past Tony Khan and insert himself in a segment he wasn't supposed to be a part of. Hangman was in the building, but there's no word on his response. People Fightful spoke to said that Adam Page isn't confrontational and is generally well liked by the roster.
According to several on the roster the belief is that Punk felt Adam Page went into business for himself leading up to Double or Nothing, and Punk's promo this week was a receipt, but that's just speculation.
Sources close to the situation noted that Punk has verbally expressed his displeasure about things so blatantly recently that they thought he might end up quitting AEW. Those close to CM Punk said that he might have almost decided to stay home instead of coming to Dynamite this week, but don't think he would quit. There's no indication that he's currently planning on leaving AEW, but one veteran reportedly heard of "threats being levied."
Putting the CM Punk vs. Jon Moxley match on the August 24 episode of Dynamite was reportedly a late decision. Stay tuned for more updates as they become available.