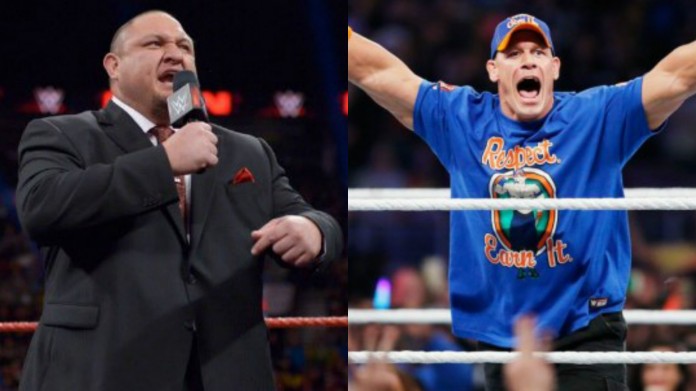 Prior to Samoa Joe's main roster debut it was rumored that he would be facing off against John Cena at WrestleMania 33. It doesn't look like that's going to happen now as Samoa Joe is officially part of the Raw roster and John Cena is expected to team up with Nikki Bella to take on The Miz and Maryse in a mixed tag team match.
Related: Samoa Joe Reveals How CM Punk Reacted To His Main Roster Debut
Although it isn't likely to happen anytime soon, that doesn't mean that a potential Samoa Joe vs. John Cena match can't happen in the future. Joe has made it clear that he would be happy to get his hands on John Cena and Cena usually isn't one to back away from a fight.
Bubba Ray Dudley recently took to Twitter to comment on a potential Joe vs. Cena match and he seems to think that it has all the makings of an instant classic.
1 day…@SamoaJoe vs @JohnCena has the makings to be a phenomenal STORY w/ emotional investment that we be fought brilliantly in the ring.

— Bubba Ray Dudley (@bullyray5150) February 16, 2017
Hopefully we get to find out of Bubba Ray Dudley is right sooner rather than later.
Women's wrestling has gone through some huge changes over the past few years. Fans have really gotten behind the female performers and wrestling promotions seem to be following suit.
One female wrestler who many fans would argue was ahead of her time is none other than Melina. While the former Women's Champion was a part of the WWE roster she consistently worked hard to push herself, but unfortunately the state of women's wrestling in WWE at the time just wasn't where it needed to be.
Since parting ways with WWE, Melina has continued to wrestle on the independent circuit and she recently spoke with Memorabilia Guy to promote the Southside Wrestling promotion in the UK. During the interview she was asked to share her thoughts on the current state of women's wrestling and Melina had nothing but good things to say.
"I think it's amazing. It's incredible to see and it makes me so happy. It's so weird where I keep thinking of "back in my time" which wasn't really that long ago. I appreciated people in the past – back in the 60s and everything. People talk about the "women's revolution" and I'll tell them that the women's revolution started in the beginning on women's wrestling. Women have been such a minority in wrestling, and it's been a novelty. For a time, even though there were some serious wrestlers, it was still seen as a novelty back before me. And now, from my time, I felt like I was the only girl wrestling in my school. Maybe there would be another one who would come in every so often, but it was such a rare thing to see. So when I got into OVW, it was such a beautiful thing to have three girls! But now there are so many women, and it's so amazing that women can go anywhere and have people to work with."
The return of Mickie James has proved that female veterans can have a very positive impact on the WWE roster. Perhaps WWE should contact Melina about joining the roster once again.
Would you like to see Melina return to WWE? Sound off in the comments below.
AJ Styles has come a long way since making his WWE debut. He's a former WWE Champion and he's feuded with big names such as Roman Reigns and John Cena, but is AJ being buried? Some people out there seem to think so and we're talking about it on this week's episode of Still Real Radio which you can listen to below or on iTunes by clicking here.