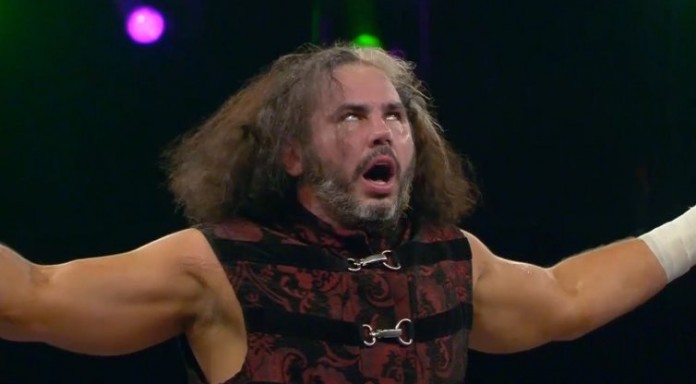 Just in case you haven't heard, Chris Hero has returned to WWE. Hero made his return at a recent set of NXT tapings earlier this week, and he'll be picking up where he left off a few years ago under the name Kassius Ohno.
Related: WWE Officially Announces Kassius Ohno's Return, Chris Hero Comments
Fans all around the world seem thrilled about the return of Kassius Ohno, and Chris Hero also seems pretty thrilled to be part of NXT again. However, there is one person out there who seems a little disappointed about Chris Hero's decision to return to NXT, and that person is none other than Broken Matt Hardy.
Broken Matt Hardy has worked hard to create entertaining wrestling programming that exists outside of Mr. MeekMahan's empire, and most would say he has succeeded. Broken Matt Hardy has also encouraged other performers to push themselves to be creative and following Chris Hero's return to NXT he's encouraging the outside communities to stand together in the Great War.
Another strong soldier has chosen to return to Negan MeekMahan's Sanctuary.

The outside communities most stand together in this #GreatWar. https://t.co/EShnIRntSs

— #BROKEN Matt Hardy (@MATTHARDYBRAND) January 7, 2017
#BrotherHero… I KNEW YOU'D GO. https://t.co/1PllwFEFNv

— #BROKEN Matt Hardy (@MATTHARDYBRAND) January 6, 2017
#BrotherHero pic.twitter.com/BcC70F99t8

— Kassius Ohno (@KassiusOhno) November 5, 2016
Broken Matt Hardy's TNA contract is up in February and it was recently reported that WWE is interested in bringing the Hardys back to the company. So it should be interesting to see if Matt decides to return to Negan MeekMahan's sanctuary when all is said and done.
Related: TNA Reportedly Trying To Sign Matt And Jeff Hardy To Exclusive Deals
You can check out the latest episode of Still Real Radio below, and you can also subscribe to the show in iTunes by clicking here.