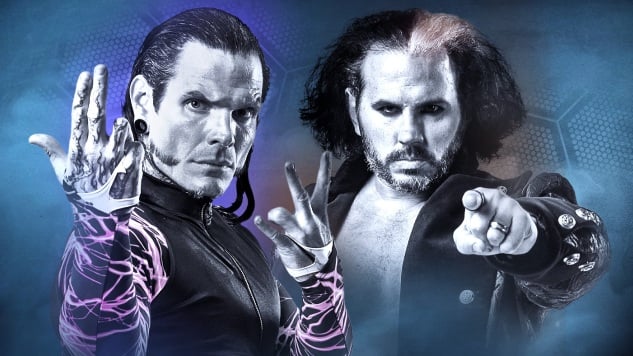 Matt and Jeff Hardy set the wrestling world on fire in 2016 with The Final Deletion and all things related to the Broken Universe. They found a way to get people talking about TNA again, and they're currently one of the most over acts in all of professional wrestling.
Broken Matt Hardy has said in interviews that his TNA contract is set to expire in February, and he's exploring his options in regards to what would be best for the future of the Broken Universe.
The Wrestling Observer Newsletter reports that TNA is trying to sign both the Hardys to exclusive deals, but it would likely take a lot of money to do that because the Hardys have been doing well for themselves working independent shows.
It's also being reported that WWE does want to sign the Hardys, and that there's huge potential for them to make money off of merchandise in WWE with their current gimmick. However, it's not known if the Hardys are interested in working the WWE schedule, as Matt has another baby on the way and they're not having any financial issues with life outside of WWE.
It seems that at this point in Matt Hardy's career what's most important to him is creative freedom. TNA has obviously allowed him a lot of liberty to do what he wants to do, and they've been pushed as TNA's top act for the past few months. If they return to WWE there's always a chance that they could get lost in the shuffle.
Back in December during an interview with USA Today's For The Win, Matt noted that anything is possible when it comes to his future, but he would like to play a bigger role in shaping TNA's future.
"Anything is possible. My contract is up toward the end of February. Right now, if all things work out and I get my way, I want to play a bigger part and be instrumental in helping Impact Wrestling reach its fullest potential. That is the most paramount thing to me and all important. The Hall of Fame and this Meekmahan stuff, that is not something that is vital to me. If it happens later on, it happens."
You can check out the latest episode of Still Real Radio below, and you can also subscribe to the show in iTunes by clicking here.