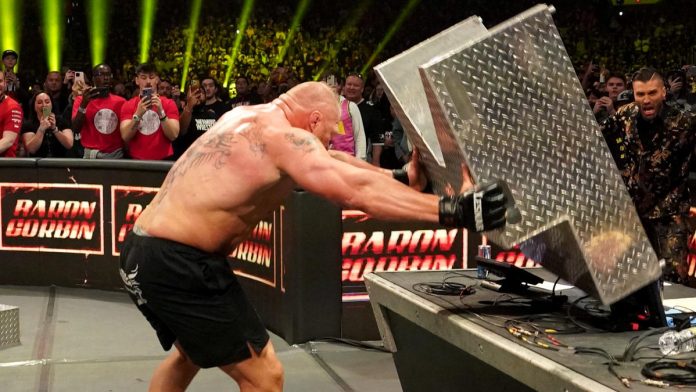 The annual Royal Rumble premium live event aired from San Antonio on Saturday night and Brock Lesnar entered the 30 man Royal Rumble match at number 12. The Beast was only in the match for a few minutes before he was elimination by Bobby Lashley and afterward he went on a rampage.
Lesnar reacted to his elimination by destroying the ringside area, picking up the ringside stairs and throwing a referee over the security barricade. Fightful Select is reporting that Brock Lesnar gained some heat due to the aftermath as some of what happened was not planned.
It's being said that there were people in the ring and ringside area who were not prepared for the stairs spot and did not know that it was coming. Brock Lesnar throwing a piece of the announce table in the ring was also not planned.
The spot that reportedly got Lesnar some heat was the unplanned spot where Brock threw referee Eddie Orengo over the barricade. It looked like the ref initially sustained a foot injury, but his status is unclear. Orengo was originally supposed to be the referee who held up Cody's hand after his victory. However, that was changed when he had to sell what happened with Brock.
One source noted that Brock Lesnar isn't going to get in trouble and certainly won't get fired. It's not clear if anyone involved was mad or not, but some people backstage were.