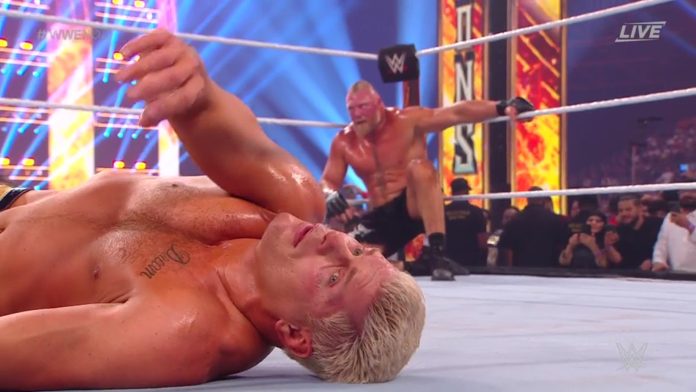 The night after WrestleMania 39, Cody Rhodes formed an uneasy alliance with Brock Lesnar, but the alliance didn't last very long as The Beast Incarnate turned on The American Nightmare. The two stars ended up facing off at Backlash and it was Cody who picked up the victory when he pinned Brock Lesnar's shoulders to the mat while Brock had him in the Kimura.
Brock Lesnar quickly made it known that he wasn't done with Cody Rhodes and he challenged him to a rematch at Night of Champions. On the last Raw before Night of Champions, Cody and Brock got into a heated confrontation and Brock "broke" Cody's arm when he put him in the Kimura once again.
Heading into Night of Champions WWE was pushing that Cody would be competing with a broken arm which of course was just a storyline injury, but Rhodes refused to back down. Cody made his way out to the ring wearing a cast on his arm as the commentators claimed that he had a fractured forearm.
Early on in the match Brock Lesnar took Cody to Suplex City as Cody sold the arm injury whenever he landed on the mat. Cody then fought back when he started using the cast as a weapon and hit Brock Lesnar in the face with it repeatedly. Cody hit Brock with Cross Rhodes twice then he went for the move a third time, but Brock countered and locked in the Kimura on the broken arm.
Cody tried to roll Brock over, but The Beast Incarnate didn't let go. The American Nightmare grabbed the rope and Lesnar had to break the hold. Lesnar went for the F5, but Cody reversed it into Cross Rhodes and Lesnar kicked out. Cody continued to hit Brock in the face with the cast. Brock finally got the F5, but Cody kicked out after Brock struggled to get the pin.
Brock Lesnar locked in the Kimura once again and Cody passed out while the referee called for the bell. Brock eventually released the hold as the fans booed. After the match Brock Lesnar looked on at Cody Rhodes and celebrated as he made his way up the ramp.