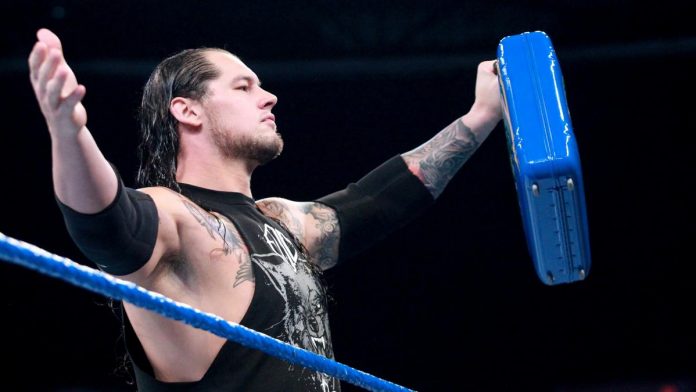 SummerSlam is coming at us like a freight train of fun and it is sure to be full of surprises. But one surprise some people expect is Baron Corbin cashing in his Money In The Bank briefcase for a title match.
It was recently mentioned on Wrestling Observer Radio how everybody thinks WWE might be setting Baron Corbin up for the WWE Championship picture soon. He is Mr. Money In The Bank after all so the odds are in his favor.
Dave Meltzer spoke very candidly about his opinion regarding The Lone Wolf and if he is ready to carry the heavy ball and run with it as champion. This writer is personally a fan of Baron Corbin. I dig his unique look, athletic ability, and the way he holds down a match. But apparently, Dave Meltzer would tend to disagree.
"If Jinder Mahal loses the title to Baron Corbin that's also stupid because the only reason to have Jinder Mahal as champion is to cater to India. Okay? Which is why they got him. But if you're gonna take it from him, if you're gonna give up on catering to India you should take it off him and put it on a guy with, you know John Cena who's a big drawing card or if you think Nakamura's gonna have charisma and help you in Japan and make it in the United States because he's so charismatic, that's all well and good."
"But to go with Baron Corbin who is essentially, you know Baron Corbin is everything Jinder is with except he's a couple inches taller, not nearly as good of a body, probably cleaner, and what else?" asked Meltzer to co-host Bryan Alvarez. "What else is the difference? Jinder's a better promo. Jinder's younger I don't what Baron Corbin–"
"It's a toss-up on the better promo," Bryan Alvarez interjected.
"Jinder has a much better promo," Meltzer replied.
"Dude, he has one promo he cuts every time — it's the exact same promo every single time and he loses his voice five seconds in," Alvarez cut in again.
"But I look at Jinder and I see his face. He's got great facial expressions," Dave continued.
"He does have a much better face than Baron Corbin," Bryan agreed.
"Yeah, he's got something," Meltzer said. "I mean it's not like — [Jinder Mahal's] got a presence. I mean Corbin's got a presence because he's tall to a degree. But Corbin's promos to me — they're really… they're as fake as they come. They're completely unconvincing."
"I mean, Jinder I think at least as far as like an upper mid-card foreign menace kinda guy in the old days I think he kinda would fit in where Baron Corbin would be that guy you would bring in and because he's so tall you'd push him and he would die and you'd just go: 'well, it didn't work.'"
So do you think Baron Corbin has what it takes to be WWE Champion? If Corbin cashes in his briefcase after a Nakamura victory at SummerSlam and Shinsuke shuts him down by beating him clean with a Kinshasa that would be a nice swerve too, just saying. It would also put Corbin in the company of unsuccessful MITB cash-ins with Damien Sandow which might be a booking decision Meltzer would agree with.
If you use any portion of the quotes in this article please credit Wrestling Observer Radio with a H/T to Still Real To Us for the transcription