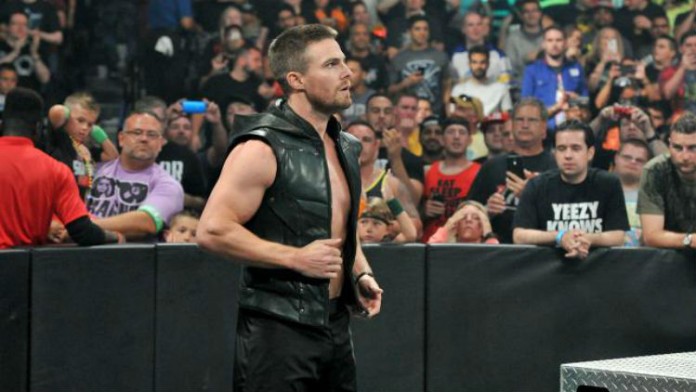 Many celebrities have made the decision, that to test just how tough they are by stepping into a WWE ring with only a few weeks of training, one person who did this recently was "Arrow" star, Stephen Amell.
Amell teamed with Neville at SummerSlam back in 2015 when they took on the team of Wade Barrett and Stardust after Amell and the man formerly known as Cody Rhodes had a lengthy Twitter exchange before their feud was brought to TV.
It seems that even though this was two years ago, now that season five of "Arrow" is finished, Amell may be hinting that he would like to return. The man who portrays Oliver Queen on the popular comic book show appeared at the Heroes and Villians Fan Fest in London recently and was asked about his future wrestling career.
He said: "I would love to do something with wrestling again. I don't know what that's going to be. I think being with WWE would be really cool. I think that Cody who I worked with is doing such great stuff with Ring of Honor and New Japan. That would be cool. Um, but I need to get back to the ring one more time."
He also revealed that his first appearance was quite a nerve-wracking affair: "Because the first time I was so, the second I stepped outside of the curtain, all of the moisture was zapped from my entire mouth. I was so nervous, so nervous that I literally forgot to get in the ring."
With Rhodes currently plying his trade at Ring of Honor and Neville riding his as King of the Cruiserweights gimmick, it is hard to see where Amell would fit in but if WWE sees it as an opportunity then they would find a way to make it happen.