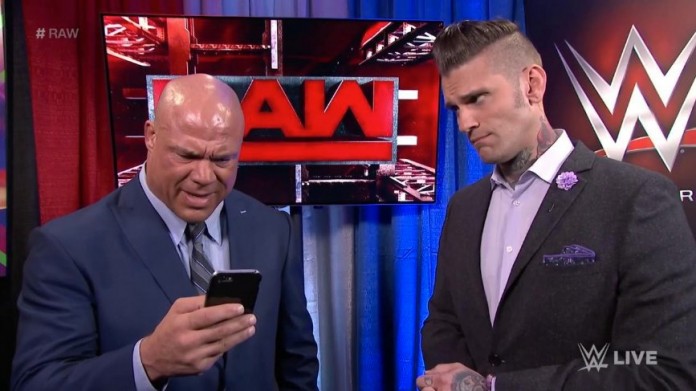 During this week's edition of Raw, Corey Graves stopped mid-commentary after receiving a message of some kind. He immediately took it to Kurt Angle, and the Raw GM revealed that it might "ruin him," which has WWE fans speculating about the meaning behind the big angle.
Bryan Alvarez speculated that the storyline with Corey Graves' text messages regarding Kurt Angle and Angle's comments about this "ruining" him is likely leading to the return of Stephanie McMahon.
Related: Stephanie McMahon Says She Doesn't Know When She's Returning
It's being reported by the Wrestling Observer that the dirt that was shown to Kurt Angle is expected to lead to the return of Stephanie McMahon. Her return could happen as early as next week, but the "text message" angle is expected to be a big deal for Angle's character.
Kurt and Stephanie have some history from the Attitude Era, and WWE fans knew the two were going to interact on Raw at some point over the next few months. Angle has been in charge of Raw since Stephanie was written off WWE programming at Wrestlemania 33.
Stephanie McMahon's return to WWE television hasn't been revealed yet, but the seeds were planted this week on Raw. There are many different ways the angle can grow. For now, WWE fans will need to be patient and wait for the story to build over the next couple of weeks.