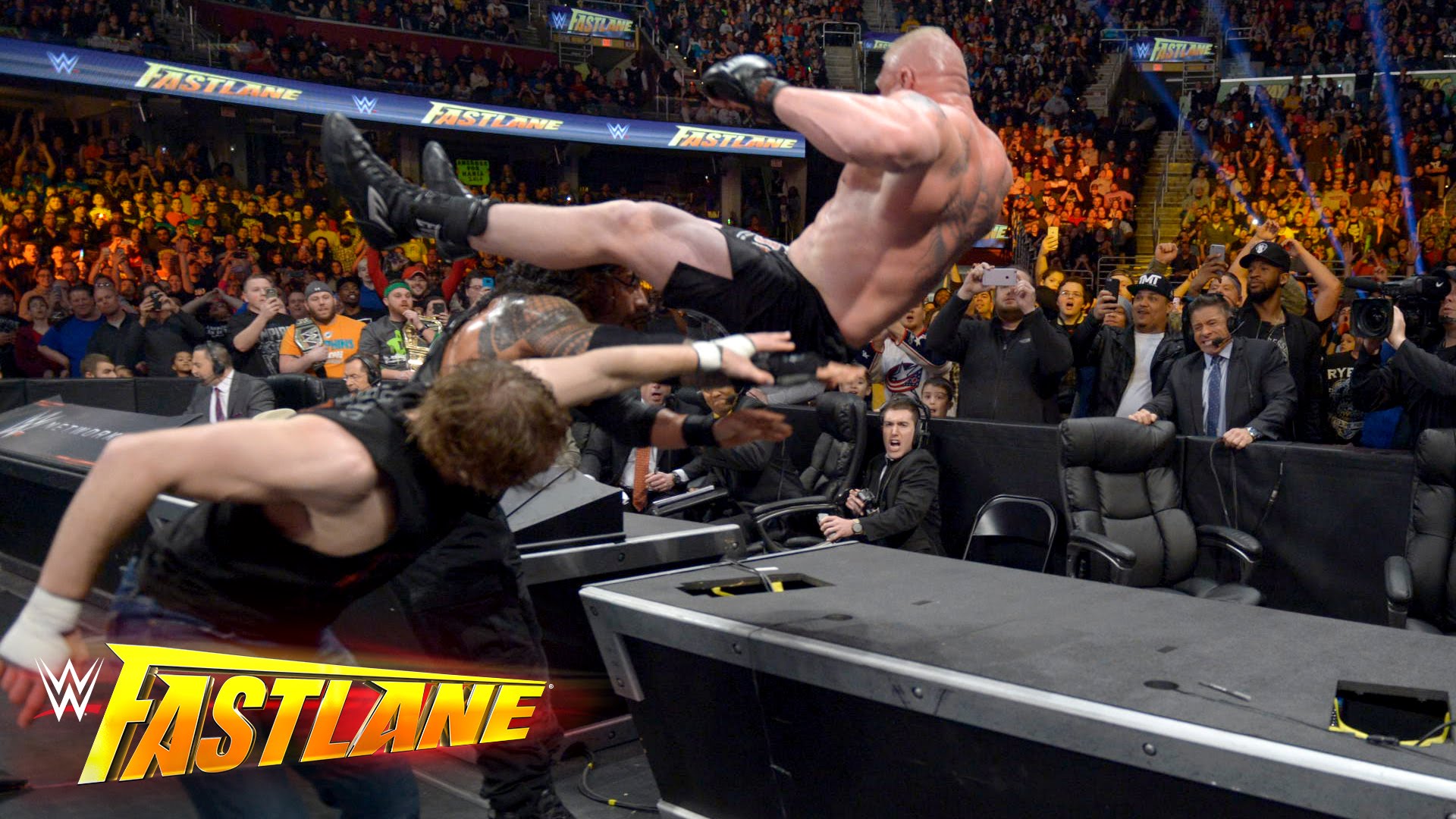 the 2016 WWE Fastlane pay-per-view has come and gone and now the next stop is WrestleMania 32. The main event is set and hype is at an all time high. But before we get to WrestleMania 32, let's take a look at some mark out moments from WWE Fastlane.
#5 – Mauro Ranallo's Commentary
The kickoff show that runs before WWE pay-per-views is never really all that exciting. But somehow Mauro Ranallo found a way to turn the excitement factor up to 11 on Sunday night.
Ranallo called the 2 out of 3 falls match featuring Kalisto defending his US Title against Alberto Del Rio and he called it like it was a WrestleMania main event. The way Mauro calls a wrestling match just makes things sound so intense. He calls the moves as they happen and his commentary can make just about any match sound exciting.
Mauro Ranallo is what WWE has been missing at the commentary table and we hope to see him get bumped up to Raw and pay-per-views sooner than later.
#4 – Sasha Banks And Becky Lynch Take On Team B.A.D.
Last night Sasha Banks and Becky Lynch reminded fans why they wanted them to get called up to the WWE main roster in the first place. When the Divas Revolution kicked off last year, it was a great idea with poor execution. WWE's main roster gained the NXT Divas which was great, but they had no direction, which was bad.
Here we are months later and things are getting interesting for Sasha Banks and Becky Lynch. They formed an uneasy alliance to take on Team B.A.D. at Fastlane and they were victorious. It was really nice to see two of the brightest Divas in the division shine so bright on a WWE pay-per-view and they both looked great.
It's where they go from here that matters though. It's rumored that Sasha and Becky will get wrapped up in a triple threat match and face Charlotte for the Divas Championship. That sounds like it could potentially be the right match on the right card if it happens.
#3 – Dolph Ziggler And Kevin Owens Deliver Again
How many times have we seen Dolph Ziggler and Kevin Owens fight each other over the past few weeks? Regardless of what the actual number is, it's been too many times. These guys have fought each other almost every week for a month now. Which is why it's so impressive that they're still able to deliver a great match and get the crowd into it.
Ziggler vs Owens might seem redundant at this point, but these guys bring out the best in each other. They're pretty familiar with one another at this point. So they could have easily gone through the motions at WWE Fastlane. But instead they gave the fans everything they had, pushed each other to the next level and everyone was better off for it.
#2 – AJ Styles Vs Chris Jericho III Lives Up To The Hype
The first two matches Styles and Jericho had were excellent but it was nice to see that they had saved the blockbuster match for pay-per-view. Styles and Jericho pulled out all the stops to deliver one of the best matches in recent memory at Fastlane.
WWE made the right move pairing AJ Styles with Chris Jericho upon his arrival. AJ needed the chance to show the masses what he can do in the ring and Chris Jericho was the perfect guy to help him put his skills on display.
These two seemed to have an answer for everything the other one did. Watching these two try to one-up each other was a delight and we were really convinced that either man could have claimed the victory. But it was Styles who won at WWE Fastlane and Jericho met him after the match for a handshake.
This contest was a great way to end a terrific trilogy of matches but we're willing to bet we haven't seen the last of this rivalry.
#1 – The Madness In The Main Event
When it was announced that Brock Lesnar, Roman Reigns and Dean Ambrose would face off in the main event at Fastlane, everyone knew it would be chaotic. And choatic it was.There were tables, there were chairs and there were false finishes galore.
Ambrose and Reigns told a good story and Brock Lesnar did his Brock Lesnar thing which always works well. Ambrose and Reigns teamed up to take out Lesnar and they delivered two double powerbombs through two separate announce tables much to the delight of the fans. Then they buried Lesnar in the wreckage and turned on each other. Eventually Lesnar returned but watching the brothers take down The Beast was very entertaining.
The match had big implications and everyone involved did a great job at making the contest feel important. In the end it was Reigns that won the match to earn the right to face Triple H at WrestleMania 32.
What was your favorite moment from the WWE Fastlane pay-per-view?