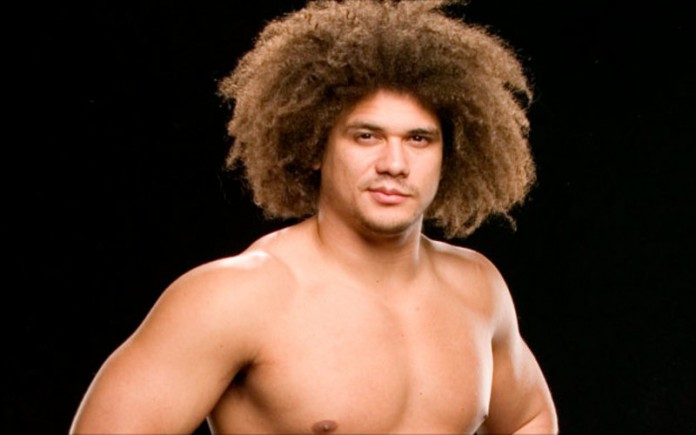 Following the brand split a few months back, rumors started flying about the WWE needing to expand its roster. Jinder Mahal, Rhyno and Curt Hawkins have returned, seemingly for full-time schedules. Shelton Benjamin was supposed to return months ago, but is said to be coming back once his shoulder injury has healed. Brian Kendrick, who had popped up within NXT and on Total Divas at various points, now appears to be back as a cruiserweight.
These have been some smart additions to the WWE roster, although there are plenty of other WWE superstars that are still ring-ready:
– MVP – It is well-documented that MVP left WWE on good terms, instead opting to work in Japan. Since leaving Japan, he had a very successful stint in TNA, as followed by a short run with Lucha Libre. MVP continues to work on the indies while hosting a great podcast on the MLW Network.
– Victoria – As Victoria in the WWE, she was one of the top in-ring performers. As Tara in TNA, she had multiple runs with the Knockouts Division's top title. She also worked with Ring Of Honor and on the indies. The current Smackdown Live female roster is light on experienced talent, and Victoria could help train some of those recent NXT call-ups.
– Matt Morgan – Although he fared much better in TNA than in WWE, Matt Morgan is a big guy and WWE still needs big guys. He is also great on the mic. Even in a part-time role — it is known that Morgan left wrestling behind for a "normal" job — he could help get other giants (e.g. Braun Strohman, Big Cass) over.
– Melina – Rumors have always flown about Melina, but within her appearance on Jim Ross' podcast, she came across as someone that was mature, well-spoken and motivated. Melina was undoubtedly one of the better female workers of the past decade. As noted above with Victoria, she could help some of the newer female competitors on the WWE roster (e.g. Alexa Bliss, Carmella) with their in-ring work.
– Jimmy Wang Yang – Every time the WWE comes through his part of Ohio, Jimmy Wang Yang seems to spread rumors of his return to the WWE roster, which I can't fault the guy for. But he amazingly joined WCW as a teenager, meaning that he is still only 35 years old; that makes him younger than a lot of the current WWE roster. He would work for the cruiserweight division, yet also would fare well for comedic parts.
– Rob Van Dam – He was recently part of the WWE's DVD on the Hardcore Title, but it has been a few years since Rob Van Dam has been on the WWE roster. He still put on great matches during his last WWE run and has been seen on the indies within the past year. There is definitely more in the tank with that guy, who — as a reminder — did have the #1 spot from PWI way back when.
– Carlito – Carlito is another wrestler that is younger than most people realize as he got his start early; he is currently 37 years old. He currently has two relatives on the main roster. And speaking of the Colón wrestling dynasty, Carlito is still active in Puerto Rico, having won the WWC Universal Championship earlier this month.
– Tommy Dreamer – We have seen Tommy Dreamer come back for some short WWE runs in 2012, 2015 and earlier this year. Every time he returns, he gets a big pop along with the standard "E-C-Dub" chant. A few appearances a month would be great for the guy, no?
– Mickie James – While her WWE run was more high-profile than her TNA run, Mickie James' work with TNA showed everyone that she was a tremendous wrestler that could also talk. Her country music career would be further exposed via even a part-time return to WWE, and as noted above, she could help some of the less-experienced talent learn how to work against a popular babyface.
– Velvet Sky – Everyone knows that Velvet Sky is together with Bubba/Bully Ray. Everyone knows that Velvet Sky helped carry the TNA Knockouts division for years. So why isn't she getting her shot at WWE?
– Eve Torres – She was somewhat-popular as a babyface, but she was truly hated as a heel. Eve Torres has served as an ambassador for WWE since 2014, which makes it questionable why she has not returned beyond a one-off for the Slammy Awards in 2013. Few of the female wrestlers that WWE has have a background in martial arts, which further makes Torres distinct.
– Kharma – When Kharma left the WWE due to her pregnancy, her final promo remarked about how she would be back and that she had her eye on the Bellas. For one reason or another, she did not come back to WWE, which now has a Kharma-in-training with Nia Jax. The WWE could absolutely use someone like Kharma, a physically-imposing presence that can actually work.
– Raven – "What about Raven?" Like RVD, Raven was seen on WWE's new DVD about the Hardcore Title. That shows the company having come a long way on Raven, as his legacy had been minimized by the WWE in recent years. The guy has a MENSA-level IQ and still wrestles. As a great talker, he would work well as a manager or "advocate," while also being able to contribute to the WWE creative team, which he did over 20 years ago.
All in all, some more returning talent could not only freshen up the current roster, while also helping to sell more merch related to those returning stars, while also bringing some former WWE fans back into the mix. A win/win for everyone involved…