There's been a ton of buildup and it's finally time to see what Vince McMahon and his merry men can come up with. SummerSlam was a massive show with thirteen matches in total and we're all very aware at this point what it took to get us here. It's been a long process planning the Biggest Party Of The Summer but we made it through. Yay, us! We deserve this! Now on with the show!
Kickoff Show — Miz and Miztourage vs Hardy Boyz and Jason Jordan
This is the little match that could. But they pulled something out of the shambles surround their previous feuds that fell apart in one way or another.
The Barclays Center was still filling up and they had just opened the doors so it looked like they were playing to a house that didn't sell out at all. Even though there weren't many people there the "DELETE" chants toward Matt Hardy were still very audible.
Axel and Matt started off and they wrestled around for a moment until Matt got the upper hand and tagged into Jason Jordan. When Curtis Axel backed JJ into the turnbuckle and tagged out to Bo Dallas Jordan lost the advantage. When he made his comeback after a dropkick he got no pop at all. It's a shame because he's a great athlete, but the fans were certainly into the match at least a little because "DELETE" chants came out again when Matt got the tag.
Then Jeff and Matt backed the Miztourage up in opposing turnbuckles. Jason hit a dropkick on Dallas and slammed Axel. Jeff climbed up to pull off a senton bomb but Bo pulled Axel out of the ring to regroup.
Jeff hit a low dropkick on Dallas for a two count but got tossed into the Miztourage in the corner. He tried for a Whisper In The Wind but Axel knocked him down and Jeff landed hard as he likes to do. After that, Jeff Hardy took some damage from Miz in the ring.
It might have been a combination of the crowd filing in and the dynamic of this match but even when they started a "clapping chant" for Hardy it didn't sound like anybody cared.
Matt got the tag and a ton of "DELETE" chants started. He hit Miz against the turnbuckles one by one and pulled off a running clothesline on Miz and Axel who was standing on the apron. That was nice.
Miz started the "It Kicks" which he still ripped off of Daniel Bryan no matter what he calls him. But he missed the last kick and Matt hit the Side Effect. Jordan got the tag and started taking it to Curtis Axel. He tossed Bo Dallas across the ring and drove his shoulder through both of them while they stood in the corner.
Miz came in the ruin the hot streak and Jeff came in with a Twist Of Fate to help out. After a schmoz, Miz got the blind tag just when Jason looked like he was gearing up to finish Axel off.
Miz hit the Skull Crushing Finale and stole the win over Kurt Angle's baby boy.
Kickoff Show — Akira Tozawa vs Neville (Cruiserweight Championship Match)
Neville came down without his Cruiserweight Championship and he looked naked. He wasn't happy either. He was no barrel of laughs during the kickoff show at NXT TakeOver: Brooklyn III when several former NXT stars came back to pay a visit. He just sat there brooding while he made everyone really uncomfortable around him.
Akira came out wearing the Cruiserweight Championship like a purple sash. That's a neat look. Titus O'Neil was by his side looking dapper and all business-like in his suit.
Once the bell rang a big chant for Tozawa broke out and they circled each other for a moment before locking up. The two wrestled around for a moment and Akira took a dropkick to the face so Akira answered back with another dropkick that sent Neville outside.
"This is my ring!" Tozawa yelled and Neville just stood there looking focused. He slowly got back in the ring and Akira jumped him as soon as Neville was inside and applied a vicious attack on the former King Of The Cruiserweights.
Neville got a few moves executed on him in fast fashion until Neville ended up on the apron and snapped Tozawa's neck on the top rope. He dragged Akira outside and slammed him against the LED board on the side of the ring to send the champion crashing to the ground.
Once they got in the ring Neville hit a top rope dropkick and then climbed up the opposite side to hit another one to Tozawa's back. 1-2-kick out!
"Let's go baby!" Titus yelled on the outside as Neville hopped up and looked methodically at the crowd. He taunted the Barclays Center as it filled with fans and stomped Akira down. 1-2-another kick out, but Neville didn't even hook the leg.
Neville slapped on a rear chinlock and ground Akira into the mat as he tried to keep the champion down. Titus O'Neil rallied his client from ringside and Akira fought out of the hold. Before we knew it Neville was on the outside tasting a suicide dive from Tozawa.
When they got back in the ring Tozawa hit an elbow smash in the corner and followed it up with a stiff clothesline. Tozawa went to the apron but Neville got up so Akira ran back in. He charged at Neville but he was lifted up to the apron. Akira jumped on Neville and he caught him.
Tozawa transitioned a fireman's carry into an octopus hold and Neville fought ot break up the hold. Tozawa rolled him up for a two count and then hit a shining wizard for another two count. Akira climbed on top but Neville got to his feet. Tozawa jumped over Neville just decided to kick him instead. Tozawa hit an enziguri and a hurricanrana to lay out the challenges but Tozawa was too tired to make the pin.
Akira went to get Neville up but he reversed it into just driving Akira's shoulder into the mat. After all, Akira's shoulder injury has been a very important part of this feud. Neville ended up applying some more damage but he still ended up on the mat with Akira climbing to the top rope. Neville stopped him and climbed up to join his opponent and the two fought for position on top.
Akira faceplanted Neville and hit the Senton… but Neville got his knees up! Neville climbed to the top rope and poised himself. He hit a beautiful Red Arrow on Tozawa's back. 1-2-3 and the King Of The Cruiserweights reclaimed his crown!
Neville might have entered Brooklyn with a scowl but he left with a much happier face as WWE Cruiserweight Champion once again. It's good to be the king.
Elias Plays The Biggest Party Of The Summer
Brooklyn was treated to a little concert on Elias's World Tour! When he asked, "who wants to walk with Elias?" He had to grin at the pop he received. But asking them to silence their cell phones got an audible boo.
He started playing a nice little slow song on the acoustic star. As he played on about New York City the SummerSlam crowd booed him heavily. It was awesome. But he carried on. He asked them to hold their applause until after and continued to play as he sang about how the people are entire than the streets of NYC.
He said Brooklyn was dirty and people booed him even though they might be from out of town. Elias actually got to sing his whole song.
The lights went down and he said "what's that? One more song?" then he started playing another one because he's been "working on a little something." The next song was a bit more bouncy and got a clap going in the crowd. He said Jay-Z and Biggie Smalls can't measure up to him.
"When did you all lose your balls?" he asked the Brooklyn crowd. That got a nice reaction. Then he got to finish the second song.
There was no run-in. It was just a mini-concert to draw heat on Elias.
Kickoff Show — The New Day vs The Usos (SmackDown Tag Team Championship Match)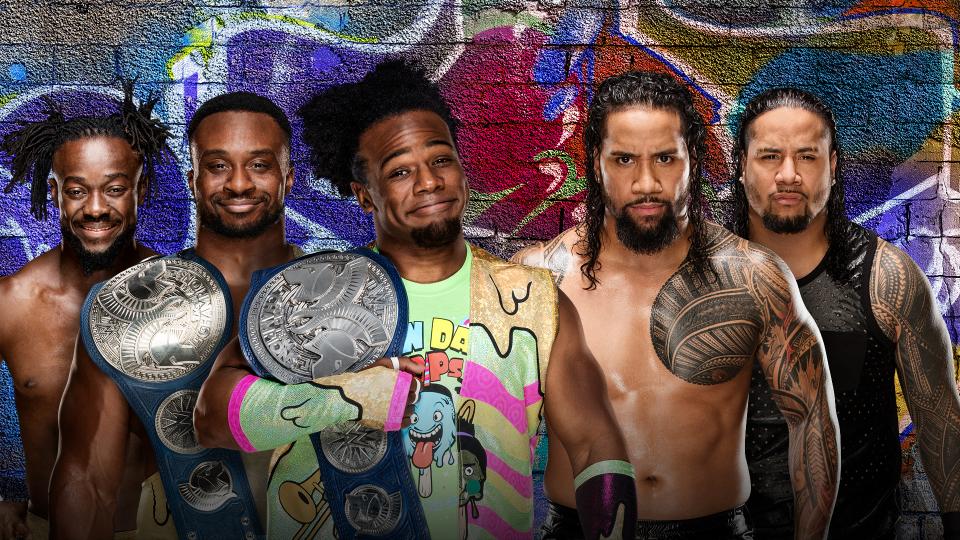 There have been rap battles, ambushes, and run-ins in this program. But it was finally time for the longest running WWE Tag Team Champions and Rikishi's twins to do battle in Brooklyn. These two teams stole the show at Battleground and now they're on the SummerSlam kickoff show. But if a match like this was available free on the internet we can only imagine the kind of action they had in store for us for the main show.
New Day came out looking like superheroes. I'm sure there was some kind of Anime reference there but since my life is all about pro wrestling I have no ability to have an idea. They had unicorns emblems on their entrance attire and Big E was wearing a cape too which was awesome.
Kofi spoke about how special Brooklyn is for the New Day and how it was the spot where they started a 483-day record-breaking championship reign and it is also where the OG Franchesca trombone was born. But now they have Franchesca II Turbo so that's cool because: "New Day Rocks."
They said on commentary — The New Day's entrance attire was an ode to Red Lantern. So there's that answered.
Woods started out in the ring with Jimmy. The two traded some moves and leap dropped each other. Xavier landed on his feet after a throw and knocked Jimmy down with a forearm. Woods was moving very well. He's so freaking talented and a great tag team partner.
Woods chopped Jimmy in the corner after ripping his t-shirt off. Then he hit a splash on the other corner. He landed a knee to Jimmy's face to soften up the Samoan. Jimmy ran toward Xavier but got a boot to the face. Woods jumped to the top rope and almost landed something high risk if it weren't for the fact he got slapped out of the air in the process.
Jimmy tagged Jey and gained an advantage after that and kept Woods grounded with a headlock. Woods strained to reach Big E, but Uso tossed him to the ground on the other side of the ring instead.
Woods took a rough looking bump to the turnbuckle and Jey followed with some more punishment. Woods went to the top and ended up knocking Jey back down after he jumped up to turn things around. Jimmy missed a splash on the apron and hit the turnbuckle and Jey got tossed to the mat.
But just as Woods was about to get to Big E, Jimmy ran around to rip him off the apron. Woods took some more punishment after that by eating a chop across the chest as he laid across the apron. Jimmy smashed Woods against the apron as the referee counted from the inside.
Jey hit a double team top rope move to Woods and they also did a double-wish bone. Woods was certainly taking a brunt of the damage as Big E climbed back up to the apron.
Woods tried to get to his partner but Jey hit a big back body drop instead. The Usos were dissecting Xavier Woods like he was a frog in biology class until Woods pulled off a desperation move to cause some separation. Big E got the tag as Jimmy got one on the other side.
Big E hit a few tosses and a belly-to-belly. He swiveled his hips but ate a step-up enziguri from Uso. Big E countered and got a two count. He tagged Woods back in and powerbombed Xavier into Jey. Big E got the tag back and got on Xavier Woods' shoulders. Woods lifted Big E up and the big guy splashed Uso for another two count. That was awesome.
The Usos gained control again after a double spinebuster and got another two count. Jimmy hit a stiff right hand on Big E and followed it up with a hip smash in the corner. But Woods got the tag and hit a double-team back stabber for a very close two-count.
Woods chopped Uso while everyone yelled "WOOO!" He drove a couple knees into Jimmy and hit a few headbutts. But Jimmy followed Woods as he shot off the ropes and stopped him. Jimmy was tossed to the outside and Woods splashed on him. Jey jumped down and took out Woods. Big E started gearing up and went for a suicide dive but ate a superkick.
One Uso hit a splash across Big E as he laid across the ropes while the other hit a splash on Xavier Woods for a close two count that got the crowd chanting "New Day Rocks." Before you could say "iCloud leak" Xavier Woods had Jimmy in a submission and almost got him to tap out.
The hold was broken and Jey took Big E out again. Woods nailed another shining wizard for a two count. Woods yelled "get up!" and he turned to knock Jimmy off the apron. He jumped right into a fireman's carry from Jey but got out of the move.
Jimmy was DDTed on the outside and Big E and Xavier hit the "Up Up Down Down" on Jey for a two count. The Barclays Center erupted with "this is awesome" chants.
Woods knocked Jimmy off the apron with a punch and ran to Jey as he lifted Woods over the top rope onto Jimmy who was standing on the floor. They call that dangerous-looking move the "Alley-Uce". Kofi went to check on Woods but got tossed into the steel steps.
Big E hit a suicide dive and tossed Jey in the ring. Jimmy got the blind tag and then they superkicked Big E about five times. The Usos climbed to the top rope on either side of the ring and hit Big E with double splashes. 1-2-3 and we have yet another title change in Brooklyn.
That was an amazing match and that was just the capper for the kickoff show!
John Cena vs Baron Corbin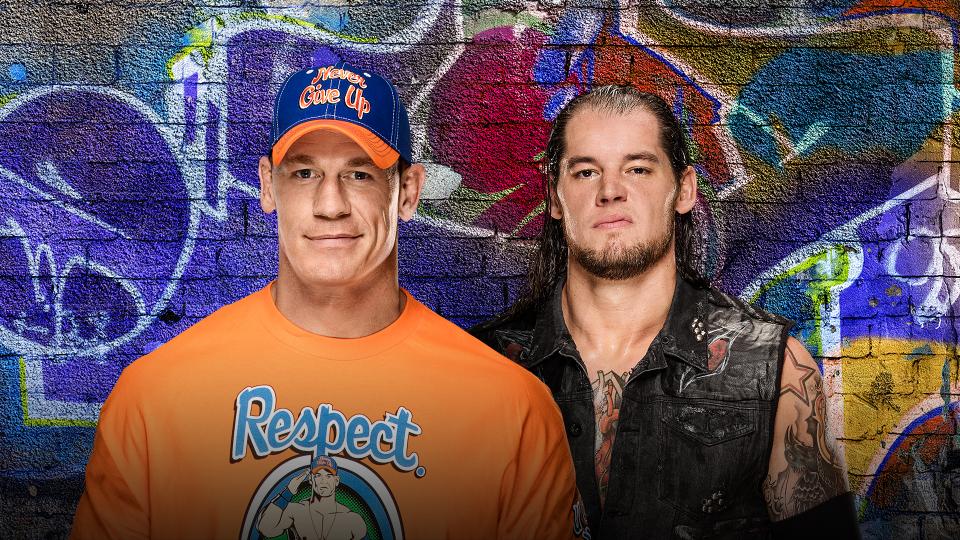 John Cena's music hit and no matter how people felt about him everyone still chanted "John Cena Sucks" because that's what you do when Big Match John comes out. He certainly had a big match against Baron Corbin to kick off the 30th anniversary of SummerSlam.
It was Byron Saxton's birthday and he was wearing a nifty pretty blue suit. I don't know where else I could have thrown that in there, so it'll just have to fit here. It's also the 16th anniversary of Kurt Angle spraying down the Alliance with milk. Yet again, that will just have to fit here because, why not?
Baron Corbin was still very upset about John Cena costing him his Money In The Bank contract cash-in. "Where's your briefcase" chants broke out in the crowd and that probably didn't help matters.
After a little action, John jumped outside and told JBL "this kid is shook, he's thinking about last Tuesday — he ain't thinking about tonight." Then he put on JBL's cowboy hat for a second and rolled back in the ring. Corbin went out to talk some trash of his own and finally returned to the ring to lock up with Cena.
Baron drove some knees into Cena and left him on the ground while The Lone Wolf screamed in his face. He hit John with a splash in the corner and a boot to the face. "How does it feel, John?! I hope it feels pretty good you moron!" Corbin yelled as he hammered on Cena.
John dodged Corbin's charge to the corner but Baron just ran around the ring like he likes to do and returned with an explosive clothesline. JBL said he was proud of it because he loves a great clothesline.
John sold each shot well as Baron continued to hammer on him. Baron hit a suplex and argued with the referee for some reason. "This is me all day long, now take it in!" Baron yelled as John made his comeback. Baron caught a cross body from Cena and drove him into the canvas for a two count.
"Shut up!" Baron yelled at the crowd to draw heat as he turned to John and slapped on a headlock to draw even more heat. Baron got distracted by the boos again and Cena hit a dropkick. But Baron smashed him back down.
"Where's your briefcase" chants started once again as Baron looked down at Cena and yelled: "that's on you!"
It was on Cena because he popped up to start another comeback. He hit a few shoulder blocks and went for a 5 Knuckle Shuffle but Corbin moved. Baron hit a chokeslam backbreaker on John for a two count. That one looked rough.
Baron got Cena on the top rope and climbed to join him. Cena tried to muscle out of whatever Baron was doing and got Baron down with some headbutts. Cena hit a tornado DDT and rose his hand once again for a 5 Knuckle Shuffle that connected that time.
Baron Corbin got out of an AA and hit a Deep Six. John Cena kicked out of the Deep Six because everyone kicks out of the Deep Six. Baron was upset though and stomped on John. He mounted John and laid in some forearm shots.
Baron took off his shirt and got a loud boo for some reason. Then he continued to abuse John in the corner. He ran at John and he moved so Baron tried another run around the ring post move but John was there was time with a clothesline of his own.
In no time Baron Corbin was up in an AA and John drove him into the mat. 1-2-3 and John Cena won in Brooklyn leaving us all to wonder what would be next for Baron Corbin.
Naomi vs Natalya (SmackDown Women's Championship Match)
Natalya came out wearing a kitty ear headband which she tossed in the crowd like a true heel. After all, if you're a heel you should never give out free merch unless it's cat-related.
Naomi's entrance in the Barclays Center was am-a-a-zing as always.
Even though the WWE Universe was focused on this match it was always in the back of our minds that Carmella could be coming down at any time to shake things up.
Ding-ding-ding and Nattie slapped Naomi across the face right off the bat. She hit The Glow with a couple moves but Naomi nailed a hurricanrana as Nattie slid outside.
Naomi followed her and landed a kick from the apron and hit a blockbuster off the steel steps to the floor. That wasn't a soft landing for anyone. She rolled Nattie back in the ring for a two count. Naomi got lifted onto the apron but Nattie blocked a kick and racked her knee across the top rope.
Natalya went to the apron and launched Naomi off the ring post tot he floor. Nattie rolled The Glow back in the ring for a two count of her own. Nattie just resulted into stomping Naomi in the corner for a bit and landed a hard suplex for a one-count.
Carmella was shown with James Ellsworth backstage watching on a monitor as Nattie hit another suplex. Naomi kicked out at two and Nattie leaped up to get in the ref's face, "do your job!" she yelled as she returned her aggression to The Glow.
Nattie landed a stiff kick to Naomi's midsection and choked her against the middle rope.
Naomi decided she wanted to fight back and hit a few kicks but Nattie turned it around to land a falcon arrow for a two count. "Shut up!" Nattie yelled at the crowd to get them to respond. She latched on an abdominal stretch as the crowd started to rally for The Glow.
Naomi was all tangled up but still broke the hold with a hip toss. Nattie hit a big discus clothesline for another two count. Nattie was starting to look very frustrated as she propped Naomi up on the top.
The Glow started to fight back and slipped under Nattie. Then she hit Nattie with a legsweep off the middle rope. Naomi fought back with some rocking fists but Nattie retaliated with a boot. However, Naomi had a boot of her own and then drove Nattie's head against the mat with a leg scissors for a two count.
"Glow time!" Naomi yelled as she lit Nattie up with some kicks. But Natalya grabbed a leg and drove her into the mat to continue the abuse on The Glow's leg.
Noami got seated on the middle roped and Naomi pulled off a slingshot legdrop on Nattie for another two count. Nattie moved out of the way of Naomi and she ate the top turnbuckle. Naomi slid around and got a roll-up for a two count. Naomi tried to turn it into her favorite submission hold but Nattie stepped over and locked on a Sharpshooter.
Naomi was in the middle of the ring straining for the ropes but couldn't quite reach so she just flipped Nattie around and bounced her head off the bottom turnbuckle.
Naomi went for a split-legged moonsault but Nattie got her knees up. Nattie locked on another Sharpshooter and Naomi had no choice but to tap.
With Nattie holding the SmackDown Women's Championship up high she looked great to be a champion once again and Carmella obviously didn't want a piece of her tonight.
Naomi looked sad and defeated in the ring. But these two still put on a really good match and SummerSlam had yet another title change in Brooklyn.
Nattie kissed her new title right in front of Naomi as The Glow started to cry in the ring. It was a kind of bitter sweet moment that could have gotten anyone in the feels.
Big Show vs Big Show (With Enzo Amore Hanging Above The Ring In A Shark Cage)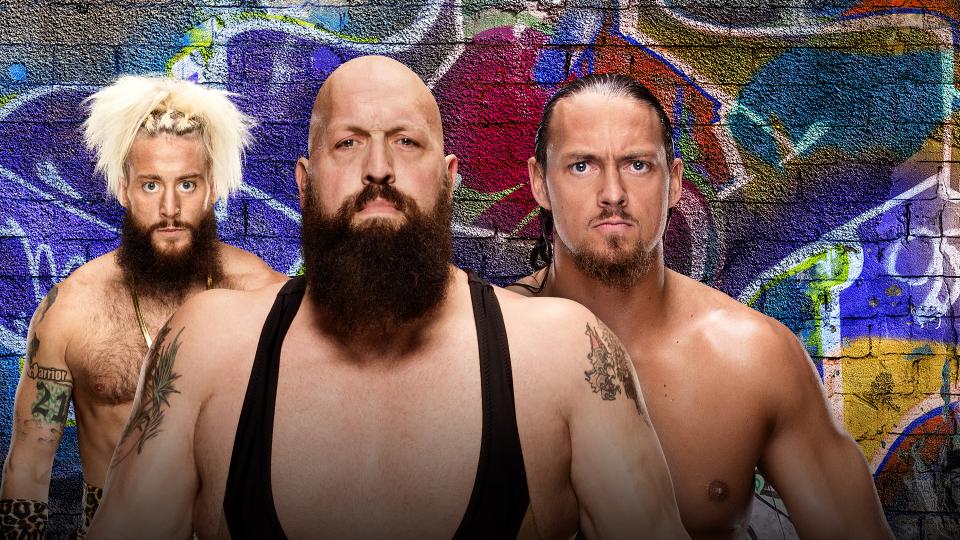 If you weren't interested in seeing another "Battle Of The Bigs," then let's just hang Enzo above the ring in a shark cage to see if that changes things.
Enzo's music hit and the Certified G came out to a pretty big pop even though he's apparently a backstage pariah. He got plenty of "how you doin'?" chants going and he asked "where Brooklyn at?" over and over again. Then he said New York City was the greatest city.
Enzo admitted to being a Bad Boy and then quoted Little Kim. He said he's the only one who has the balls to tattoo a microphone on his hand and they better lock him up because he's the "Al Capone of the microphone."
He said he would put his worst day on the microphone against Cass' best day in the ring which is cool but microphone work won't really win a match. He said Cass might have broken Big Show's hand but — Then Big Cass came out to interrupt him in the middle of his sentence.
As the referee locked Enzo in the shark cage, Big Cass made his way to the ring with his fist up and a very smug look on his face. Enzo was soon bring raised above the ring as he did the "running man" dance from inside the confines of his new home. They should have just given him a live microphone so he could cut a promo during the entire match.
Big Show came to the ring with his hand wrapped up while the commentary team talked up his injury thanks to Big Cass and The Club on Raw.
Cass and Show hammered away on each other but Show gained the advantage with a headbutt and then drove Cass into the mat. He chopped Cass in the corner with his catcher mitt sized hands as Enzo touted "we're going to work" from his suspended shark cage.
Show rocked Cass with a boot to the ribs and a side slam but he landed on his "bad right hand." Big Show sold his injured hand as he got up. Cass tried to fight back but ate another slam. Show climbed up and tried to hit an elbow drop but Cass moved and Show hit nothing but canvas.
Big Show hit a KO Punch with his injured hand but Big Cass kicked out at two.
Show went for a splash in the corner but Cass moved and landed a boot to Big Show. Cass hammered away at Show's hand and then kicked it a few times to top off the assault to Show's appendage.
Cass locked on a submission hold on Big Show while the announce team hyped Big Cass by saying he was pre-med at one time so he knows the human body. Good, he knows where hands are and how they're not supposed to bend.
Big Show got to his feet and finally backed Cass into the corner to land a body blow and toss him across the ring. Cass ate a couple clotheslines and a splash in the corner. Then Big Show signaled for the Choke Slam. He finally hit it after having some trouble but it was with his left hand. 1-2- kick out! This match presses on.
Cass found himself on the apron and slammed Show's injured hand off the top of the steel ring post and followed it up with a stomp or two in the ring. Enzo started to slide between the bars and found his pants were getting in the way so he took them off. Then he covered himself with baby oil (which he had hidden in a band around his thigh, because why not?) and then Enzo put on black gloves. "Enzo Amore" sing-song chants began to break out as Enzo shimmied out of the cage.
Enzo held on and lowered himself down so Big Cass could kick his head off, which he did immediately. Big Cass hit Big Show with a Big Boot but only got a two count. But Big Cass landed another Big Boot and an Empire Elbow on Big Show for the win and the crowd went mild.
Backstage Segment
Daniel Bryan and Kurt Angle got in a conversation about which brand would have the best matches and it resulted in a "yes/no" chant. That was cool.
Randy Orton vs Rusev
It's time for Rusev to crush and for Randy Orton to just do whatever he does because he does it so well. The Bulgarian Brute didn't want to wait because he jumped Randy during his entrance pose on the turnbuckle.
Rusev beat Orton all around the ring and hit a fallaway slam onto the barricade. Randy didn't even have a chance to take off his RKO hoodie which he cut the sleeves off of especially for SummerSlam. Rusev rolled Randy back in the ring and the ref held him back as Orton struggled to get back up.
Randy was really selling that sneak attack but as soon as the bell rang to start the match Rusev ran at Randy and Orton hit an RKO outta nowhere.
1-2-3 and that was quick.
Randy Orton finally got to finish his posing for the crowd. What ever happened to pushing Rusev and who did he piss off backstage?
Backstage Segment
Sasha Banks and Bayley hugged backstage. Bayley got a huge boo from the Brooklyn crowd when she was shown on-screen which is very odd but who knows what they were really booing.
Alexa Bliss vs Sasha Banks (Raw Women's Championship Match)
Sasha Banks came to the ring wearing some kind of wicked looking peacock inspired robe/head dress thing that looked like it was made out of paper fans. She wasn't wearing that when she hugged Bayley. It was odd but very cool. Alexa didn't need any special entrance attire, but The Girlfriend pointed out how "her eyeliner is on point tonight."
Banks got a little bit of a boo when she was introduced and Bliss received a much more positive reaction.
Alexa backed Sasha up in the turnbuckle and Banks switched it around. Alexa soon did the same and these two carried on hammering away on each other for a bit. It was intense and Banks got hit with a stiff right hand across the bridge of the nose from Bliss.
Bliss retreated to the apron after taking a dropkick and hit Banks with a forearm and a top rope cross body for a two count. Bliss kept hitting Banks down and Banks held her mouth when she got up like she was really hurt. Bliss backed Banks against the ropes and the ref started to warn her to stop putting the boots to her, "I know!" she screamed in the referee's face.
Bliss was furious and showed a real mean streak on Sasha with all that nonstop abuse. She stood on Banks' hair and stretched her for a moment then slapped on a headlock for a bit while Banks tried to break free.
Bliss drove Banks back to the canvas and covered for another two count. Banks hit another forearm but got tossed to the canvas yet again. Alexa climbed to the top rope but Banks crotched her. But it didn't turn out the way Sasha would have liked because Bliss used her uphill advantage to choke Banks out for a bit and then hit a double knees into a flipping knee combo. Bliss choked Banks against the middle rope and continued the total nonstop action on Banks (yes, I did that on purpose).
Banks tossed Alexa off of her and rolled her up for a two count but Bliss countered and drove Banks back to the mat for another two count. She looked like she was getting frustrated and glared at the official in the ring. Bliss bounced Banks' head off the turnbuckle and turned to scream at the referee once again.
Bliss buried her shoulder into Banks' midsection but Banks ducked and applied some punches herself. Bliss climbed to the top rope and choked her out once again. Only this time Banks applied some back elbows and slammed Bliss to the mat from up high. Banks hit a sliding knee to Bliss' face and the two women were left on their backs in the middle of the ring for a moment.
They got up at about the same time and Banks took control with some dropkicks and drove Bliss down to the mat for a two count. Alexa crawled toward the ropes and got herself up. Sasha took a knee to the face for another two count. "Give up Sasha!" Alexa screamed as Banks landed a desperation kick.
Banks countered a move by Bliss and sent the back of her head bouncing off the turnbuckle. Banks landed the double knees to Bliss and followed it up with another running knee for a two count.
Bliss countered with a forearm and Banks blocked a DDT to turn it into a Bank Statement but Alexa made it to the bottom rope and slid out of the ring. Sasha followed but Bliss yanked the apron covering out from under Banks and sent The Boss crashing to the floor.
Bliss rolled Banks back in the ring as the referee counted to seven but she just tossed Sasha out of the ring once again as Michael Cole said: "I think she hurt her shoulder." They made mention about how Bayley hurt herself in a similar fashion and that was tasteful.
Banks got back in the ring before the ref could count to ten but got her shoulder worked on immediately by Bliss. Alexa climbed to the top rope and hit the Twisted Bliss but I'll always know it as the Sparkle Splash. 1-2- kick out and Alexa threw a little temper tantrum.
Sasha soon got on the Bank Statement but Bliss started to block it by focusing on her injured shoulder. But Banks kept the hold on and Sasha Banks ended up getting Alexa Bliss to tap out.
Sasha Banks won the Raw Women's Championship making SummerSlam 2017 not a very safe place for champions.
"I won," Sasha said as she held her new title up high. That…was a bit surprising…
Finn Balor vs Bray Wyatt
It's time for Bray Wyatt vs Finn Balor… sorry he's "The Demon" Finn Balor tonight because Fergal's wearing body paint. It's been one year since Finn dawned his famous Demon motif and this feud certainly brought the darkness out in him. It was a much wiser move to wait until the pay-per-view to reveal The Demon unlike how they popped on Raw before SummerSlam last year when he became the first-ever Universal Champion (and had his shoulder destroyed by a bucklebomb on the barricade by Seth Rollins).
It's hard to really tell who has the coolest entrance between these two. Even though Finn's entrance as The Demon is sick, Bray Wyatt's walk to the ring surrounded by thousands of fireflies gets me every time.
Okay, Finn Balor's entrance beat out Bray's this time because he had a creepy female voice singing "He's Got The Whole World In His Hands" before Balor made his entrance in a sea of red light and fog. Jesus Christ that gimmick is amazing and should be reserved only for special occasions like this one. But in all reality, it's just body paint and theatrics, but it's so freaking cool.
As Finn crawled through the thick fog and made his way to his perch on the top turnbuckle Bray Wyatt didn't seem shaken at all. In fact, he seemed even more at home in the ring with another monster.
Finn McCool from Irish folklore who battled the Demon King Balor is the basis of Finn's namesake. This match was bound to get dark as these two forces collide.
Bray rolled out of the ring right off the bat before locking up while Finn crawled around the ring. The fog from Finn's entrance still filled the ringside area. Michael Cole spoke about the "viscous acidic liquid" which Balor had poured all over him that we all knew was an updated Brood Blood Bath and how it sparked The Demon in Balor.
Finn kicked it up a notch as he got Bray down and stomped on him. Bray rolled out of the ring and Balor ran around to hit him with a leaping clothesline. Chants for Balor filled the Barclays Center in Brooklyn as they returned to the ring.
Bray looked at Finn upside down as The Demon just growled at The Eater Of Worlds. Bray kicked Finn off of him and rolled out of the ring. Balor hit Bray with a sick flipping dive and didn't get caught very well either. But everyone seemed fine enough for Bray to get rolled back in the ring.
Balor climbed up and looked like he was going for the Coup De Gras but Bray rolled out of the ring again. Wyatt hit a suplex from the apron on Balor and hammered him with punches before bouncing his face off the ring apron.
They got back in the ring and Bray continued with some closed fists to back Finn into the corner. The crowd was very hot as they chanted "Let's go Balor" but it didn't help him at that moment. Bray sent Balor's shoulder into the mat and covered but the ref didn't count for some reason, apparently, his shoulders weren't down?
Bray smashed Finn in the corner and looked for a Sister Abigail but Finn countered into a double stomp to the chest. Bray ran into Finn's boot in the corner and Finn landed an overhead kick.
Bray went back outside and Finn landed a dropkick through the ropes followed by a kick to the face. The Demon prepped himself on the apron and landed a stiff stomp to the back of Bray's neck.
Once back in the ring Finn looked like he was trying for another Coup De Gras but Bray got up, he almost got a Siter Abigail but Balor countered into a sling blade. So when Finn went for his sick corner drop kick Bray just send him to the mat instead with a urange. Bray hit a running senton and yelled: "I got him!"
Wyatt dragged Finn to the corner and seated himself on the top rope. Suddenly Balor hit a kick to the back of Bray's head and Finn drove him back to the mat with a crushing move.
Bray rolled out of the ring again (he likes doing that) but Finn just followed and landed a stiff dropkick into the barricade. Once they returned to the ring Bray nailed Finn with a lariat and did his neat spider walk over to The Demon but it didn't intimidate Finn tonight.
Finn hit a sling blade, a corner dropkick, and a Coup De Gras.
1-2-3 and Finn Balor wins this one. Welcome back, Deamon.
Sheamus and Cesaro vs Seth Rollins and Dean Ambrose (Raw Tag Team Championship Match)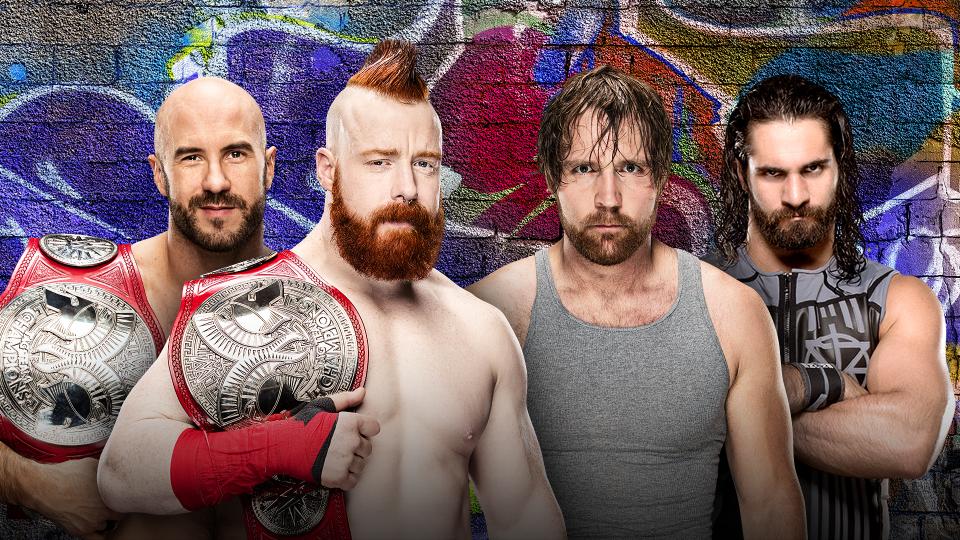 It was time for the highly anticipated reunion of Seth Rollins and Dean Ambrose and they wanted to take those Raw Tag Team Titles while they were getting 2/3 of the band back together.
Sheamus and Dean started things out and wrestled around for a bit until Seth got a blind tag and entered the ring to take advantage. The two hit Sheamus with some nice tandem offense for a two count and then Cesaro got the tag and started delivering uppercuts like they were on sale.
Dean got the tag and they took out Cesaro with a double clothesline looking thing. Dean and Cesaro fought in the ring and Seth tagged back in. These teams were using the tag team portion of this match very well. Rolins and Ambrose soon ran the Raw Tag Team Champions out of the ring and Cesaro whispered something in Sheamus' ear.
They returned to the ring and Dean was tossed out. Sheamus kicked his head off and Rollins went for a suicide dive but Shesaro caught him and sent him crashing to the ground.
The action returned to the ring and the Raw Tag Team Champions continued to work on Rollins. They tagged in and out while dissecting Seth. The Architect fought out with a jaw jacker but Ceraso tossed him to his corner. Sheamus tried to hold Seth but he got shoved off. Rollins hit a flip off the middle rope but Dean was still selling the Brogue Kick on the outside so there was nobody for Seth to tag.
Sheamus did get the tag and hit Seth with a nice inverted suplex. Cesaro ran out into the audience and grabbed a beach ball that the crowd was bouncing around. He tore it up right in front of everybody for some huge heat and a few "yes" chants. That was excellent.
Rollins finally got Sheamus on the mat just as Dean made his way back up the apron. But Cesaro got a tag too just in time to cut the ring in half and hold Rollins down with a front face lock.
Seth flipped around and landed on his feet from a suplex and sent Cesaro out of the ring. Cesaro held his right knee as if he injured it and Dean got the tag but the ref didn't see it. This didn't stop Dean though because he just climbed up top and hit everyone with a dive. Cesaro got the tag and Rollins rolled through and got a legit tag to Dean.
Ambrose cleaned up and knocked Sheamus off the apron then he hit a slingshot elbow drop on the outside to The Celtic Warrior but Ambrose was back in the ring in the blink of an eye and was punishing Cesaro once again.
Seth and Dean clotheslined their opponents out of the ring and geared up for something big. They hit dual suicide dives on Sheamus and Cesaro. Dean rolled Cesaro back in the ring and tagged Seth for a double team sling blade.
Sheamus dragged Seth out of the ring and took him down with a clothesline while Cesaro was left in the ring to fight Dean off. The Swiss Cyborg almost hit the Neutralizer but Dean blocked it. Then Ambrose hit that clothesline off the ropes he likes to do.
Sheamus got the tag off and he took Seth out before climbing up top by skinning the cat. Dean jumped up to join him but was knocked down. Then Seth and Dean hit him with a doubt kick to the head and Dean hit a superplex followed by a splash from Seth. 1-2- and Cesaro jumped in to break up the pin.
Seth and Dean continued their assault on Sheamus and tried to take The Celtic Warrior out with a double powerbomb off the top but Cesaro jumped into broke that one up. Sheamus took advantage of the distraction and hit Dean with a couple power moves and some two counts of his own.
Cesaro got the tag and hit a cross body off the top rope and Dean went for a Dirty Deeds but he was blocked and Cesaro locked in a Sharpshooter.  He kept that on for a little while and Sheamus hit Seth with a rolling senton on the outside to keep him out of the fray. Dean rolled out of it but Cesaro transitioned it into a crossface. Dean rolled it into a pin and Cesaro let go to break up the pin.
Sheamus and Cesaro hit a double team Doomsday Device looking move for a two count. Then they lifted Dean up for a double crucifix slam but Rollins jumped in and broke up the count that time.
They took care of Seth and sent him out of the ring and Dean beckoned them to bring it on. Then they set up for a double team White Noise but Rollins jumped up and blocked it. Seth hit a superkick on Cesaro and Dean Ambrose hit Sheamus with the Dirty Deeds.
1-2-3 and 2/3 of The Shield are the new Raw Tag Team Champions.
AJ Styles vs Kevin Owens (US Championship Match w/ Shane McMahon as Special Referee)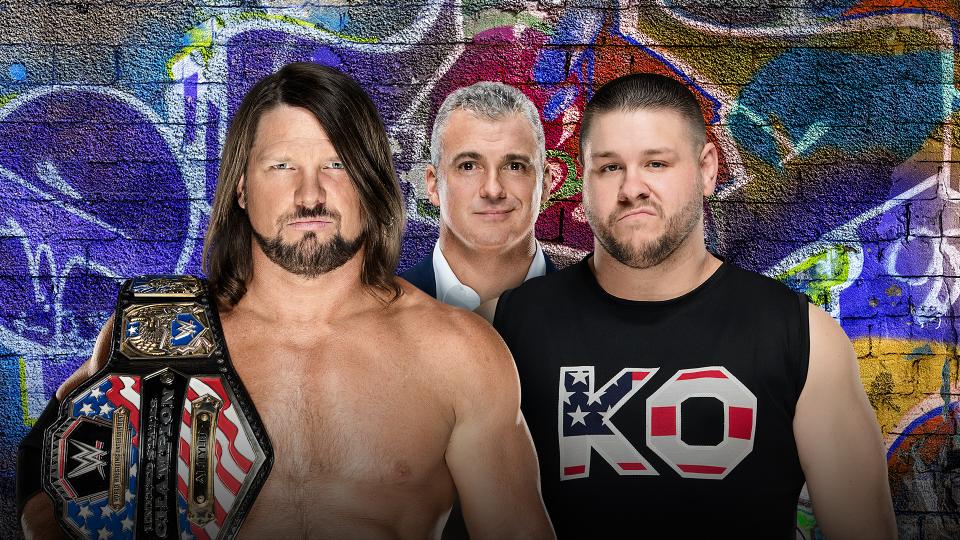 This one should be fun because everyone loves these three guys. Hopefully, Shane McMahon won't be jumping off of anything but you never know what kind of bump he can figure out how to take.
With the way champions were dropping titles like hot microphones all night, AJ Styles probably needed to worry a little bit. But it didn't show by his face of intensity while he walked to the ring.
This became a shoving match and these two took it to each other before the bell rang. Shane had to break them up and he sounded for the bell. The fight bled out of the ring and they fought on the outside.
AJ drove Kevin's face against the apron and hit him with a running knee from the apron. Once they returned to the ring the fight continued with AJ gaining an advantage with a picture-perfect dropkick among other light moves. He hit a backbreaker and paced around KO to apply strategic stomps to his opponent before performing a signature knee drop on Owens.
Kevin hit a clothesline and then mounted Styles to deliver some hard punches. He brought Styles to the corner and chopped him while the Barclays Center filled with plenty of "Wooo's." KO hit a corner clothesline followed by a cannonball for a two count.
KO argued with Shane after AJ kicked out. KO hit a short clothesline and a running senton for another two count but he didn't complain that time. Instead, Owens just slapped on a headlock to slow the match down. AJ started to fight back with some punches and lifted KO up but failed to do anything because KO just drove him right back down for another two count.
"That was three," KO said to Shane-O.
Kevin wrapped AJ up in the ropes and chopped him. AJ fired back with a punch and the two started hammering each other with fists. AJ hit a facebuster and created some breathing room to get hit next move together.
AJ geared up for the Styles Clash but KO countered with a back drop. KO tried to gain an advantage but Styles returned with a fireman's carry neckbreaker for another near-fall.
AJ climbed to the top rope but KO shoved Shane into the ropes causing AJ to crotch himself. Kevin climbed up and ate a sunset flip powerbomb from Styles.
AJ went to the apron and hit a 450 Splash on KO while Shane was checking on Owens. Shane got smashed and he was out of commission for a minute. KO got to his feet first and hit a pop up powerbomb on AJ.
A dazed McMahon counted 1-2- kick out! KO got in his face and yelled about how Shane falls off buildings but he can't count. They stared each other down as the crowd cheered. Then KO returned his focus to AJ but the distraction was too much.
AJ gained the advantage and locked in a Calf Crusher. KO got out of the move by raking the eyes. Shane admonished Kevin for the eye gouge and AJ grabbed KO but he kicked AJ into Shane sending him tumbling outside of the ring.
AJ locked in another Calf Crusher and KO tapped but Shane was out of the ring. When Shane returned AJ got in McMahon's face and shoved him. KO got a roll-up pin for a two count. It looked like Shane counted fast that time.
AJ got up and hit KO with a forearm. Then he suplexed KO into the turnbuckle. AJ propped KO on the top rope and prepped for a Frankensteiner but KO caught him and hit a sick suplex off the top rope. But Shane counted to two before Styles kicked out.
"That was three you know it!" Kevin screamed as spit while he shouted.
He grabbed AJ but caught a forearm to the face. The two exchanged shots in the middle of the ring for a bit until AJ unleashed but he missed with a Pele Kick. KO hit a superkick and AJ held the ropes for a pop-up powerbomb attempt.
Styles transitioned a hold into a Styles Clash and got a two count. AJ went to the apron but KO ducked under the Phenomenal Forearm but KO hit a pop up powerbomb and Shane went for the count. 1-2- but AJ got hit foot on the bottom rope!
Kevin was angry and backed Shane against the corner "what the hell are you talking about?!" he asked as he poked Shane in the chest. They shoved each other and Shane pushed KO right into a roll-up pin for a two count.
AJ went to the apron and hit a Phenomenal Forearm. Then he prepped KO for another Styles Clash and he hit it big time. 1-2-3 and AJ Styles is the first champion to retain his title at SummerSlam.
Kevin Owens might have left the match without the US Championship but he certainly gained a new hatred for Shane McMahon. That one might turn into something down the line.
Jinder Mahal vs Shinsuke Nakamura (WWE Championship Match)
It was finally time for The Modern Day Maharaja vs The King Of Strong Artist Style. Nakamura got an insane entrance accompanied by his violin friend Lee England Jr. It was an epic rendition of Nakamura's famous entrance and the Barclays Center couldn't get enough of it as they shouted out the melody of the song. In fact, the crowd continued singing his song long after his music had stopped.
The Singh Brothers had incredible heat by just walking out onto the ramp. Jinder Mahal wasn't greeted with a sea of boos though. In fact, the crowd was rather quiet which is even worse. It was actually kind of brutal.
It was time for Jinder Mahal to cement his legacy and for Shinsuke Nakamura to prove he belonged on the top of the card in WWE. A lot was riding on this match and it had a very big fight feel to it during the opening introductions.
The Punjabi announce team took over for a second a the beginning of this match which made me wonder if I accidentally changed the language on my WWE Network. But soon the English announce team returned so I stopped freaking out.
Jinder tried to over power Nakamura off the bat and he tried to apply an armbar but Nakamura flipped out of it and got in a headlock. Nakamura released himself and Nakamura begged for Mahal to bring it, "come on" Nakamura shouted as he dodged out of the way of Jinder's charge sending him out of the ring. "Come on!" he shouted again.
Jinder jumped up again but Nakamura just knocked him back down. Mahal pointed to Shinsuke from the outside and Mahal returned to the ring to beat Nakamura down as they went to the Japanese announce team for a moment.
Shinsuke revered out of the assault from Mahal and hit Good Vibrations in the corner. Mahal went on the retreat which sent Nakamura out after him. Shinsuke was briefly distracted by the Singh Brothers and it allowed jinder a chance to knock him off the apron and into the barricade. Mahal started stomping on Nakamura using the ropes as leverage and The Artist sold his injuries while Mahal carried on with his assault.
Mahal locked on a submission hold on Shinsuke's neck and slowed the match down considerably while the Singh Brothers looked on from the outside.
Mahal mocked Nakamura by using his own "come on" taunt against him and returned an attempt at retaliation from Shinsuke to turn things on his favor once again. Mahal locked in another headlock to slow the match down and bring the heat for Shinsuke.
The crowd started to rally while Nakamura fought out of the hold. Shinsuke nailed Mahal with a kick to the head but couldn't make a cover. He shot Mahal off the ropes and hit a boot to the jaw.
Nakamura appeared to have woken up when he landed some stiff kicks to Mahal's chest and ran in for a corner splash followed by his running knees to the midsection while Mahal was draped over the top ropes. He covered him for a two count but didn't stop there.
Mahal blocked the inverted exploder suplex that almost killed John Cena but soon found himself in a triangle lock but got to the ropes to break up the hold. Nakamura tried for a suplex but Mahal kept blocking it. Then Shinsuke nailed a facebuster but Mahal moved out of the way of a running knee and rolled Nakamura up for a two count.
Mahal tossed Nakamura's neck against the top rope and covered for a near fall. Then Jinder looked like he was going for the Khallas but Nakamura blocked it. Mahal went for a charge to the corner but Shinsuke moved and Mahal took a post to the shoulder.
Nakamura hyped himself up for a Kinshasa but the Singh Brothers got involved. Nakamura fought both of them off and Jinder Mahal grabbed Nakamura from behind and hit the Khallas.
1-2-3 and Jinder Mahal beat Shinsuke Nakamura clean to retain his WWE Championship at SummerSlam. The people in the crowd were all shown holding their faces in disbelief while shaking their heads like they couldn't believe what they just saw.
Brock Lesnar vs Roman Reigns vs Braun Strowman vs Samoa Joe (Universal Title Match)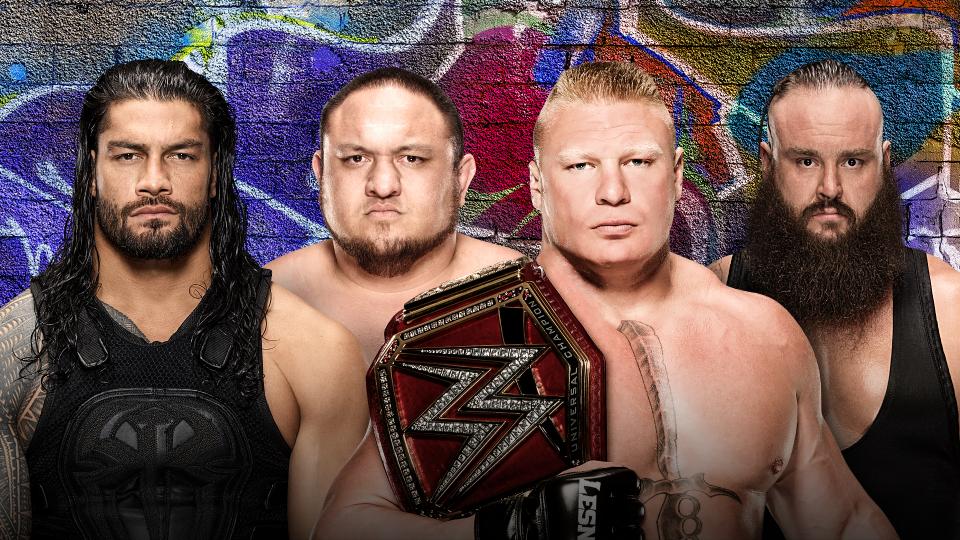 The pop for Braaaaaaaaun Strowman was pretty intense. He came to the ring looking ready to tear someone apart just as Michael Cole asked: "Booker, how do you stop Braun Storwman?"
"You don't, Cole" Booker replied.
Samoa Joe got a ton of "Joe" chants as Corey Graves said he was picking Samoa Joe as the winner.
The crowd started to boo even before Roman Reigns' music hit and they erupted into even louder boos when his music actually hit. But Reigns appeared to shake it off and carry on as he walked to the ring.
Booker T brought up how Roman was the most hated Superstar of 2016 as he climbed in the ring and stared into a sea of faces who don't like him very much at all. There were plenty of people giving him the middle finger in Brooklyn even though one guy in the front row seemed to be rooting for The Big Dog as he clapped for Roman enthusiastically.
Brock Lesnar's pop rocked the Barclays Center as The Beast Incarnate made his way to the ring with his Advocate by his side. Samoa Joe signaled to Brock he was going to sleep but Brock didn't seem to let it phase him.
Paul Heyman took the mic from JoJo during the introductions and did Brock's announcement for him. Brock held up his title as Corey Graves assured us they were in Brooklyn and not Skull Island but this match was still going ot have plenty of monsters in action.
Braun and Roman squared off and Brock took on Joe. Brock hit a German suplex as Roman sent Braun into a steel post. Now Brock and Roman were staring each other down as Michael Cole said: "we've been waiting on this for a long time."
Brock hit Roman with a German suplex and then pulled one off on Joe. Braun Strowman walked in the ring and Brock looked up at him like "okay, I'll try it" but he didn't get the chance before Joe and Roman jumped up. But Brock and Braun fought them off and sent both of them out of the ring to leave Brock and Braun staring at each other again.
The locked up and Braun tossed Brock against the turnbuckle. He clotheslines Brock over the top rope and sent Brock to the floor. Roman returned to the ring and dodged out of the way of Braun sending The Monster Among Men to the floor while Samoa Joe locked on a Coquina Clutch on Brock. Roman went for a spear on Joe but missed and hit Brock sending him through the barricade.
Joe sent Roman bouncing off the announce table and Braun took out Roman. Brock tried to hit Braun with a piece of the barricade like it was a baseball bat but Strowman just hoisted him up and drove Lesnar through an announce table.
Braun tossed Joe inside the ring and Roman blinded Braun. Sudden Joe hit a suicide dive on Roman Reigns while Brock Lesnar came to. From out of nowhere, Braun tossed an office chair at Roman and Joe sending them both to the ground.
Braun picked Brock up and sent him through the other announce table. There was one only one left but at least it was the end of the show. JBL left his hat on his chair though. But don't worry, JBL's hat looked safe… for now.
Suddenly Braun Strowman lifted up the other announce table and flipped it over on Lesnar flattening him. But JBL's hat was still safe in his chair. A sea of officials flooded the ring to get the table off of Lesnar while "this is awesome" chants filled the Barclays Center.
They brought down the paramedics and a stretcher and it looked like Brock Lesnar gave an "X" for himself. As the paramedics carried Brock off on a stretcher the crowd started doing the "Na Na Na Na Goodbye" song.
It all seemed strange but the match carried on as Lesnar was carried out of the arena quickly. Braun picked up the ring steps and bounced them off of Samoa Joe's body and then hit Roman Reigns. He returned another shot to Samoa Joe and then tossed the steps into the ring because that's where they belong after all.
Roman tried to hit a clothesline or two in the corner but Braun tossed him down. Roman grabbed the stairs and hit Braun with the point of the stairs. Then he hit Braun a couple more times the correct way and Braun was sent toppling out of the ring.
Roman turned around and Samoa Joe was in the ring to roll him up for a two count. Joe hit a senton and then got Roman up for a urange but Roman blocked it with a Samoan Drop. "Roman sucks" chants began to breakout while he cocked his fist and looked for a Superman Punch but he got kicked in the midsection.
Joe locked on the Coquina Clutch just in time for Braun to enter the ring and hit a double chokeslam. Braun had a cut above his ear as Roman's first shot with the steps obviously opened him up.
"Undertaker" chants broke out as a bloody Braun Strowman sat on the floor. Suddenly Brock Lesnar appeared on the entrance ramp and made his way to the ring. Brock attacked Strowman and sent him out of the ring. Then Brock turned around and Roman was there so he hit a German suplex. Joe was there too so he got a German suplex as well.
Braun Strowman jumped back up and Brock tried to German suplex him too but he got blocked. Brock tried to latch on a kimura and Roman jumped up and hit a Superman punch on Braun, Brock, and Joe. Then he geared himself up for a spear and hit Brock clean. 1-2- shoulder up!
Roman geared himself up for another spear as Joe jumped up and hit a Coquina Clutch. Braun Strowman hit a kick to break up the hold and destroyed Samoa Joe with a slam. 1-2-3 — no! Brock Lesnar grabbed the ref and dragged him out of the ring.
Roman hit a Superman Punch on Brock and then he returned to the ring to hit a Superman Punch on Braun Strowman but Braun kicked out so hard Roman ended up back on his feet. Braun hit a running powerslam on Reigns but Brock jumped in and broke up the pin.
Paul Heyman looked worried on the outside of the ring while "this is awesome" chants broke out once again.
Suddenly Brock got Braun up for the F5 but Strowman got to his feet. Braun picked Brock up for a powerslam but Roman ran in and hit a spear on Braun. Brock tried to get an F5 on Roman but it got broken up. Eventually, Joe cleared the ring and found himself with Lesnar. He locked on the Coquina Clutch on The Beast Incarnate but got it turned into an F5 but Roman broke up the pin.
Roman hit a Superman Punch on Brock but he didn't go down, a second one didn't do it, but a third one did put Lesnar down. Roman looked like he was poising himself for a spear and Brock picked Roman out of the air during a spear and hit an F5. 1-2-3 and Brock Lesnar retained the Universal Title by pinning Roman Reigns.
Brock Lesnar looked blown up, but he was victorious as he laid on the outside of the ring with his Universal Title laid across his chest. Paul Heyman crouched down beside his client encouraging him.
"Brock doesn't look like himself, he doesn't look like a champion" Corey Graves said as the show went off the air. "The Beast Incarnate lost a little bit of himself tonight, will he ever be the same?"
Regardless of how he looked when all was said and done. Brock Lesnar was still the Universal Champion which was an amazing ending for WWE's Biggest Party Of The Summer.