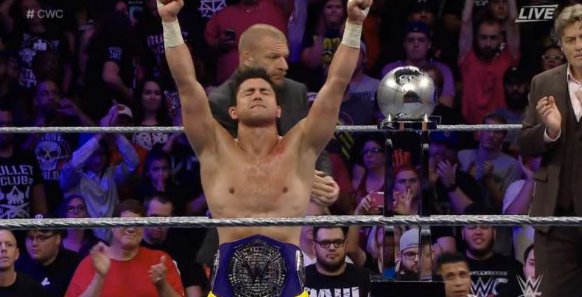 Earlier this week WWE announced that Vince McMahon had suffered an injury. It was later reported that Vince tore one of his quads while doing squats, but not much else was known about the injury because Vince was trying to keep things quiet.
According to the Wrestling Observer Newsletter, Vince McMahon missed Backlash, Raw and SmackDown this week. As for how much he was lifting, it's said that the 71 year old was squatting a significant amount of weight. Vince did return to work earlier this week.
Wednesday night TJ Perkins won the WWE Cruiserweight Classic and he also became the first Cruiserweight Champion. Perkins will also be taking the belt to Raw on Monday for the debut of the Cruiserweight division.
WWE stars had nothing but positive things to say about TJ's big victory, and you can check out some of the reactions below.
What an amazing @WWE_CWC. 32 men left it all on the line and battled to be #1. Congrats to @MaskaraManik #newchamp

— Matt Bloom (@NXTMattBloom) September 15, 2016
Congratulations to my old friend @MaskaraManik… What an incredible performance! #cwc #newcruiserweightchampion!!!!

— Daniel Bryan (@WWEDanielBryan) September 15, 2016
Congrats @MaskaraManik! You deserve it. #CWC #CruiserweightChamp @wwe

— Nattie (@NatbyNature) September 15, 2016
Spectacular tournament, HUGE congrats @MaskaraManik, winner of the @WWE_CWC and new @WWE cruiserweight champion. Respect.

— NEVILLE (@WWENeville) September 15, 2016
They did that whole tourney wit no heel turns no dirty finishes . Just story tellin . Props to HHH and Full Sail #CWC and TJP

— Wale (@Wale) September 15, 2016
Think I'm gonna learn some of these moves!!! #EvolveOrDie #CWC

— Dustin Rhodes (@Goldust) September 15, 2016