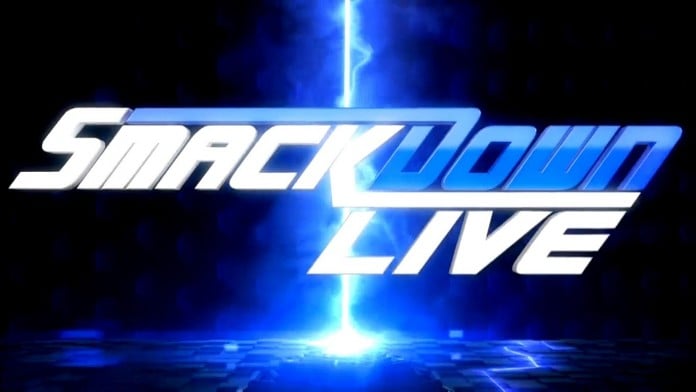 There were a lot of things that happened at SummerSlam and we're sure to see some ramifications on SmackDown Live. WWE was still inhabiting the Barclays Center and there were rumors of a big main roster debut in the air. Only time would tell what surprises WWE would have for fans for the Tuesday after SummerSlam. But we were sure excited to find out. Let's just hope they got the whole beach ball situation figured out.
Opening Segment
The opening promo accented the potential resentment between Kevin Owens and Shane McMahon after the US Title match at SummerSlam.
AJ Styles' music broke out in the Barclays Center and The Phenomenal One came to the ring. "AJ Styles" chants were very loud before he began to speak. But once he got going he welcomed everyone to SmackDown Live, "the house that AJ Styles built." The crowd was happy about AJ still being US Champion.
Then AJ reinstated the US Title Open Challenge.
Sudden the very familiar music of Kevin Owens hit and The Prizefighter came out looking very angry. AJ said it isn't happening because he beat him at SummerSlam, "we're done — it's over."
Kevin said AJ didn't beat him at SummerSlam, "what happened on Sunday is that 20 years later and history repeated itself and a McMahon screwed a legendary Canadian out of a title once again." He said it was all Shane's fault and suddenly McMahon felt like he needed to come out and clear things up.
KO mocked Shane McMahon for being able to survive a helicopter crash and a 450 splash but he was unable to get in the right position to make a count when Kevin Owens had the match won at SummerSlam.
Kevin showed the footage on the big screen of when AJ got his foot on the rope but Shane counted to three anyway but waved off the win for KO. Owens wanted to know why he didn't win at SummerSlam when he lost on SmackDown Live a few weeks ago.
Shane and Kevin started getting in each other's face and KO called AJ a joke of a champion. Then Styles told them to shut up.
AJ called Owens a "whiny ass little bitch" and then said he'll take on Kevin Owens because he wasn't afraid to beat him again. So Shane McMahon booked a US Title match tonight. But that wasn't enough for Owens. He demanded to be able to pick the referee tonight.
Shane said, "we have plenty of confident officials" and AJ said he didn't care who the ref was.
Then Shane said as long as Styles is the US Champion then this is KO's last shot at the United States title.
Backstage Segment
Daniel Bryan was on his phone because that's what GMs do. The Singh Brothers came in clapping and introduced Jinder Mahal. The Modern Day Maharaja walked into the shot and told D-Bry he knew why he was called into the General Manager's office. Because he's a great champion.
Daniel said he saw someone who couldn't win without the help of the Singh Brothers. Jinder said he was a hero but Bryan said heroes don't take short cuts.
Then Daniel Bryan said Jinder Mahal deserves some retribution after SummerSlam but he's not facing Jinder Mahal — he's facing the Singh Brothers.
Kevin Owens was walking backstage and he walked up to Sami Zayn. He said Sami was just who he was looking for. KO said they've been through a lot but he's looking for someone he can trust to be the referee and asked Sami to be the special referee tonight.
Sami said he recently watched KO's DVD and all of the memories made him wonder why they were fighting in the first place.
KO said since Sami came to SmackDown Live he hasn't done much of anything but he has a shot to do something meaningful tonight. Then he walked away.
Aiden English vs ???????
The Barclays Center was pitch black and Aiden English cleared his throat and asked for the spot light. He started to sing — then he was cut off by something GLORIOUS!
BOBBY ROODE MADE HIS WWE MAIN ROSTER DEBUT!
Everyone in the building obviously knew every word to his song too. That's a good way to get Aiden English to stop singing.
This match started and the crowd was more than pumped to see Bobby Roode do his thing. "Bobby Roode" chants broke out before they even locked up and Roode did his "GLORIOUS" taunt.
Aiden said SmackDown was his stage and Roode clotheslined him out of the ring. English returned to the ring to take some chops and a backdrop. Bobby hit a few more shots until English started his offense by bashing Roode's head off the turnbuckles but Roode reversed an Irish whip and hit an elbow.
English was taken outside and took some damage on the floor. Bobby got tossed into the barricade and Aiden hit him with a back splash. Once they returned to the ring Aiden beat on The Glorious One for a bit but Bobby soon fought back.
Bobby charged Aiden into the corner and lit him up with some chops. He hit an inverted atomic drop and a clothesline in the corner. Then he perched himself on the top rope as JBL said, "better get you some Beer Money" as he hit a perfect blockbuster off the top rope.
Aiden hit The Director's Cut out of nowhere for a two count. Then The Drama King climbed to the top rope but he missed a senton and Bobby hit a spinebuster. Roode geared the crowd up for another "Glorious" taunt and hit the Glorious DDT for the win.
Bobby Roode is officially on the WWE main roster although there's no clear indication at this point what they're going to do with him yet. All that's apparent is he's going to be Glorious. It also looked as though he was being booked as a babyface seeing how he came down and took out a heel like Aiden English.
Renee Young joined Bobby in the ring and did an old-school interview. Bobby said he was on SmackDown Live but first he congratulated Shane McMahon and D-Bry for "breaking the bank and cashing in" on him. He said everything he does is big box office and "in a New York minute SmackDown Live went from being great to being absolutely Glorious."
Backstage Segment
Daniel Bryan was backstage on his phone again and Chad Gable walked up. Bryan said he was sorry for JJ leaving him with his Papa Kurt. Gable said that's all anyone wants to talk about.
Daniel said he traded Jason Jordan to Raw in exchange for Kurt Angle helping him sign one of his friends. Daniel Bryan said he would like to introduce Chad Gable to his new tag team partner. Suddenly Shelton Benjamin showed up and a new tag team was former. They will debut next week.
Kevin Owens handed Sami Zayn the referee shirt he wanted Zayn to wear in the US Title match. But The Underdog From The Underground said he started thinking about all the rotten things he'd done to him. He said he hopes KO gets help in his match tonight because he's going to need it.
Hype Bros vs The Usos
Mojo and Jey Usos got this one started and the Hype Bro used his energy to get the best of the SmackDown Tag Team Champion. Then he yelled "he ain't hype!" over and over again. Suddenly Jey caught Mojo with a dropkick in the corner and tagged in Jimmy.
Jimmy hit the corner hip attack and tagged his brother back in. They kept Mojo down with a leg submission and then Jey tagged back in to deliver a leg drop. Zack Ryder was on the apron straining for a tag but it was no good at that point.
Mojo knocked Jimmy off the apron and ducked sending Jimmy into the turnbuckle after a splash. Zack got the tag and started running a highlight reel on Jimmy while the crowd showed they still "woo woo woo."
Jey dragged Jimmy out of the ring and Mojo steamrolled over Jey. Jimmy kicked Mojo in the head and then returned to the ring to finish off Zack Ryder in short fashion thanks to a distraction from his twin brother.
It's also The Uso's birthday, so that's cool. Jimmy grabbed the mic he welcomed Brooklyn to the Uso Penetentary. Jey said they had a message for every team in the locker room. They started cutting a promo in tandem about how bad they are, because "it's not paranoia, it's the Uce-O!"
Shinsuke Nakamura vs The Singh Brothers
People were more than excited to greet Nakamura by singing his amazing music but they would have much rather be singing for a champion. But SummerSlam turned out how it did and now Nakamura is in a handicap match against the guys who kept him from winning the WWE Championship at The Biggest Party Of The Summer.
The Singh Brothers came out still in their street clothes and introduced Jinder Mahal who was also in a suit with his championship around his waist.
When The Singh Brothers got in the ring it didn't take long for Nakamura to get his hands on them… well at least his feet. He kicked them around the ring and performed a double Good Vibrations on the Singhs. Jinder Mahal looked on from ringside as Nakamura dismantled his associated.
Nakamura stacked the Singh Brothers up on the top rope and laid a knee into them both. They rolled out of the ring and Nakamura motioned for Jinder to "come on." The Singh Brothers jumped Nakamura from behind and started to beat him down.
The hit some punches and backed him up in the corner. The shot him to the other corner but Nakamura would soon turn things around. He locked one of the Singh Brother in a triangle and made him tap out.
After the match, Jinder Mahal jumped Nakamura but Shinsuke fought back and laid Jinder out with a Kinshasa.
Backstage Segment
Kevin Owens was still backstage walking around looking for a referee. Then Breezango popped up and said they might be off duty this week but they'll be his referees. KO said "no!" and ran them off quickly.
Suddenly Kevin Owens tapped him on the shoulder and said, "if you win the United States Championship, I get first dibs."
"When! It's when I win the United States" KO replied. Then he handed The Lone Wolf the referee shirt. It looks like Kevin finally found himself a heel referee.
Natalya and Carmella vs Becky Lynch and Naomi
Nattie was introduced as the new SmackDown Women's Champion and she came down looking very proud of herself. The belt was back to the old one that didn't glow. Nattie got the microphone and said "SummerSlam will forever be known as the day The Glow was unplugged" that was a nice line. She said she proved she is the best there is, the best there was, and the best there ever will be.
Then she held up her championship before announcing she was the new and forever SmackDown Women's Champion. She promised to restore honor and dignity back to the title. Carmella came down in her new wrestling attire which looked like a Baywatch swimsuit.
James Ellsworth congratulated Nattie on finally winning something. Carmella said he just had one thing she wanted to talk to Nattie about because it might be Nattie's time but she's on Carmella's watch. Her accent seemed to really thicken up recently as well.
Mella reminded her when the time is right she'll cash in her contract for her championship. James said Mella count not tag in and let Nattie get beat up and cash in her contract tonight while Carmella nudged him as if to say, "shut up idiot, you're giving away our plan!"
JBL said Ellsworth was "as sharp as a bowling ball."
Mella and Naomi started off the match and Carm forced a tag on Natalya without making any contact. Then Nattie and The Glow locked up and started the match.
Nattie and Naomi wrestled around for a bit and Becky got the tag to get the upper hand over Naomi. The Queen Of Harts took some time to taunt the crowd and James Ellsworth before getting kicked several times by Lynch. Naomi got the tag and she hit Nattie with a sliding clothesline.
Becky tagged back in and kept applying the pressure to Natalya. Nattie tried to call for a time out but just tossed Becky into the turnbuckle instead to stomp a mudhole in her. She applied a headlock and brought Lynch to the ground. Carmella seemed to be rooting Becky on from her corner.
Natalya threw Lynch down and knocked Naomi down. Nattie tossed Becky to the corner and Mella jumped down to avoid a tag. "You're the best there is Nattie," Carm said as she motioned for her to finish the match.
The crowd started "the wave" during this match as Nattie took Becky down for a two count.
Mella got back on the apron as Nattie asked her what she's doing. Becky rolled her up for a pin but Nattie kicked out.
Naomi got the tag and soon found herself in a submission hold. Carmella held her briefcase and looked like she was trying to figure out if she should cash in her contract. Nattie tagged her without consent and was brought in the match.
Becky hit a Becksploder on Mella and Naomi hit her split legged moonsault for the win to make Miss Money In The Bank look really beatable.
Backstage Segment
Dolph Ziggler was introduced as being back and he said he was excited to be introducing himself to the WWE Universe during a backstage interview. "Way to roll out the red carpet," he said.
The Show Off said he figured out what it took to be a star in WWE. He'll start singing, play guitar, or dance around like an idiot. He said he could get lasers and light, a big fancy robe and a beautiful woman escort him to the ring. He said he'll get a woman that glows in the dark.
He seemed pretty bitter and he said he'll do all of that next week.
Lana was on her phone talking to someone on the phone and she said she'll see them next week, who ever she was talking to. Tamina asked her what's going on and Lana said her journey to the top starts next week. Tamina wanted to know what was going to happen this week.
Lana told her to close her eyes and imagine herself in a locker room full of people who look at her like she's different and let it fester in her until the anger boils over. Tamina opened her eyes and looked angrier.
Lana said they will start the Ravishing reign of terror and they won't stop until Tamina is a champion and the most feared woman on SmackDown Live.
Backstage Segment
AJ Styles was walking backstage. Baron Corbin asked AJ if he wanted to strike a deal with him and Styles said if he wins then he'll be an open challenge every week. "See ya out there, champ" Baron Corbin said as he patted AJ on the back and walked away.
AJ Styles vs Kevin Owens (Baron Corbin as special referee)
The Lone Wolf came down looking very official in his sleeveless referee shirt. Apparently, KO and AJ's gimmick is special referees. That's nice.
Kevin rolled out of the ring right off the bat and Baron didn't count him out. He just stood there and then rolled in to assault AJ. Baron Corbin did start counting to five when KO was stomping AJ under the ropes.
But Baron didn't do much moving around to get in position. Although being so tall he probably had a good view of things.
KO ended outside the ring and AJ hit him with a springboard elbow to the floor.
Kevin kept AJ down with a headlock once they returned to the ring but he couldn't stop a Pele Kick from Styles. Kevin rolled out of the ring and when AJ went after him he tripped the Phenomenal One sending him crashing to the ring apron and then he tossed him into the barricade.
Once they got back inside, KO slapped on another headlock. He drove a knee into AJ's face and ground his elbow into AJ's face while Baron Corbin asked AJ if he would submit. Styles countered out of the headlock with a facebuster but didn't have the energy to make the pin just yet.
Baron Corbin stood over both of them looking on as they got to their feet. AJ and KO traded shots and Styles took him down with a clothesline and hit a sliding forearm. AJ kipped up and nailed Kevin in the corner with a flying clothesline. He hit a fireman's carry neckbreaker for a two count.
AJ stood up and looked Baron in the face because he apparently didn't like that call. AJ ran at KO and got lifted onto the apron. Kevin ducked under a Phenomenal Forearm but soon found himself locked in a Calf Crusher. Baron Corbin hovered over them asking if KO would tap out but Owens wouldn't tap.
Suddenly Baron broke up the hold saying KO touched the rope… when he kind of didn't. AJ fought with Baron while Corbin said: "I'm the ref!"
KO shoved AJ into The Lone Wolf and he reminded AJ how he's the ref. Owens rolled AJ up twice and Baron counted very fast twice.
Suddenly Shane McMahon ran down to investigate. He admonished Corbin for the fast count. Baron said he's doing his job and watching everything they do while KO hit a low blow behind his back and covered. Baron started to count but was pulled outside of the ring by Shane.
Baron and Shane started shouting at each other. "I'm the ref!" Baron kept yelling. He said he'll do what he wants to do and then took off his ref shirt and handed it to McMahon.
So Shane put the referee shirt on and Kevin Owens got in his face yelling how he couldn't believe what was going on. AJ was on the apron at this point and his Phenomenal Forearm for the win shortly after that.
Kevin Owens didn't look happy as Shane McMahon raised AJ Styles' arm in victory.