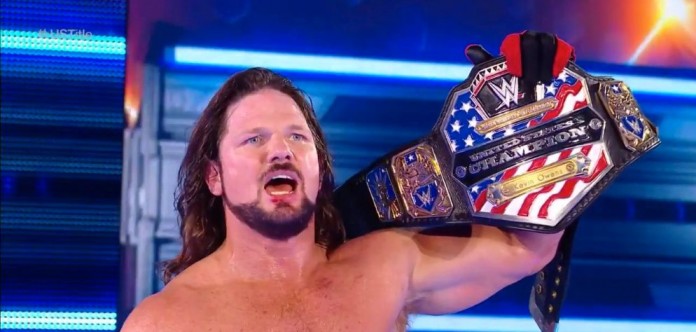 It's time for SmackDown Live and we're just dusting off our war-torn clothing from the recent Battleground. The Great Khali might be back and WWE has some explaining to do when it comes to the AJ Styles/Kevin Owens US Title Match. This should be fun.
Opening Segment
Kevin Owens was introduced and he received a mixed reaction. Of course, it was a mixed reaction. Even if you love KO, you might not be happy about the way it all went down in Philly.
Kevin owned the moment and said, "this just feels right, doesn't it?" He raised the US Title up high and said if your heart is pure and you're a good person good things will happen. Kevin is the good person in this scenario.
The "AJ Styles" chants were thick as Kevin tried to carry on. He didn't let it hurt him one bit and said he was reinstating the Kevin Owens United States Open Challenge and it begins (checks his watch) next week. He said he would never defend his title in front of a bunch of hicks from Richmond Virginia. That was both rude and awesome.
Insert AJ Styles here.
No, they don't want none. No, they don't want none. They looking scared no they don't really want none. We some southern boys With the farmer strength… you get my point. Owens called AJ's music stupid. Seriously, Google the lyrics to AJ Styles' WWE music and thank me later because they're awesome.
Styles said he wanted a shot at Kevin Owens said he wasn't gonna do it.
Then Chris Jericho showed up! Holy poop. "Welcome back maaaaan!!!"
Y2J shut KO up quickly and used his rock star pipes to do so. He hyped the crowd in a way only he could. But AJ said the US Title shot is his.
Jericho asked AJ if he was trying to cut in front of him and asked if he knew what happened to him. AJ said, "let me guess, you put him on the list"… Jericho said no, he put him in the Walls Of Jericho after punching him in the face. Then AJ Styles made the List Of Jericho.
Kevin started to leave up the ramp and Jericho asked him where he was going while calling him a stupid idiot.
Shane McMahon came out and we're glad to see he got there safe. Shane said both AJ and Y2J have a rematch at the US Title, but what about AJ's rematch for the WWE Championship.
Then McMahon booked a triple threat match between KO, AJ, and Y2J. He said that match wasn't going to happen at Mania, SummerSlam, or where ever else. It was going to happen tonight. Owens wasn't too happy about that.
Baron Corbin vs Shinsuke Nakamura
I can't help it, it's hard to enjoy Shinsuke Nakamura's music anymore without looking behind him the whole time in case Baron Corbin runs out. It's like he's walking out of some dangerous fun house. It's also noticeable people have stopped yelling "YeaOh" when he does his final pose in favor of just singing the melody to his theme song.
Baron Corbin just looks like a beast with that briefcase. He wears the MITB briefcase better than it's been served in years.
Nakamura started out with some stiff kicked that sent Baron crawling to the apron and Nakamura followed through with some stiff shots. Then he walked half-way up the entrance ramp for some reason and geared up to run for way too long. Baron caught him on his way back and clotheslined his head off.
He rolled Nakamura back in the ring for a two count after that. They took it back outside and Baron used Nakamura like a crash test dummy for a while. Vince must like watching Nakamura sell.
When they moved back to the ring Baron Corbin kept up the assault by wearing away at the King Of Strong Style, Shinsuke Nakamura. They actually called him The King Of Strong Style.
Corbin did that move he likes to do where he runs around the turnbuckle and he ran right back into a boot to his jaw. Nakamura kicked him a few times and hit him with a straight kick to the chest. Shinsuke placed Baron on the top turnbuckle and drove his knee into The Lone Wolf's ribs. Nakamura hit a kick off the top turnbuckle and missed a Kinsasha.
Baron reversed a moved into a big backbreaker and got a two count. Baron drove his own knees into Nakamura and did a mocking Shinsuke pose over his crumpled body. He really does sell like a champ.
Corbin hit a Deep Six after a little sequence and Nakamura kicked out because that's what you do after taking a Deep Six. Nakamura countered out of an End Of Days and went on the offense.
Nakamura picked Corbin apart and landed a stiff knee to the back of Baron's head followed by a Kinsasha for the win. Nakamura got his victory over Mr. Money In The Bank. The match was decent and certainly better than their Battleground encounter.
Backstage Segment
Naomi was interviewed backstage and started talking about Natalya. She was asked about Nattie refusing her to shake her hand after the match. Suddenly Nattie was magically standing there.
Nattie said Naomi has tarnished everything the SmackDown Women's Championship stands for. The Glow has changed the title into a kid's toy. She doesn't respect the past or the Hart Family.
Naomi said Nattie's stuck in that dirty dungeon of the past. Then she said she does respect tradition but at SummerSlam, she's going to be blinded by The Glow.
Carmella walked in wearing a "Free (picture of James Ellsworth's face) shirt" on and tapped on her briefcase. So you never know when she might be cashing that thing in. Naomi better watch out.
Charlotte Flair and Becky Lynch vs Tamina and Lana
This was a nice little treat we weren't expecting. But then again, how else are you going to feature the other woman on the roster?  Besides, we get to see Lana wrestle again and that's always a good time (for Botchamania).
Becky went right for Lana and she scrambled to the corner. Tamina got the tag and Lynch out wrestled her too. Tamina blocked a Dis Arm Her but took a spin kick to the midsection that didn't quite land but she sold it anyway. Becky took a face-first bump and kicked out at two.
Then Lana wanted the tag. She got in and smashed Lynch in the corner. Then she hit a suplex and covered for a two count. She drove some knees into Lynch's back and kept her down. But Becky fought out only to have Lana reverse her powerslam and bring her back down.
"You can't wrestle" chants were started to get loud as Lana tagged in Tamina. They continued to make Becky bump all around the ring until she caught a kick to the side of Tamina's head so she could tag in Charlotte.
Flair chopped everything that moved and started to strut. She landed a knee on Tamina for a two count. JBL says Richmond, Virginia is Flair Country.
Lana got the tag and there was some messiness for the heels. Charlotte ended up pinning Lana clean in the middle of the ring.
Tamina didn't look happy at Lana. She yelled at her and Lana looked cowardly. "Lana did her best," JBL said. Tamina continued to look at Lana like she was going to eat her and yelled: "let's go." Lana followed her up the ramp and this strange dichotomy continues.
Jinder Mahal Is Still India's Hero
The Modern Day Maharaja was introduced and he came out by himself this time. Did Randy Orton kill the Singh Brothers? Ah, the announce team said they aren't even there because of the punishment they received. Gotcha.
Jinder held his WWE Title up high as JBL said he's never seen a guy grow into a championship like Jinder has grown into this one. Nice line, I wonder if it was a shoot.
Mahal was out to demand a new opponent for the WWE Championship. But first, he had to rile up the crowd. He said Randy underestimated him and he'll remain the WWE Champion as long as he desires to hold the titles.
He wanted to know who's hopes he will crush at SummerSlam. But first, he had to speak in Punjabi. It sure sounded like he dropped John Cena's name in his Punjabi speech even though I can't under Punjabi, I head John Cena… and yup…
Insert John Cena here…here we go!
Before Cena could say anything Jinder butted in and said he wasn't finished. He said Cena didn't deserve to represent his people. Cena told him to shut his mouth for one second.
Instead of insulting him, John said he's one of the only guys who will stand up to him and congratulate Jinder for being the champion. Then Cena said he didn't care if Jinder had a giant, a band of merry men, and a bunch of other stuff including a port-o potty. He's giving Jinder a notice that he's got Super Cena at SummerSlam "hit the trumpets!"
Then Daniel Bryan came out and congratulated both of them for being victorious at Battleground. Then he said Cena doesn't make the matches and on SmackDown live opportunities are earned even if you're John Cena.
Then Daniel Bryan booked John Cena vs Shinsuke Nakamura for SmackDown Live next week in a #1 contender's match! What the what?! That match is on SmackDown Live? They must really need the ratings boost bad!
Backstage Segment
Shane McMahon was backstage on his phone as always when KO walked up to him. Kevin told Shane to admit that he didn't want him as US Champion. Owens said a triple threat match isn't fair. McMahon said he didn't care who the US Champion was as long as it was on SmackDown Live. He only cared about the audience.
KO said he didn't give a damn about SD Live's audience and if he wasn't the commissioner he wouldn't give a damn about him either.
Aiden English and Mike Kanellis vs Sami Zayn and Tye Dillinger
English was in the ring with a spotlight on him wearing a cape and beatnik glasses. He took them off and started singing. He shushed the crowd in the middle of his song and said "this is my time"… he introduced Mike Kanellis with Maria who was wearing a sequin Betty Boop shirt.
English and Tye started the match off and Dillinger hit some loud chops. Then Sami got the tag and wrestled around Aiden English for a bit. Kanellis got the tag and Zayn kept up the offense on The Power Of Love.
I can't help it, every time I see Mike and Maria's entrance I think about Back To The Future and that's The Power Of Love.
English got the tag and the advantage over Zayn after Maria got involved on the outside. Kanellis came in and continued his assault on Sami. Mike stopped and he and Maria pointed at each other. After a little bit of business with Zayn, The Drama King got the tag back in and took Sami down with a headlock.
Mike hit a boot to Sami's face and got a two count. He tagged Aiden back in, but Sami started to fight back as the "let's go Sami" chants broke out.
Dillinger got the tag and cleaned up with the hot tag. It was move after move and Dillinger fired up. As he hit Mike with mounted punches in the corner the crowd chanted "10." Sami got the blind tag and he hit Mike with the Helluva kick and picked up the win for the babyfaces.
New Day Celebration
At first, it sounded like Big E's mic was cutting out backstage, but it turned out Big E was knocked out backstage by The Usos before they even made their entrance as the new SmackDown Tag Team Champions. Usos destroyed Xavier Woods and Kofi on the stage and started to drag Kingston to the ring.
Big E came running from the entrance but Usos took him out with superkicks and they left The New Day laying in three charismatic heaps on the entrance ramp.
Backstage Segment
Renee Young interviewed Nakamura backstage and he said "next week John Cena (he did a dual hand waving motion in front of his face) you can't see me, which means I'll see Jinder at SummerSlam" and then he walked off. Nakamura is awesome.
Chris Jericho vs AJ Styles vs Kevin Owens (US Title Match)
Jericho came out complete with epic light-up $900 scarf. AJ Styles was super over. Kevin Owens had a very pissed off expression on his face. He obviously didn't want to be working tonight.
They tried to get some quick pinfalls after dispatching of KO early on. AJ and Jericho work so well together. Then Owens came in and tossed AJ out.
Kevin and Chris had a chance to square off and hammer away at each other. Owens avoided a Walls Of Jericho and AJ soon came in to square off with Jericho.
Jericho got sent out to the apron and then knocked off the turnbuckle by Styles. KO assaulted AJ for a bit and yelled: "I'm the champ!"
Kevin sent AJ into the turnbuckle very hard and sent him crashing to the mat. KO hit a running senton on Styles for a two count after knocking Chris back to the floor. After another dropkick from KO, AJ kicked out of another two count.
Kevin left the ring to make sure Jericho was still down but when he returned AJ got the upper-hand for a bit but Kevin sent him back to the canvas with a right hand. Styles got the Calf Crusher but Jericho ran in and broke it up with a Lionsault onto both of them.
Chris covered AJ for a two count after that nice Lionsault spot and all three men sold the impact of the move for a bit.
AJ and Kevin were soon left in the ring once again and Styles stomped on Owens to turn around and chop Jericho as he jumped in. AJ took a high back drop and some clotheslines in the corner. Chris placed Jericho on the top turnbuckle and went to join him. Styles fell out of the ring as KO grabbed Jericho in an electric chair drop but Y2J maneuvered out of it and tried for a Walls Of Jericho to no avail.
AJ knocked KO out and hit a springboard 450 on Y2J. KO tossed AJ out of the ring and covered for a two count. AJ jumped KO backstage and sent him in to the barricade.
When AJ got back in he soon found himself in the Walls Of Jericho, KO ran in the ring and he got a taste of the Walls too. AJ tried to break it up but Y2J took care of him and returned to the Walls on Owens.
AJ ran in and took a Codebreaker from Chris for a two count and the crowd was LOVING this match. Jericho and AJ fought on and KO interrupted an attempted Lionsault. With each man in perfect placement, Owens hit two cannonballs, but turned to eat a forearm from AJ, Jericho hit an enziguri and Kevin hit a superkick. Everyone was down after that sick sequence.
Jericho sent AJ out of the ring and KO hit a pop up powerbomb on Y2J for a two count. KO couldn't believe Chris kicked out and climbed to the top rope. He hit a frog splash on Jericho and covered for the count.
Suddenly AJ Styles jumped in the ring and tossed KO out to steal the cover from him. 1-2-3 and AJ Styles is the New United States Champion once more.
Kevin was so furious he tore up the announce table and tossed the ring steps around. Kevin tossed a chair against the ring and go the mic. Owens said it wasn't fair because Jericho was there and Shane McMahon forced him to defend his title in a triple threat match and AJ stole his victory. It's also not fair the people dislike him because he's better than they ever will be.
But what's fair is KO getting his rematch next week. "When that happens whether you like it or not and whether you idiots like it or not I am taking my United States Championship back!" Then KO slammed down the mic like they don't cost money.