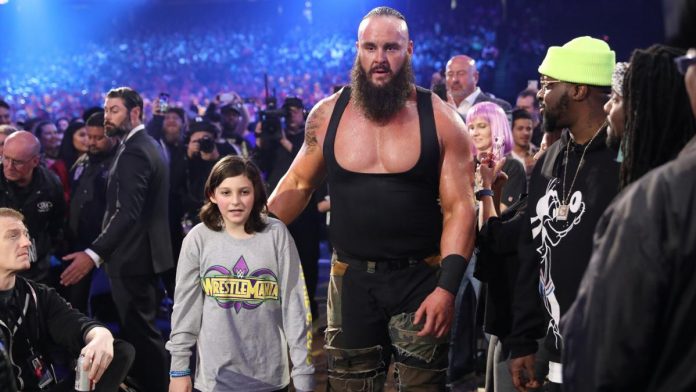 For weeks fans patiently waited to find out who would be teaming up with Braun Strowman at WrestleMania 34, and when the moment for the big reveal finally came, Braun walked into the crowd and selected a member of the audience.
That was the moment when WWE fans around the world were introduced to Nicholas, who went on to become one half of the Raw Tag Team Champions after he and Braun defeated Sheamus and Cesaro on the Grandest Stage of Them All.
But Nicholas and Braun's partnership wasn't built to last, as Braun announced on Raw that he and Nicholas were vacating the belts because Nicholas had to get back to school.
It's a shame that we'll never see what this team might have had to offer, but WWE did put together an entrance video for Nicholas that has surfaced online, and it can be viewed below.
Speaking of Braun Strowman and WrestleMania, the Monster Among Men, Braun's parents attended the Show of Shows on Sunday, and the former Raw Tag Team Champion recently thanked his parents, and the fans for making his WrestleMania experience so special.
Braun posted the following on his personal Instagram page:
"Words can not express what this picture means to me and what that moment meant. To have my mom and dad and one of my best friends ring side to see me take my first #Wrestlemania moment to date is the greatest things I've been able to do in my life!!!!! Thank you to all my fans that made this so special and thank you Nicolas for memories I will cherish for the rest of my life. #blessed #humble #greatful #ThankYou #wwe"
"Still at a loss for words about #Wrestlemania and the fact that my mom and dad got to be ringside front row while I made history!!!!! I took this picture of them beside my ugly mug on our way out of the building because my mom freaked out when she saw it. #IAmTheLuckiestManInTheWorld #familyiseverything #MonsterAmongMomAndDad I can't thank @wwe enough for what they have done for me and my family!!!!!"