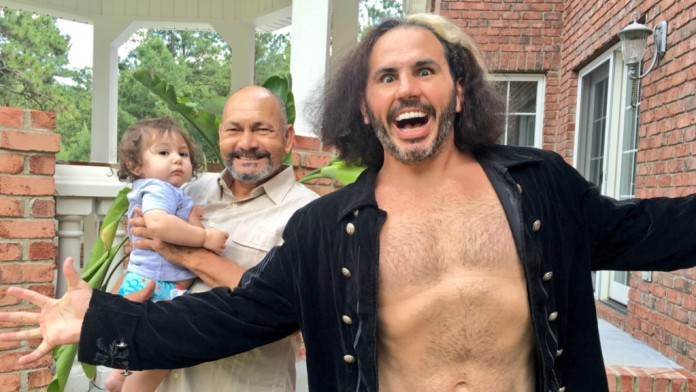 This week on Monday Night Raw it appeared that Matt Hardy had snapped when he started chanting "DELETE! DELETE! DELETE!" after his match with Bray Wyatt, and since then everyone's been talking about the possible re-emergence of the Broken Matt Hardy character.
Matt has certainly been acting "broken" as of late, but according to a report from Sports Illustrated, WWE won't be using the Broken Matt Hardy character, and the company will instead be developing a new character for Matt.
Even though he won't be Broken Matt Hardy, it's being reported that the character will be very similar to Broken Matt. It's worth noting that Matt recently changed his name to Woken Matt Hardy on Twitter.
The battle over the rights to the Broken Universe has been one of the biggest stories of the year as Hardy ended up in a legal battle with Anthem Sports and Entertainment over the rights to the intellectual property.
It's also being reported that there have been no new discussions between Hardy and ED Nordholm, and there are no plans for the two sides to share revenue generated by the character.
SI reached out to Ed Nordholm of Anthem, and he released a statement saying that they are aware of the character, and that they will be amending existing agreements to allow former talents to use their gimmicks after they leave Impact.
"We have seen the character development and will be interested to see where they take the concept. Our new talent agreements all incorporate language that allow talent to continue to use their IMPACT persona after they leave the company. We are working with our legal team to amend our existing agreements to extend this to all of our current and former talent."
This whole situation has been somewhat of an emotional rollercoaster for Matt and his fans throughout 2017, as people who followed Matt last year saw how hard he worked to get the Broken Universe over.
In any case, it appears that WWE will be moving forward with a new character for Matt, and Impact won't be pursuing legal action.