It's time for Money In The Bank which has arguably become WWE's fourth most important event of the year. Yes, Money In The Bank even over shadows Survivor Series at this point. The Thanksgiving tradition might feature some high profile bouts, but in the end the Money In The Bank ladder match (or as in this year: matches) dictate a big part of WWE's creative direction for the rest of the year.
Related Article: Did WWE Accidentally Spoil Plans For First Women's Money In The Bank Match?
There are plenty of amazing matches scheduled for the show in St Louis, mainly the first-ever Women's Money In The Bank ladder match. Natalya, Charlotte Flair, Tamina Snuka, Becky Lynch, and Carmella are set to do battle for a brand-new white briefcase holding a guaranteed title shot for the SmackDown Women's Championship.
There will be thrills, chills, and plenty of spills in the 2017 Money In The Bank pay-per-view and the card appears to be one of the more solid outings from the SmackDown Live brand we've seen since the brand split.
Kickoff Show
Hype Bros vs Colons
Zack Ryder is back and he immediately joined back up with Mojo Rawley meaning the Hype Bros are back baby! Their first targets are the Colons.
This match might seem like a shoo-in for Hype Bros, but with SmackDown's surprise booking we could see Zack Ryder come in and lose right out of the gate to set up an interesting underdog looking for redemption story line for Hype Bros.
But in all honesty we're probably going to see the Hype Bros go over in this one. But it will be a nice addition to the kickoff show and a great chance for Ryder and Mojo to prove they should be on the main card.
Naomi vs Lana (SmackDown Women's Championship)
The match will probably steal the show. It is no doubt going to be a twenty minute epic encounter…oh this one is the Naomi vs Lana match? Okay, sorry. Lana is facing Naomi for the SmackDown Women's Championship…because they used up every other woman for the Women's MITB ladder match.
But in all seriousness Lana has been working her butt off recently. She's done a handful of NXT shows and has reportedly been putting in good time at the WWE Performance Center. Therefore she might surprise us.
But in the end Naomi will probably be coming out on top of this one because if anything they need to keep the title on a babyface.
Natalya vs Charlotte vs Tamina vs Becky Lynch vs Carmella (Money In The Bank Match)
Why would it be a good idea to keep the SmackDown Women's Championship on a babyface? Because you never know how a Money In The Bank ladder match might affect the landscape of a title chase. This landmark match will not only see some sick spots where these ladies want to carve out a bigger spot for the legacy of their career, but it could also have a surprise winner.
The latest betting odds put Carmella on top of this match. It might be the Ellsworth factor, or WWe might be strapping a rocket to Carmella and giving her a shot on top as a hated heel.
We could see someone else pull the briefcase down because plans change on an hourly basis sometimes on the day of the event. There are a few options to go with but the MITB match is a big decision that is almost a commitment to going a certain direction. But don't be surprised if the ending of this match is fabulous.
New Day vs Dem Usos (SmackDown Tag Team Championships)
The New Day are finally back after a hiatus when Kofi Kingston went down with an injury. They were immediately shot over Breezango and American Alpha (remember them?) as the top babyface tag team on SmackDown Live and got themselves a title shot.
Now comes the question of whether WWE is going to let Usos win this match and solidify their top heel team status or yank the titles off of them so Big E can jiggle his booty in a title belt again.
The fact is The New Day don't need these titles. They're already the longest running tag team champions in WWE history, that title is way more impressive than three-time champions. But the Usos need this win if they're going to really commit to the role of big bad tag team. Dem Usos have teeth if WWE would just let them bite.
If all roads lead to the next Big Four PPV, then booking for SummerSlam might see Breezango (who in all reality are the more popular team) follow the clues and capture tag team gold. They need to keep the titles on Jimmy and Jey for that to work. Of course I'm just spit balling here, but if Usos pull off the win at MITB it might set that story in motion.
Kevin Owens vs Shinsuke Nakamura vs Baron Corbin vs Sami Zayn vs Dolph Ziggler vs AJ Styles (Money In The Bank Ladder Match)
The Money In The Bank ladder match is one of the most exciting times in the year. It's like Christmas for a WWE fan in a way, because we see who gets the briefcase and they're almost guaranteed to be the champion sometime soon (unless they're Damien Sandow). This year fans get two MITB matches and it's a great gift for sure. With all the talk surrounding the first-ever Women's MITB ladder match the men's match has been somewhat forgotten about which is a shame because the men's ladder match for that briefcase might be the best one ever.
Shinsuke Nakamura has only been on the roster for a minute and seen one major feud and he's already in a Money In The Bank ladder match. Who knows what the King Of Strong Artist Style is capable of, especially when AJ Styles is in the ring with him.
There will probably be a standoff between AJ and Nakamura at some point in this match and it will be epic. It probably won't go very far though because WWE will just want to wet our appetite for an actual confrontation at WrestleMania 34 which would be money if WWE went that way.
The amount of pain Kevin Owens is going to dish out and take will be extraordinary. Sami Zayn will take a sick bump or two for sure as well and Dolph Ziggler might just call the whole thing and be a part of every spot. In all seriousness Ziggler is still one of the best workers on WWE's roster and he wants to prove that fact.
Betting odds say Baron Corbin is going to win this one though. It will be interesting if they have John Cena come down and win the WWE Championship on July 4th just to have Baron Corbin jump him with the briefcase and cash in his contract for a title match to abruptly end Cena's 18th World Title reign. But it would make sense if they did that because it would soften the blow of Ric Flair's record being broken if Cena beat someone like Jinder (on the 4th of July no less).
Jinder Mahal vs Randy Orton (WWE Championship Match)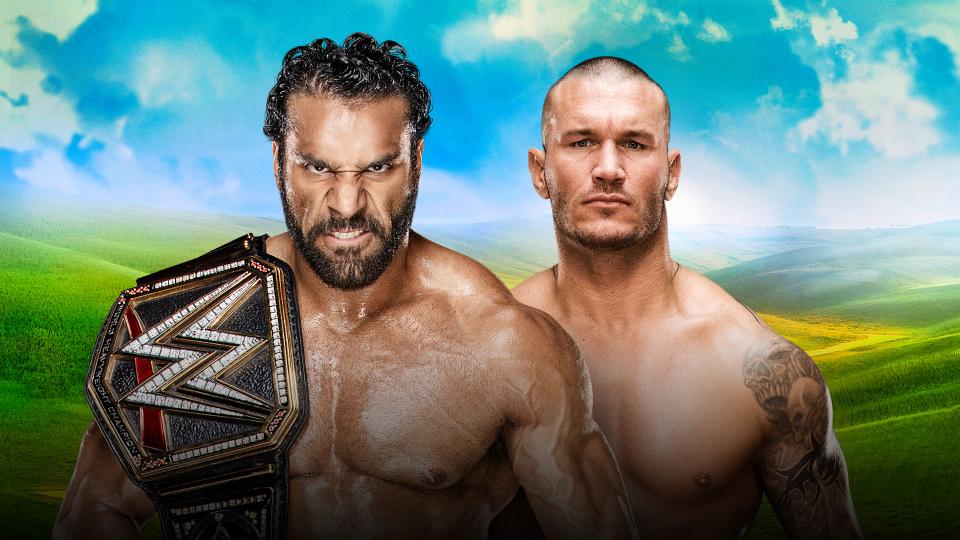 Jinder Mahal is India's hero and he should be yours too. The Modern Day Maharaja surprised us all when he defeated Randy Orton clean for the WWE Championship and WWE's not done getting money from India yet.
In all fairness Jinder Mahal actually beat Orton with the help of the Singh Brothers. But if you're in India the narrative was probably that the Singh Brothers heroically sacrificed themselves for the greater good and Jinder was triumphant.
Money In The Bank is in St Louis this year and that's Randy's hometown. WWE doesn't like to let people win in their home towns because Vince loves drawing heat. So it wouldn't be surprising if Jinder Mahal was able to pull off another win here. It would also help with that story line ending in Baron Corbin cashing in his briefcase to wind up with the title.
But if anyone's going to break the "never winning at home" rule it would be Randy Orton. Many pro wrestling legends from the past will be at ringside too. The fact that they're promoting these people will be there might be a sign WWE will involve them in the finish somehow.
Money In The Bank will hopefully be a good show no matter who comes out on top. Let's just hope for their ultimate safety though because we're sure to see some sick spots in St Louis.