Battleground was a night full of high spots and gimmick matches. There was also a nice heaping pile of whatever creative could come up with.
Let's hit the actual kickoff show first because it's rarely covered. Renee Young didn't seem to lose a beat due to the recent cancellation of Talking Smack. That one hit us all really hard, right?
It's also great to see Jerry Lawler in any respect. Honestly, he could jump right back on the announce table and be the lead heel commentator. It doesn't seem like he's lost one step. It's always great to see Sam Roberts too.
Also, Carmella was on the kickoff panel and she's just fabulous. She said she could be Women's Champion by SummerSlam and there were tons of chants for James Ellsworth and "cash it in" chants at Mella. She is a heat magnet. Now let's just get to the actual matches or else this article will be 20,000 words.
Tye Dillinger vs Aiden English (Kickoff show)
We got this as a kickoff show match because, why not? These guys are fun. Aiden English was in the ring wearing a cape and started to sing his intro like he always does. He had a Phantom Of The Opera mask in his hand that we can only hope will be included in the Mattel Elite action figure whenever it comes out.
He got to sing an extended version of his song which was fun. Then Dye Dillinger came out and everyone chanted "10."
Aiden and Tye wrestled around for a bit and Dillinger got the upper hand. He did the "10" chant in English's face and everyone chanted "10" again. Tye Dillinger should be a guest on Sesame Street and sing a song about numbers.
Aiden ended up on the apron and hit Tye with a headbutt and a knee to his lower back that sent him into the turnbuckle. English drew some heat by punching Tye in the head and chopped him in the corner.
Aiden hit a splash in the corner and posed while the crowd booed and Dillinger collapsed onto the canvas. English went for the cover but Tye kicked out.
After taking some punishment Tye Dillinger countered out by backing Aiden into the corner but he returned with a forearm to the back. English climbed up to the top and came down to meet a drop kick to the chest.
Once they got back up Tye took control and took down his knee pad to prepare for his finisher. English powdered out and Tye went to catch him. English chopped him and threw him back in.
Once they got in, Tye countered out into a high spinebuster for a two count. English was placed on the top rope and English tried for a superplex but it was blocked. English landed a headbutt to send Tye down and hit him with a cross body. Tye rolled through for a pin and a two count.
After another high spot from English and a near fall, Aiden was getting pissed. He tried to compose himself and stood over Tye's body and mocked his Perfect 10 chant, and got him up in a Tye Breaker to steal his finisher. Dillinger countered out of that and they had a couple near falls.
Dillinger countered out and Aiden English hit another power move and got a surprising win here.
The Usos vs The New Day (SmackDown Tag Team Title Match)
Don't you dare be sour, clap for your longest-running tag champs and feel the power as they tried to capture another pair of belts to share between the three of them.
On a side note: is it weird when they introduce the German and Spanish announce team at the beginning of a PPV I just know those tables are doomed? Also, when they showed the highlight from their rap battle I yelled: "that's not how it really went!"
Kofi started things off strong by taking some fire to Jey. It was Kofi and Xavier in this one with Big E at ringside. The New Day were hitting with speed right off the bat.
Jimmy got the blind tag and held Jay so they could punish him. They called it a mugging on commentary. The Usos kept up the damage and really put it to Woods. They tagged in and out well.
Jimmy hit a running Uso booty splash on Xavier just like Rikishi used to do. Jay climbed to the rope and hit a double team backbreaker while Kofi just had to stand there and watch it all go down.
Jimmy trapped Xavier on the top rope and hit some stiff sounding chops. He tried to superplex Woods, but he fought it off. Xavier got to his feet on the top and hit a nice dropkick.  They both got to their partners and Kofi took it to Jey with some dropkicks and hit Jimmy with a stomp.
Kofi hit the boom drop and got the crowd chanting with some hand clapping. Kofi ended up on the apron and kicked Jey in the face, he pulled the top rope down on Jimmy and sent both of them to the floor. Kofi went for a trust fall to the floor but the Usos caught him and power bombed him on the floor hard. Then they took Xavier out too but good lord I think they killed Kofi.
Jimmy tried for a splash but Woods moved. Xavier countered into a sweet move that sent Jimmy's face to the canvas for a close two count. Woods beckoned for Uso to get up but his honor roll jumped right into a fireman's carry and Jimmy sent him to the top turnbuckle. Jey got the tag and they hit their double team Samoan Drop. 1-2-kick out!
Jey's attempt for another corner splash was blocked and Woods ended up on the apron after an exchanged. Xavier fought both Usos off until he jumped down into a Superkick. 1-2-kick out! How did he kick out of that?!
Jimmy wrapped Xavier up in a leg submission and held it tight. For some reason working on the leg at this juncture was an option they went with. But what else could they try at that point? Woods finally got to the bottom rope and broke up the submission.
Kofi jumped up on the apron and got the tag. Suddenly they hit the Midnight Hour out of nowhere but Jimmy kicked out at two. So now everyone has kicked out of each other's finishes. Suddenly Kofi got hit with a Superkick and a splash off the top. 1-2 and now Kofi's kicking out!
These four might have stolen the show right out of the gate as the crowd chanted "this is awesome." The Usos got up on opposite sides of the ring but Jey got pulled down, Jimmy missed his splash. Kofi hit the Trouble In Paradise and Xavier hit a nice elbow off the top rope. 1-2-3 and New Day are new SmackDown Tag Team Champions.
There was plenty of booty shaking during their celebration for being the first-ever Raw and SmackDown Tag Team Champions.
Shinsuke Nakamura vs Baron Corbin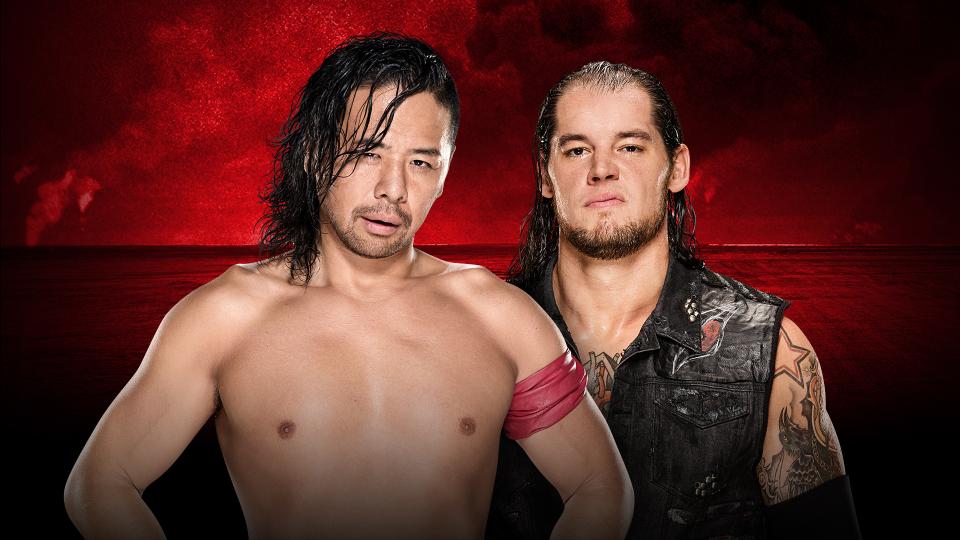 Good news! Nakamura got to do his entire entrance that makes us mark out every time. If you have the chance to see it live, it's worth your entire ticket price just to see him walk to the ring.
Nakamura started off with some kicks early on and a forearm to Baron's face that sent him rolling outside. Corbin just stood there while Nakamura stared him down and motioned for him to "come get some."
As Shinsuke rolled out to get him, Baron rolled back in. They played with Nakamura getting back in for a minute while Baron acted like he was going to jump him. Shinsuke came back in and just took a right hand to the head that collapsed him to the canvas. Then Baron started stomping on him.
Baron kept up the punishment and locked in a bear hug that took some effort to get out of. But when Corbin tried for another submission, Nakamura grabbed his arm and tried to lock in a triangle choke.
Corbin got out of the attempted submission and hit a big boot for a two count. The Lone Wolf dumped the King Of Artist Strong Style out of the ring and ran him against the barricade a couple of times. Then they got back in the ring for Baron to continue working slowly on Shinsuke.
"I'm doing pretty good dummies!" Corbin yelled at the crowd as they started to boo. That comment didn't win any fans in the crowd for sure even though it was pretty great.
Corbin locked in another bear hug because that move works every time. Nakamura got out of it and Baron looked like he was going to chokeslam him but Shinsuke countered out of it. Please god, don't give Baron Corbin the chokeslam. Nakamura started landing kicks and Baron caught a leg but Shinsuke took him out with his other foot.
Nakamura knocked Baron off his feet and put him in the corner. Nakamura kept landed kicks and hit the Good Vibrations. He landed a running knee to Corbin's midsection twice as he was placed across the ropes. 1-2- kick out.
Then it just looked like Nakamura started playing with him for a minute with kicks until Baron did that reversal he loves to do where he slides out of the ring and ran around back in the ring for a clothesline that nearly took Nakamura's head off.
Baron went for a suplex but Nakamura countered out of it and started destroying him with knee strikes. Then Shinsuke landed a face first slam and poised himself to land his Kinsasha. Baron countered Nakamura's finisher into a Deep 6 for a two count because everyone kicks out of the Deep 6, especially Shinsuke Nakamura.
Baron and Nakamura started trading punches and Shinsuke ended up winning and hit a modified backstabber (that's what we'll call it). Nakamura hit a couple more knees and got the crowd pumped up but Baron wasn't moving.
Finally, Shinsuke walked over to pick Baron up but he countered out with a low blow kick to Nakamura's… strong style for the DQ finish.
Shinsuke Nakamura wins, but the crowd wasn't very happy about how it went down.
Corbin left smiling and holding his MITB briefcase up high. Then he turned around and went back to the ring. Baron whacked Shinsuke with his briefcase and hit an End Of Days to leave him laying on the mat. It looked like Baron Corbin might have had a black eye growing from the match too.
Tamina vs Nataly vs Charlotte Flair vs Lana vs Becky Lynch (Fatal Five-Way #1 Contender Elimination Match)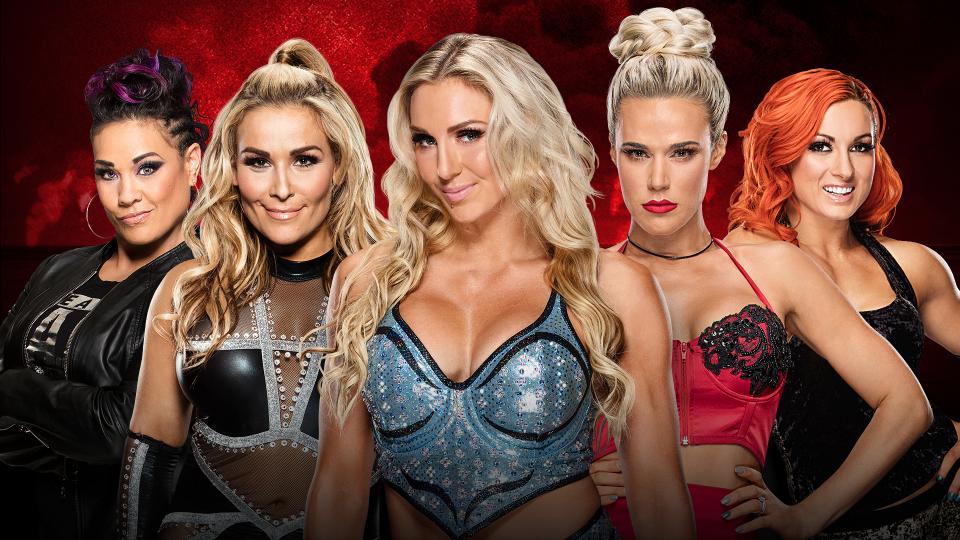 It's time to figure out who's going to be feeling the glow at SummerSlam. Naomi came out before anyone else because her entrance is incredible. Naomi joined the commentary team for this match so we could hear the glow throughout this match.
Lana's reaction was surprisingly loud. "Lana could win this thing!" JBL said as Naomi commented, "she could, anything's possible."
Lana and Charlotte paired off with Tamina and Becky keeping each other busy in the corner. But that soon evolved into a couple near falls and some clubbing blows from Tamina. Becky was pulled outside by Lana and she sent Lynch into the announce table.
Lana hit Nattie and pulled her out of the ring too. Then she got in with Tamina and the two looked at Charlotte. Flair didn't back down but the numbers game worked to her disadvantage. Tamina hit a slam and Lana hit an elbow drop that wasn't bad… it wasn't great, but it wasn't bad.
They stood over Char Char for a bit and stalked her. Then Flair countered out and pulled Tamina to the mat. With Lana and Charlotte in the ring Tamina grabbed Flair's leg and Lana hit a high kick (kinda). Then Lana kicked again in mid air like someone when they're learning how to play a video game. 1-2- kick out.
Lana and Tamina really got some time with Charlotte while everyone else took a nap on the outside. Becky Lynch finally jumped back in and took it to Lana with a Becksploder while Charlotte hit one on Tamina at the same time. But nobody made a pin.
Finally, Charlotte and Becky were in the ring at the same time and they wrestled around for a bit to show us how it's done until Nattie came in with a low drop kick for a two count.
Lynch and Neidhart were left alone in the ring and hit a few moves including another Becksploder. Then Lana ran in and one too. Tamina jumped in but fought out of a Becksploder for a Superkick.
Nattie and Charlotte were left in the ring and Charlotte rolled Nattie up for a two count to counter a Sharpshooter. Natalya finally got a Sharpshooter in but Lana broke up the hold for some reason and pinned Charlotte for a two count. Becky jumped in and locked in a Dis Arm Her on Lana but Tamina came in with a kick to take out Lynch.
Tamina speared Nattie through the ropes and Lana covered Lynch for another two count. Becky countered out into another Dis Arm Her but Tamina broke up the hold again. Finally Becky just cut out the protection and made Tamina tap with a Dis Arm Her… she immediatly locked one on Lana and made her tap out too.
Suddenly Nattie ran in and rolled Becky up for a three count while she grabbed her tights.
Natalya and Charlotte were left alone and there are no two better women to do that. Charlotte countered into a powerbomb for a two count and the crowd was split between the two of them.
Naomi said she would be honored to face either of them and said they're both extremely talented while Charlotte climbed to the top rope. Nattie got the knees up to block Flair's beautiful moonsault. Then Nattie rolled Charlotte into what looked like a pin but her head bounced off the bottom turnbuckle.
It looks like that might be Nattie's new finisher because she pinned Flair 1-2-3 and became the new #1 contender.
Naomi came into the ring and offered a handshake but Natalya just looked at her with a cold stare and still perfect makeup on her face before simply walking away.
AJ Styles vs Kevin Owens (United States Title Match)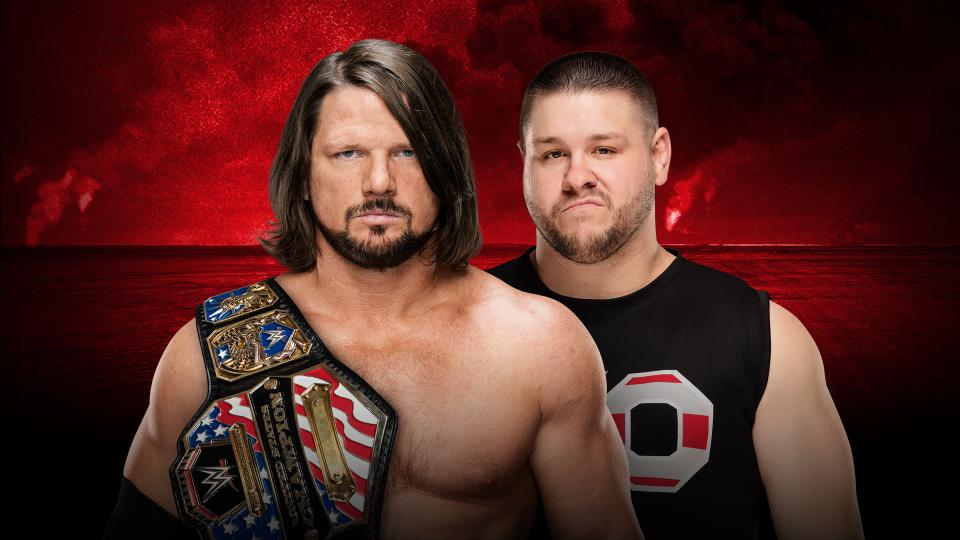 If the show wasn't already stolen it was time for that to happen. People were chanting for both of these guys before they came out and that's always a good sign someone cool is about to happen.
They still introduced KO as the New Face Of America which was cool but it got a lot of heat. AJ Styles was obviously the babyface in this one by a mile.
Kevin started things out with a headlock right off the bat. He asserted his size until AJ was able to leap frog him and send Owens out of the ring with an arm drag (or arm roll).
Everytime AJ seemed to get an upper hand KO rolled out of the ring. Styles countered out of a waist lock with one of his own and caught an elbow to the face. AJ answered back and KO rolled out of the ring but AJ followed him this time.
Owens was sent into the barricade and AJ ran to splash him but KO moves. He lifted AJ up and crotched him on the post. That looked like it hurt. KO hit a running senton when they got back in the ring and he grinded AJ's face into the mat for a bit. Owens went for a cover but AJ kicked out at one.
"I'm the phenomenal one!" KO yelled as he locked Styles in another headlock. AJ got back to his feet while KO fought to successfully bring him back to the canvas. "I can do this all night AJ!" Owens yelled to his opponent.
Styles got back to his feet again but Kevin just tossed him to the mat again. He went for another running senton but AJ got his knees up. Once they got back up AJ hit a series of strikes but KO DDT'ed AJ for a two count and immediately got another headlock.
AJ fought back to his feet and landed a couple forearms followed by even more forearms and a short clothesline to send Owens down. He hit a flying forearm to a seated Owens and go back to his feet to hit a splash in the corner. He tried to get Owens up for a fireman's carry and a Sfaceplant but he failed. Finally, AJ hit a faceplant for a two count.
AJ tried to get KO back up for another fireman's carry but he couldn't pull it off. Styles blocked a superkick and tried for a Styles Clash but KO rolled out of it. AJ hit his fireman's carry neckbreaker for a two count. The crowd chanted for AJ Styles as The Phenomenal One got back up to try something else.
AJ went for a springboard 450 splash but KO got his knees up for a two count. Kevin hit Styles with his cannonball and pinned for a two count.
Kevin placed AJ on the top rope and chopped him hard. He tried to superplex him but AJ blocked him time and time again. AJ fought back with some headbutts and went for a sunset flip powerbomb but KO held on. AJ morphed it into a torture rack into a spinning powerbomb for a two count. Owens didn't get very good rotation on the powerbomb though.
AJ went to the top rope again and KO crotched him on the top with a punch. Owens climbed up to join AJ and they fought back and forth for advantage. Finally, AJ slid under him and sent Owens face-first into the turnbuckle. AJ Ended up on the apron and KO slid outside the ring to avoid the Phenomenal Forearm. He pulled Styles off onto the apron and sent his shoulder crashing down onto it. KO sent AJ into the post and tried to gain and advantage until AJ hit a Pele Kick.
AJ tried for the Styles Clash but KO blocked it and tossed AJ into the referee. That was one hard ref bump.
AJ checked on the official and walked right into a superkick. He yelled in AJ's face and tried for a popup powerbomb but AJ hopped over him and locked in a Calf Crusher. But the referee was still out in the corner. Suddenly Owens rolled through the Calf Crusher into an STF.
As the ref got back to his feet AJ reversed out into a cross-face of his own. Suddenly KO rolled AJ Styles so his shoulders were on the mat as the ref counted 1-2-3 and Kevin Owens is the New New Face Of America once more.
John Cena vs Rusev (Flag Match)
Rusev machka! There were podiums on the entrance ramp. So it's a game of capture the flag mixed with a foot race. Let's hope those flags don't hit the ground too often.
Someone chanted "Handsome Rusev" while they were waiting for Cena's music to hit so that was fun.
These two started off fighting and Ruses kept trying to get to his flag. Cena up hitting a top rope bulldog and went for his flag. Rusev got Cena in an electric chair drop to keep him away from Old Glory.
Rusev hit a suplex on Cena and went back to his flag but John grabbed him and wouldn't let him climb. This was the general theme of the opening in this match.
The Bulgarian Brute kicked Cena down time and time again and drove his head into the turnbuckle right in front of the US Flag. He hit a splash in the corner and went climbing for the Bulgarian Flag. Cena stopped him and tried to pull him down but Rusev jumped down with a strike instead.
The crowd wasn't really in this as much. Rusev hit a DDT and just sat there for a moment looking for heat. Rusev stood above John and pulled him up to hit him with a strike. Cena countered and hit a clothesline and a suplex. He hit the Five Knuckle Shuffle and got Rusev up for the AA, but Rusev wouldn't let him do it.
Rusev hit a spinebuster and tossed Cena out of the ring. It would be unfair to say the crowd didn't care, but they didn't seem to be responding as much. Cena climbed up and knocked Rusev down. He stood on the top and went for his top rope legdrop but Rusev turned it into a sloppy powerbomb.
The Ru-Ru went climbing up for his flag again. He grabbed it successfully and then it was up to a footrace up the ramp. However, Rusev took his time getting to his feet and Cena hit him with a dropkick to send Rusev falling and the Bulgarian Flag flying out of his hands.
Cena moved out of the way of a splash in the corner and hit an AA. Then Big Match John climbed up to get the US Flag. "USA chants" started to break out as John went to grab the US Flag but Rusev grabbed him. He went for a powerbomb but John countered into an STFU and Rusev tapped out. However, that's not how you win these matches. Cena kept his submission move in a little bit longer after Rusev tapped out and then he went climbing once again.
Cena grabbed the US Flag and got down just in time for John to get kicked in the face and the flag went falling to the canvas. With both flags on the ground, Rusev rolled over and grabbed his country's flag and left the ring.
As Rusev walked around the ring to go up the ramp, Cena jumped down and hit him with a double ax handle off the apron to send Rusev falling and the Bulgarian Flag hitting the floor. Rusev took a bump into the ring steps and Cena rolled in to grab Old Glory.
As Cena walked up the ramp Rusev jumped him and the US Flag hit the ground again. Rusev did some more damage to Cena and hit him with the ring steps. Cena looked like he was out while Rusev went for his country's flag once more.
As he held up his flag the crowd booed him heavily. Cena grabbed his leg while he walked by and Rusev threw down his own flag to hit Cena.
John walked Rusev up the ramp and bounced his head off the LED board. Cena went for a jump off the podium onto Rusev but he was caught and Rusev hit a fallaway slam.
"Where's the flag?" Rusev asked then he walked over to the side of the ring and got a table again. Apparently, Rusev was under the impression the Bulgarian Flag was a table. "ECW" chants broke out as he sat up two tables next to the USA podium.
Rusev drove Cena's head into the American podium and walked up with John Cena in his hand. Rusev did the "you can't see me" taunt and looked like he was going for an AA. Cena got out of it and went for his own flag.
Rusev met him up the ramp and they took each other out. John grabbed the US Flag and crawled for his podium. What a hero. Just when Cena was about to put the US Flag in the holder, Rusev grabbed the stand and just hit him with it. That was clever.
Rusev locked in the Accolade and left Cena limp on the ground. The Bulgarian Brute walked to his flag while Cena rolled off to the side of the entrance. Just as Rusev was about to put his flag in, John jumped up and stopped him. Cena got Rusev up for the AA, but he was blocked. Rusev pulled him down and hit a kick to the head and locked in another Accolade but Cena used his strength to hoist him up for an AA, walk up the American podium and AA Rusev through both tables.
John retrieved the USA Flag and put it in the stand to win the Flag Match. JBL said this might have been Cena's biggest victory.
Fashion Files Revealed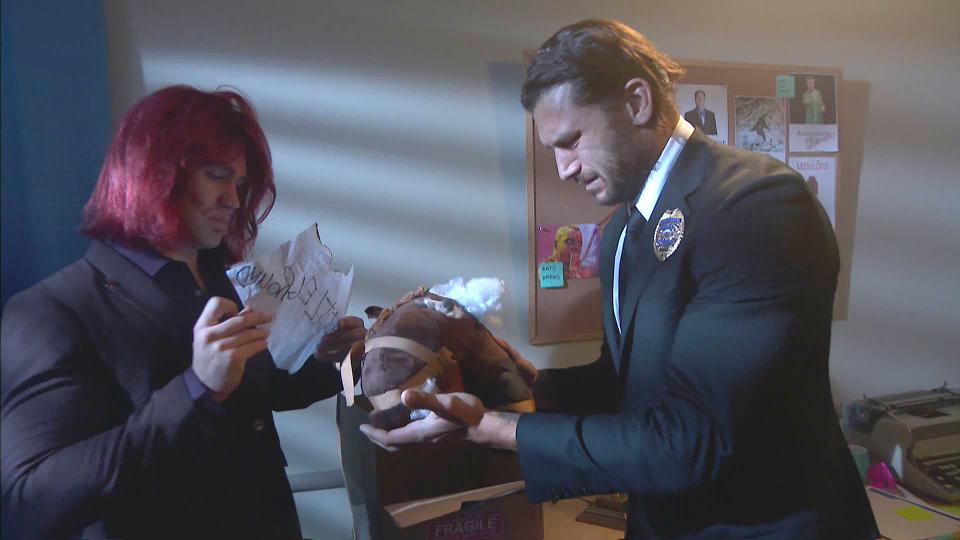 Raw has their own mysteries and it just turned out that Jason Jordan was Kurt Angle's baby-boy. As Breezango hugged, The Ascension walked in and said it was them the whole time.
Breeze said series finales are a let down all the time so it's not a big surprise if this was a let down. Then it was pointed out that the Ascension had tickets to Eddie Money last week and they weren't even there.
The lights went out and suddenly Tyler was knocked out after some noises. Dango was taken out too and apparently so was the camera guy as it showed Breezango knocked out on the floor. Dango was slowly dragged away as the screen said: "to be continued…"
These guys are simply outstanding.
Mike Kanellis vs Sami Zayn
People really aren't putting Mike and Maria Kanellis over enough. They are good heels and have a lot of potential in their gimmick. Along with their song, entrance, and presentation these two could be something special. Of course, that's all depending on how strongly they're booked.
But the crowd in Philly was obviously well behind Sami Zayn. The "ole" chants were loud to start off this match.
Sami hit some chops and then clotheslined Mike out of the ring. Maria pulled Mike out of the way as Sami prepared to jump on him "you can't do that to him!" she yelled as Mike jumped him from behind.
The did some Eskimo kisses over Sami's body while he was on the ground — that was a fun visual.
Mike kept hitting some moves on Sami in the corner while he blew his wife a kiss and she caught it. Sami tried to get some offense going with a few chops but Mike reversed him and hit a couple clotheslines in the corner and a boot to the face for a two count.
Mike crawled over and kissed his wife while Bryon Saxton complained about the PDA. Mike locked in a submission until Zayn fought out of it. He spun around and hit a kick and a couple clotheslines. Zayn hit a backdrop and sent Mike out of the ring.
The Underdog From The Underground hit a flipping dive on Mike and tossed him back in the ring. Then Sami climbed to the top rope and hit a high cross body for a two count.
Mike blocked a Blue Thunder Bomb but Sami held onto his hand and hit a tornado DDT. Just when he was about to hit an exploder suplex in the corner Maria jumped in and blocked it. Mike looked like he was going to hit his finisher but Zayn hit an exploder suplex anyway.
Then Sami Zayn hit a Helluva Kick and got the clean win to give Mike Kanellis a loss in his first match in a WWE PPV.
Jinder Mahal vs Randy Orton (Punjabi Prison WWE Championship Match)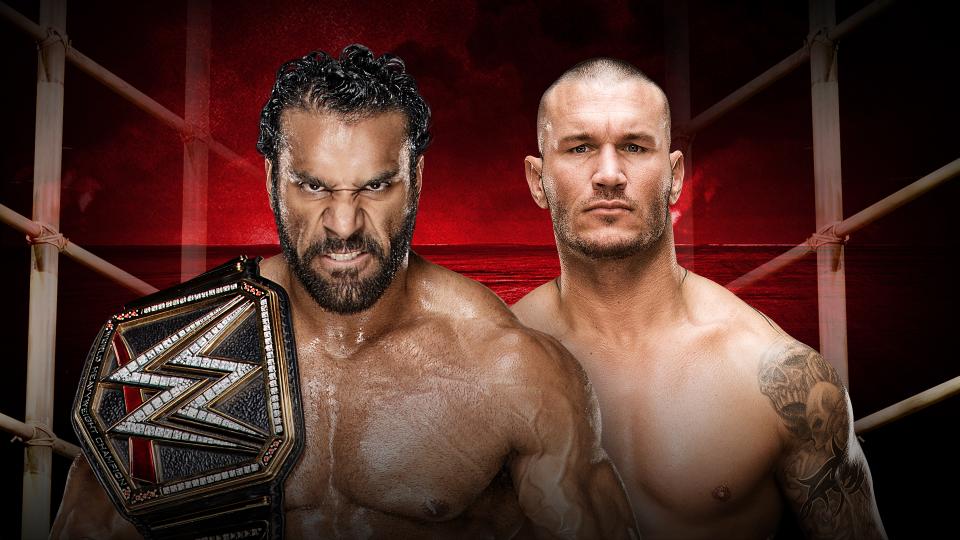 It was finally time for the third-ever Punjabi Prison Match. Jinder Mahal is the Modern Day Maharaja and Randy Orton really wanted that title back.
After Jinder and Randy got in the ring they lowered the outer ring of this strange and massive structure. No pinfalls, no submissions, no count outs, no DQs… it's a matter of escaping the prison. There are four doors on the inside and once they have been opened for a minute and closed they will never open again. But what if nobody gets out? Does the match just keep going forever? I hope that's not the case because I got stuff to do.
Randy took it to Jinder to start it out and Jinder knocked Orton down and immediately called to open the first door. But Orton jumped on him and kept him away from it. They fought for the first open door but it closed before either of them could scramble out of it.
Randy hammered away at Mahal and Jinder returned the favor with an armbreaker. He kept working on Orton's arm which is a smart move seeing how you can only win this match by climbing a bunch.
Jinder wrapped Randy's arm around the bamboo cage and put some pressure on The Viper's arm. He locked in an arm submission hold and kept Orton down by focusing on his limb.
Jinder called for another door to be opened but Orton stopped him before he could get out. Orton hit a fallaway slam on The Modern Day Maharaja but he sold his injured left arm as he dragged himself to the opened door. Mahal grabbed his boot and prevented him from escaping once again.
Randy started focusing on Mahal's arm and bounced him off of the steel-enforced bamboo structure. Mahal jumped on the structure and started climbing as the commentary team said you can escape by climbing out of the inner structure too. That's news. Randy pulled Jinder down and bounced him off the structure a couple of times but Mahal returned the favor as a reversal to Orton's signature DDT through the ropes.
With Randy trapped Mahal hit him off the bamboo a couple of times and then Orton grabbed him and hit a suplex onto the structure and sent him back to the mat twice. It was kind of brutal but necessary.
Randy Orton called for another door and crawled for the opening. Jinder caught him and fought him off. Orton finally hit an uppercut, but Mahal wouldn't let him get to the opening. The third door closed leaving only one door left.
The two competitors sat there for a moment and surveyed the situation before getting to it. Randy hit his signature snap powerslam and then caught Jinder with his signature DDT through the ropes. Randy called for the final door to be opened but went down for an RKO. Mahal blocked the RKO and hit a knee to Orton's face.
There were only 30 seconds left before the final door opened and Orton turned a Khallas into an RKO. Suddenly the Singh Brothers popped up from under the ring and pulled Jinder out of the ring. The door was closed and locked with Orton trapped inside the inner structure. He was forced to climb up on his own while Jinder was climbing to escape.
Orton stepped over and just joined Jinder on the top. These two guys were hammering at each other while they held to the Punjabi Prison and Jinder Mahal finally fell to the ground. But the Singh Brothers pulled Randy to the ground and stomped on him.
Mahal got back to his feet and ordered them to hold Orton. Mahal hit a kick to Randy's face while the Singh Brothers stood over him to make sure The Viper stayed down. They made Orton watch as Mahal climbed up but Randy fought them off.
Mahal took his time and Orton ended up catching up to him. He pulled Mahal down to the floor and drove him into the structure. He hit suplexes on the Singh Brothers and drove the other one into the bamboo.
When Randy turned around Jinder was there with a kendo stick. He hit Orton with a kendo stick several times but Orton fought out of a Khallas by driving Mahal into the bamboo. Randy grabbed a kendo stick of his own and Mahal started to beg off.
Randy whacked Mahal with the kendo stick a few times and turned his attention to the Singh Brothers. Randy started to climb up the outer ring of the Prison but suddenly a Singh brother was on the other side because he was thin enough to get through the cage. He stopped Orton from going over the top.
Randy hit him with a few right hands and he looked dazed. Finally, Orton hit him with another shot and Samir Singh took a Shane McMahon level bump through a table without a crash pad. Jinder Mahal was climbing again at this point and they fought for position on the structure.
The two ended up on the floor again and Orton moved out of the way of a running kick that hung Jinder up. Randy hit a modified version of his signature DDT on the floor and these two sat there for a moment to collect themselves.
Orton picked up a kendo stick but it was already broken into pieces so Randy grabbed a steel chair because that's fun. He hit Samil Singh with the chair across the back and caught Jinder in the gut and across the back. Randy hit him with another chair shot because why not? Then he did it again.
Orton went to the front of the ring and started climbing once again. The ref had his black gloves on which means there's blood somewhere. Samil Singh climbed up to stop Randy but Orton kicked him off one more time. Suddenly Jinder's music hit and The Great Khali came out. Orton's arm was bleeding while he climbed to the top.
Khali shook the cage and Randy fell back over but caught himself. Kahli choked Randy while Jinder Mahal had the chance to climb up and around the Punjabi Prison to retain the WWE Championship.
While Jinder Mahal celebrated The Great Khali held up the WWE Championship in victory. It looks like The Modern Day Maharaja did it again.