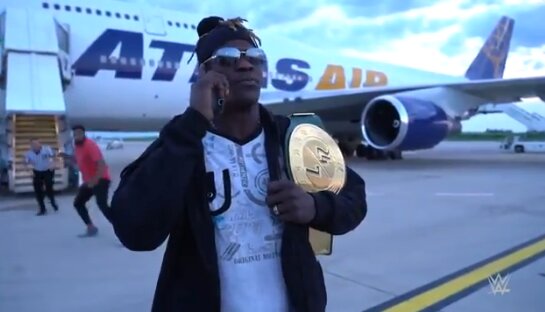 The WWE 24/7 Title has changed hands quite a few times since it was introduced a few weeks ago, and with the 24/7 rules you never know when a match could take place.
Recently Jinder Mahal defeated R-Truth to win the title at a golf course, but R-Truth quickly won the title back before speeding away in a golf cart.
Now Jinder is at it again, as he attacked Truth from behind, then rolled him up to win the belt on the tarmac at an airport en route to Saudi Arabia for Super ShowDown.
Unfortunately for Truth he wasn't so lucky this time around, as Jinder managed to get away with the belt before he could get a rematch.
The brief match can be seen below.
EXCLUSIVE: @JinderMahal reclaims the #247Title from @RonKillings on the airport tarmac!!! #WWESSD pic.twitter.com/hkD1ADU4Im

— WWE (@WWE) June 6, 2019