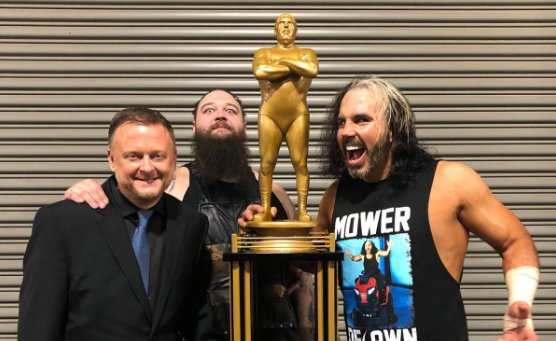 Woken Matt Hardy and Bray Wyatt feuded for months, but Matt finally asserted his dominance when he won the Ultimate Deletion and threw Bray into the Lake of Reincarnation. Since then Matt has been teasing a change of character for Bray Wyatt at WWE live events, and Sunday night at WrestleMania 34, Bray Wyatt shocked the world when he helped his nemesis Matt Hardy win the Andre the Giant Memorial Battle Royal. It appears that something has changed in Bray, as he took to Twitter shortly after Matt won the trophy and posted the following:
Sometimes, if you lose everything you want, you find everything you need…

— Bray Wyatt (@WWEBrayWyatt) April 8, 2018
Matt Hardy also teased that it's time for him and Wyatt to "DELETE & BURN" the opposition in WWE as they posed for a photo with Jeremy Borash.
It's time to DELETE & BURN all of the OPPOSITION as we ILLUMINATE The Plane identified as @WWE.

And it shall be DOCUMENTED.

The MAGIC within @WWE is about to be AUGMENTED EXPONENTIALLY.

WONDERFUL! #WrestleMania pic.twitter.com/6Sv0bvoG4D

— #WOKEN Matt Hardy (@MATTHARDYBRAND) April 9, 2018
It's unclear at this point whether fans should be excited or afraid, but according to Matt this is only the beginning of their alliance.
IT HAS BEGUN. pic.twitter.com/EJW7jBgX3Q

— #WOKEN Matt Hardy (@MATTHARDYBRAND) April 9, 2018
At this point who knows where this new alliance might take Matt Hardy and Bray Wyatt, but Braun Strowman and Nicholas are going to need challengers for the Raw Tag Team Titles at some point.
WATCH YOUR BACK NICHOLAS

— KING MAXEL (@BABYHARDYBRAND) April 9, 2018