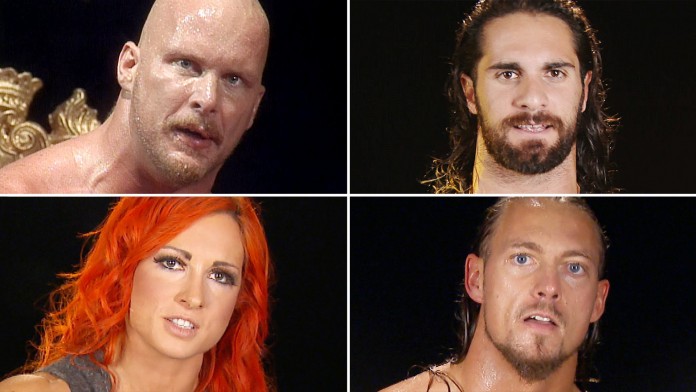 "Stone Cold" Steve Austin is one of the most popular wrestlers of all time. He's a WWE Hall of Famer, a King of the Ring winner, a three time Royal Rumble winner, a former WWE World Champion, a former Intercontinental Champion and the list goes on and on.
Twenty years ago today on June 23, 1996 Steve Austin won the King of the Ring tournament and after he defeated Jake Roberts in the finals he delivered an epic speech that people are still talking about today. The speech I'm talking about is known to wrestling fans as the "Austin 3:16" promo and it set the world on fire and inspired a generation.
In honor of the 20th anniversary of "Austin 3:16" WWE record several members of the WWE roster doing their best attempt to reenact the promo. Stars such as Seth Rollins, Big Cass, Becky Lynch and more stepped up to the plate and you can see how they did in the video clips below.
For anyone that needs a reference, you can check out the full promo in its entirety along with a transcription below, but you probably already know it by heart don't you?
"The first thing I want to be done is to get that piece of crap out of my ring. Don't just get him out of the ring, get him out of the WWF, because I proved, son, without a shadow of a doubt, that you ain't got what it takes anymore! You sit there, and you thump your Bible, and you say your prayers, and it didn't get you anywhere. Talk about your Psalms, talk about John 3:16 – AUSTIN 3:16 SAYS I JUST WHIPPED YOUR ASS! All he's gotta do is go buy him a cheap bottle of Thunderbird and try to get back some of that courage he had in his prime. As the King of the Ring, I'm servin' notice to every one of the 'WWF superstars.' I don't give a damn what they are, they're all on the list, and that's Stone Cold's list, and I'm fixin' to start runnin' through all of them. As far as this championship match is considered, son, I don't give a damn if it's Davey Boy Smith or Shawn Michaels. Steve Austin's time has come, and when I get the shot, you're lookin' at the next WWF Champion, and that's the bottom line because Stone Cold said so!"