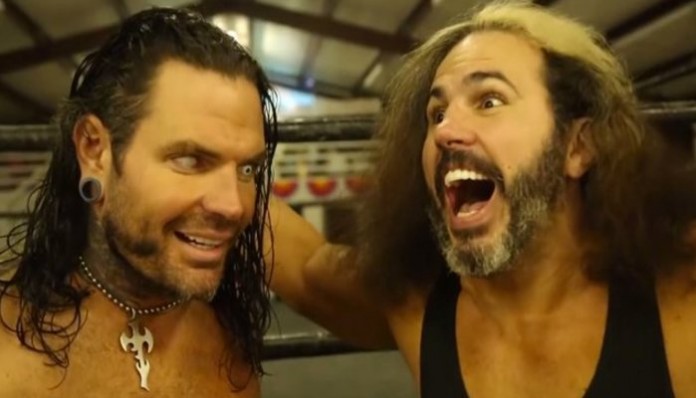 We all have lofty dreams when it comes to what we would like to see on our televisions. If fans had their way Matt and Jeff would never have been forced to ditch their Broken Universe gimmicks when they came back home to WWE. But unfortunately that is not the world we live in.
There has been some hope Matt and Jeff Hardy have been talking to Global Force Wrestling and some kind of settlement is either in place or close to being finalized. Dave Meltzer recently noted it looks like a settlement is close to being completed if it's not already done. After all, the Hardy Boyz made some serious Broken gimmick references on the latest episode of Raw.
But Jeff Jarrett recently cleared much of that speculation up in a teleconference earlier today. It's no secret this ordeal has taken its toll on both sides of the fence and apparently it's still an ongoing issue.
Jeff Jarrett said he wanted to be as transparent as possible and he has spoke to Jeff Hardy about the situation. But Jarrett also went on to say the intellectual property laws in place are very cut and dry on this matter.
Jarrett went on to say no deal is in place for the Hardys to regain their Broken Gimmicks. Nothing is on the table, and anything that comes out to the contrary is simply the work of the "wonderful world of social media."
As much as fans might want to see Broken Matt and Brother Nero appear on WWE television it doesn't look like much headway has been made toward making that happen after all. Of course Jarrett could simply be fulfilling his part of a deal in telling us nothing is going on because that's what WWE told him to say as to not spoil any planned surprise.
But for now it looks like the idea of having the Broken Hardys in WWE has been deleted once again for now.
Jarrett was asked to clarify his answer on Hardys and confirmed that there's no agreement for The Hardys to acquire the Broken characters.

— Wrestling Observer (@WONF4W) July 12, 2017