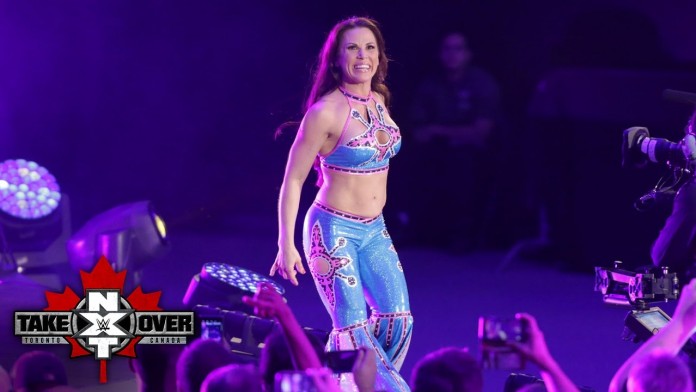 Mickie James made her long awaited return at NXT TakeOver: Toronto on Saturday night, and Mickie challenged Asuka for the NXT Women's Championship. Unfortunately for Mickie, she wasn't able to defeat Asuka, but she looked great and the fans seemed happy to have her back.
Related: Asuka Retains The NXT Women's Title After Defeating Mickie James At NXT TakeOver: Toronto
Following the return of Mickie James, everyone's wondering if we will be seeing more of her in the future. Triple H did a live Facebook interview with Cathy Kelley following NXT TakeOver: Toronto, and he told Cathy that it's up to Mickie James to decide if she wants to continue working with WWE.
"I think that's up to Mickie James," Triple H said. "I think Mickie James proved she still has what it takes. I think her next step is up to Mickie James."
It remains to be seen if she will be working more with WWE, but Mickie James was recently a guest on the TJR Wrestling Podcast, and she noted that she would "absolutely" be open to joining WWE's main roster.
"Absolutely I would be completely open to being on WWE's main roster again. I also recognize that people talk about WWE's young talent and they're all hungry and I totally agree with that because there's a lot of amazing talent that's both signed and unsigned. I feel like there's something unique, special and different that I can bring to the roster."