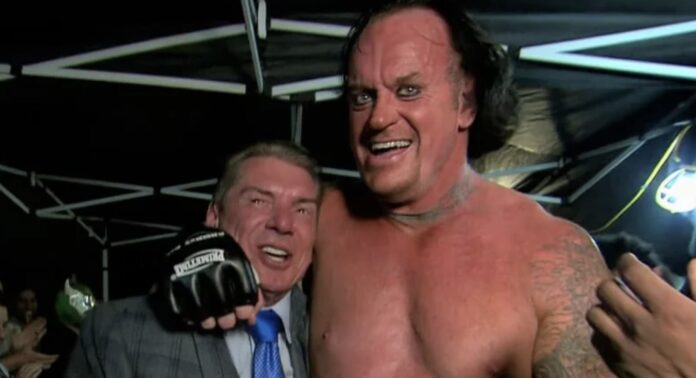 Last year at WrestleMania the unthinkable happened when Steve Austin came out of retirement to face Kevin Owens in the main event of night 1. Vince McMahon also returned to the ring during night 2 of the big show and he picked up a win against Pat McAfee in an impromptu match. After the match Steve Austin hit Vince McMahon with the Stunner, and Vince botched the move big time, but in the process he created a moment that made plenty of people laugh.
In a new WWE 24 episode The Undertaker's reaction to the botch was revealed when he was shown jokingly saying to Vince McMahon, "You could have just quit when you took your shirt off. It was f***ing right off the cliff after that."
Vince then responded and told The Undertaker that he lost his shoes, to which Undertaker replied, "Damn, I wish you'd have lost your way to the ring!"
The Undertaker joking with Vince McMahon for the awful Stunner he took at Wrestlemania 38 #WWE24 pic.twitter.com/nt9KqUogto

— Wrestling Pics & Clips (@WrestleClips) March 27, 2023
WWE has given no indication that Vince will be returning to the ring at WrestleMania 39 as he retired from WWE last summer. Vince McMahon has since returned to WWE to pursue a sale of the company, but he has yet to make an appearance on TV since returning in January.
It's been rumored that WWE was hoping to get Steve Austin for WrestleMania this year, but so far an appearance from Austin has not been announced, so it doesn't look like Vince will get a shot at redeeming his infamous Stunner on the Grandest Stage of Them All.