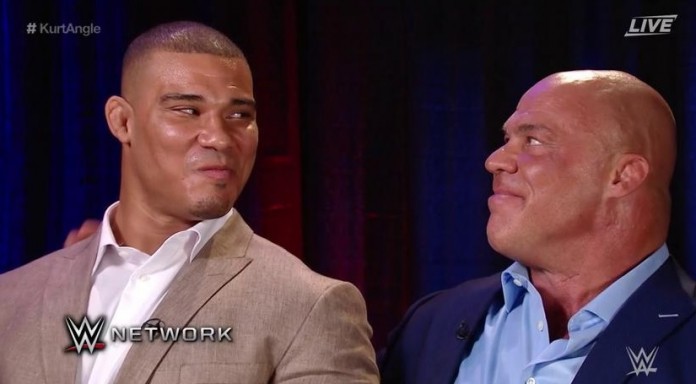 The "big reveal" from this week's episode of Monday Night Raw was that Kurt Angle is the biological father of Jason Jordan from the Smackdown Live roster. This helped to justify why the American Alpha member was such a great amateur wrestler, per Angle's explanation. Angle's segment simply ended with Jordan coming out to ring in a suit and the two smiling and hugging while Angle feigned crying.
I was undoubtedly among the many people expecting Angle's segment to be related to Dixie Carter. I was also among the many people disappointed with this storyline since it made little sense.
For one thing, Jordan is one-half of one of the most clear-cut babyface tag teams the company has seen in recent years. This breakup of American Alpha came without warning, which is uncharacteristic of former tag team champions. As another part of the disappointment, the creative is inconsistent since Angle was talking about how this new information could "ruin" him, yet there he is beaming with happiness when he announces his son.
After watching Smackdown Live last night and seeing the replay of the segment, I gained a little appreciation for what happened on Raw. First, the over-smiling reminded me that Jordan and Angle are likely heading into heel territory. Before American Alpha formed in NXT, Jordan was sort a tweener, carrying an attitude about having to team with Chad Gable. Angle was an excellent heel, perhaps one of the best that WWE has ever had. The smiley heel is less common in WWE these days, and the few superstars currently using that gimmick (e.g. Mike Kanellis) truly stand out from the pack.
For a few years, the return of Kurt Angle as an in-ring performer has been as a hot topic among the IWC. Angle wrestled some high-profile indie shows between his last TNA run and his return to WWE, showing himself to still be in fine form. Within the last week, a rumor came out that 2K Games suggested an in-ring return for Angle for a feud against Seth Rollins a la the recent Goldberg storyline with Brock Lesnar. While this is not currently on the table, "family" storylines often lead to an on-screen falling out, which often leads to everything being settled with a high-profile match (or two).
Another piece of interest is that Jordan's in-ring work — while working as a babyface, at least — is an interesting mix of old-school technical wrestling and athletic, high-flying action. In being endorsed on-screen by Angle, this surely emphasizes Jordan's strong amateur background, ensuring more focus on Raw upon mat wrestling. This ought to appeal to the older wrestling fans that often complain about wrestling not being what it once was.
It is also great to see Jordan, one of the more recent NXT call-ups to the current WWE roster, being prioritized for what looks to be a solid mid-card push. For every Bray Wyatt or Seth Rollins, there seem to be at least three superstars who did not translate particularly well to the main roster. Tyler Breeze was able to get back on-track after a lackluster start, so maybe Jordan will be able to do the same, showing that second chances can happen for younger talent in WWE.
Of course this is all speculation, especially when considering that the Jordan/Angle storyline kicked off less than 48 hours ago. However, what lies ahead for the two superstars has the potential to be very exciting for fans. And that is without even considering the possibility of Gable — who has a big fan in Daniel Bryan — coming over to Raw to get involved within this new angle.
Don't worry, son, you'll find out who your REAL father is next week on #SmackdownLive… oh wait, did I give it away by calling you son? https://t.co/ukjDKkupl5

— Daniel Bryan (@WWEDanielBryan) July 18, 2017