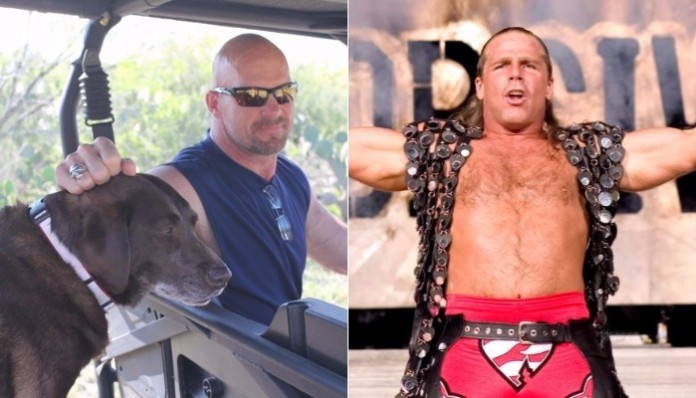 Stone Cold Steve Austin has entertained millions of fans around the world and dedicated his life and body to the sport of professional wrestling. We can't thank him enough for everything he's done. However, for more than a decade Austin had a friend who didn't understand what pro wrestling was at all but still loved him unconditionally. Sadly that friend has passed away.
The Rattlesnake recently disclosed on an episode of Steve Austin Show Unleashed that his beloved Hershey The Wonder Dog has died. It is a really sad day because that dog meant the world to Steve. He would tell stories about Hershey and all the times they shared together. It is indeed an unfortunate happening.
Yesterday Austin shared a #TBT picture of him and his best friend traversing the Broken Skull Ranch. Hershey was more than just man's best friend because he was a best friend to the Toughest SOB In Pro Wrestling.
If you get a second send Austin some condolences today because this might be a hard time for Stone Cold. Most of us have had dogs in our lives that meant a lot to us but it would be hard to rival the bond Steve Austin had with Hershey The Wonder Dog.
#TBT Hershey and me at the Broken Skull Ranch. December 16, 2007. pic.twitter.com/zX3hVZcdKg

— Steve Austin (@steveaustinBSR) July 27, 2017
There are few people on our short list of who we'd love to see work backstage in WWE more than Shawn Michaels. His mind for the business is really unparalleled in a lot of respects. He has a way of looking at a match and knowing what works because HBK has been in so many wars himself.
Michaels is currently on the road with NXT on their mini-tour and he's filling in as a producer for the shows. Shawn was able to snap a selfie of himself backstage with his headset on as NXT's "boss" Matt Bloom stood over him looking very happy to have the WWE Hall Of Famer aboard.
Hopefully, this is just the first step in having Shawn Michaels back in WWE on a more frequent basis. Only time will tell on that one, but this is certainly an awesome selfie.
Me (trying not to look at the camera)& the "Boss" @NXTMattBloom kicking off @WWENXT in Milwaukee!!! pic.twitter.com/lEz7bF78uo

— Shawn Michaels (@ShawnMichaels) July 28, 2017